Unboxing VanityTrove Beauty Box – February 2013: To Beautiful You (on Valentine's Day)
Subscription boxes – where you pay to receive a monthly surprise box of curated goodies in the mail – are the craze these days. And it's not hard to see why. The idea works for subscribers because it adds a surprise element to product discovery. And we all look forward to receiving surprise gift boxes don't we?
One such beauty box subscription that caught many ladies in Singapore by storm in the past year is VanityTrove. For S$25 each month, subscribers receive a bright pink box filled with beauty treats centred around a specific theme, or "beauty story" as they call it.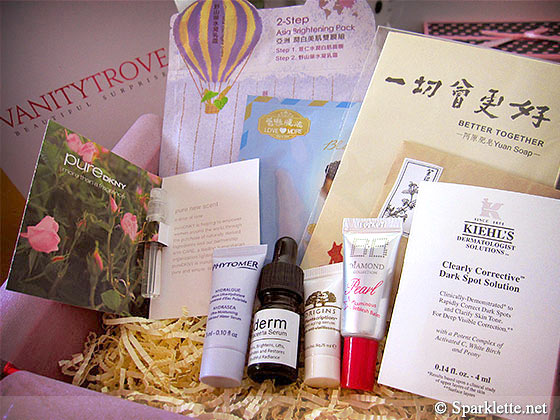 For the upcoming February issue, VanityTrove has prepared a beauty war chest designed to prep ladies for Valentine's day.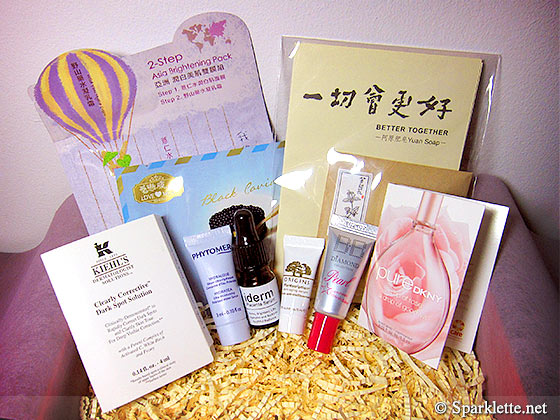 My beauty box contains the following skincare and cosmetic products:
My Beauty Diary facial mask (2-step Asia brightening pack)
LoveMore facial mask (black caviar)
Yuan soap (honeysuckle)
Kiehl's Dermatologist Solutions Clearly Corrective Dark Spot Solution
Phytomer HydraSea ultra-moisturising polarized water serum
iderm placenta serum
Origins Plantscription anti-aging serum
Skin79 BB Cream (Diamond Luminous Pearl)
pureDKNY A Drop of Rose
Vanity magazine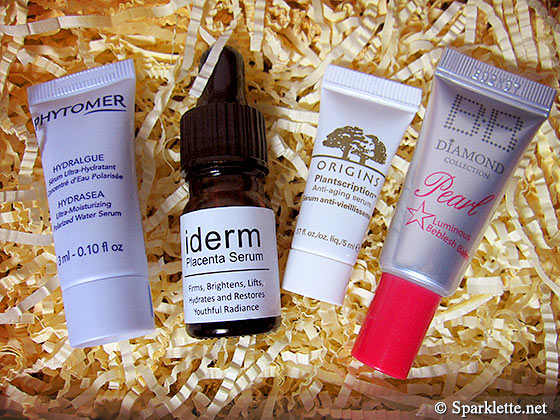 The Phytomer HydraSea serum is a lightweight and ultra-moisturising serum that immediately melts into the skin. HydraSea, the star ingredient, is known for its exceptional power in restructuring the skin's moisture. (Retail price: S$150 for 30ml at Guardian Marina Bay Sands and Paragon)
For intense hydration, the iderm placenta serum will do the trick. The core ingredient is concentrated sheep placenta extract – a rich source of bioactive nutrients and antioxidants. Application is very easy as the silky smooth serum dries almost instantly. My skin feels supple and hydrated after use and without any greasy residue. (Retail price S$128 for 25ml at Skin Street)
To combat the ageing process, use the Origins Plantscription anti-aging serum to rebuild natural collagen and elastin. (Retail price S$118 for 30ml at Isetan Scotts, Robinsons Raffles City, Robinsons Centrepoint, Metro Paragon, TANGS VivoCity)
The Skin79 Diamond Luminous Pearl BB Cream is an oil-free, moisturising BB cream which can be used both as a highlighter or as a foundation. It leaves the skin with a slight shimmer. (Retail price: S$35.90 for 35g at Watsons, Guardian, Sasa, BHG, John Little, Beauty Spring)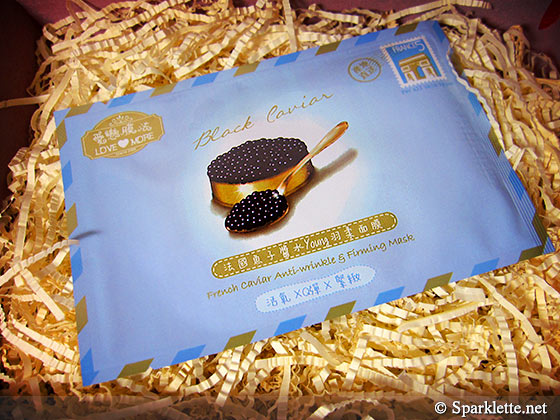 LoveMore is one of the most popular facial masks in Taiwan. For a protein-rich treatment that restores moisture, smooths fine lines and enhances your skin's softness and radiance, try the French Caviar mask. It's filled with so much serum it actually drips when you are using it! (Retail price: S$8.90 for 5-piece set at selected Watsons stores)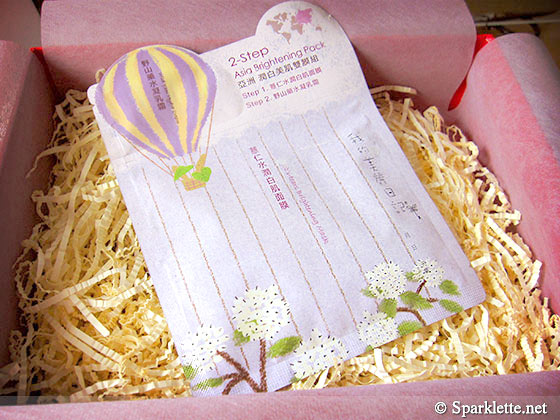 I have used other facial masks by My Beauty Diary but it's the first time I'm trying out the 2-step mask packs. I find these to be more well-rounded treatments as they comprise first a moisturing mask followed by cream (hidden in the "balloon" so don't throw it away unwittingly!).
Boasting ingredients from five continents, the mask I received in my trove is the Asia brightening pack in beautiful purple packaging. This is best for dull skin and uneven skin tones, leaving the skin looking brighter and ultra hydrated.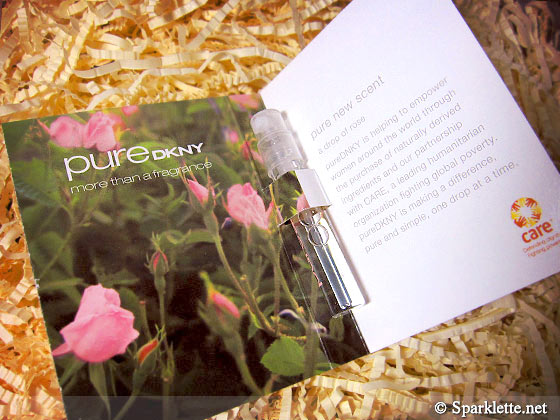 To prepare yourself for that hot V-day date, the feminine pureDKNY A Drop of Rose may just be the fragrance to charm him. Delicate and rosy, this lovely scent is unintrusive and soothing. (Retail price: S$96 for 50ml, S$132 for 100ml at Robinsons Raffles City)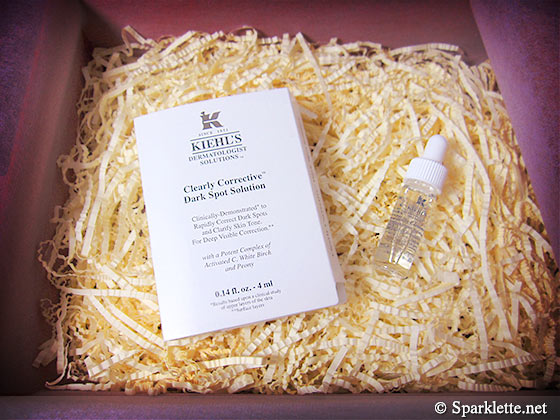 To treat dark spots, Kiehl's Dermatologist Solutions Clearly Corrective Dark Spot Solution contains key ingredient, Activated C, that breaks apart discolourations and prevents melanin clusters.
I'm using this diligently to treat some temporarily discoloured skin and it really works! (Retail price: S$90 for 30ml at Kiehl's stores, Robinsons Raffles City, Robinsons Marina Bay Sands, TANGS Orchard)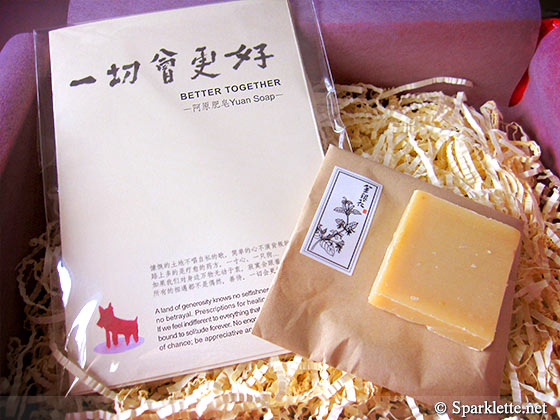 A surprise find in the February trove is a bar of Yuan soap in honeysuckle. Made from precious plants from Yuan farm, the honeysuckle soap boasts a pleasant herb aroma and is wonderful for diminishing heat and dampness. (Retail price: S$10.90 for 100g at selected Unity Pharmacy outlets)
While VanityTrove's February 2013 edition contains mainly sample-sized vials, these samples are mostly high-value items, especially the placenta and moisturising serums. They are convenient for travel use, and a great way to try out products before purchasing the full-sized versions. Overall I'm happy to find good use for every single one of the included items, and look forward to unboxing next month's trove.
Have Your Say!
What do you think of subscription boxes? Have you signed up for any? Share all your thoughts via Facebook or Twitter or by leaving a comment!