Yilan is a county in Taiwan located very near to Taipei. With its unique geography of overlooking the sea on one side, and being surrounded by mountains on three other sides, Yilan county is known for its scenic spots, cold and hot springs and nature trails.
To begin 2013 with a bang, we travelled to Yilan for four days. This was a familiarisation trip by the Taiwan Tourism Board to introduce us to Yilan.
As life-long city dwellers, we find that Yilan is an idyllic place to unwind with its natural landscapes, hospitable people and generally laid-back pace of life.
Getting from Singapore to Taipei on TransAsia Airways
The Taipei-based TransAsia Airways just brought in the shiny new A330 aircraft for their Singapore-Taipei route in January 2013. The thought of enjoying this new aircraft naturally made it our airline of choice when flying to Taipei.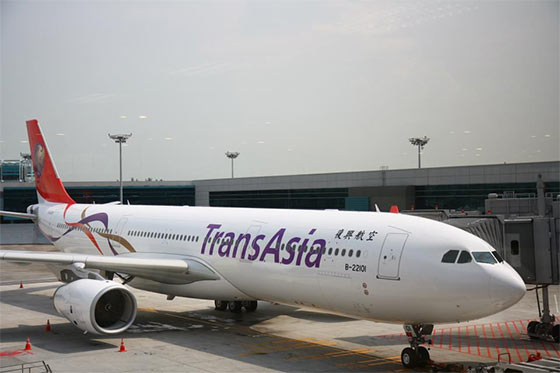 From now till 25 March 2013, there is an attractive promotional fare to Taipei at just S$438 (all in).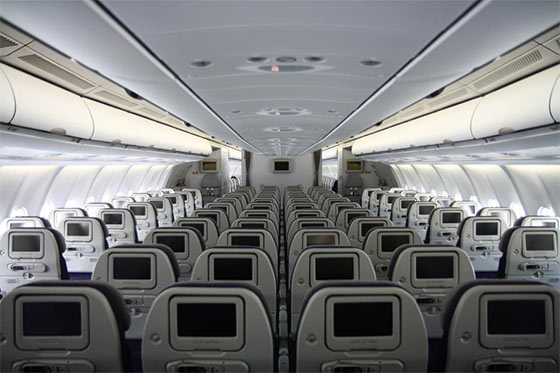 With daily return flights between the two cities, lucky us were amongst the first few batches of passengers on the new aircraft!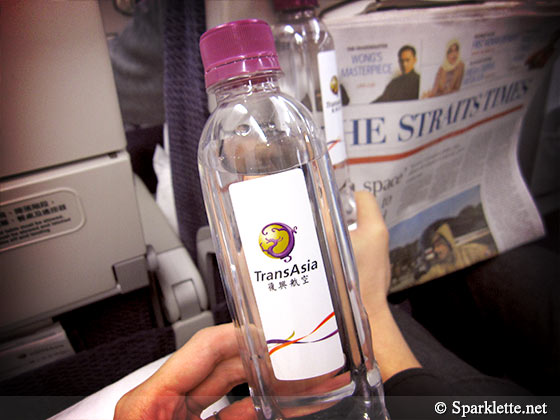 Even as we were waiting to board the flight, the cabin crew had already started giving out bottled water. Talk about good service!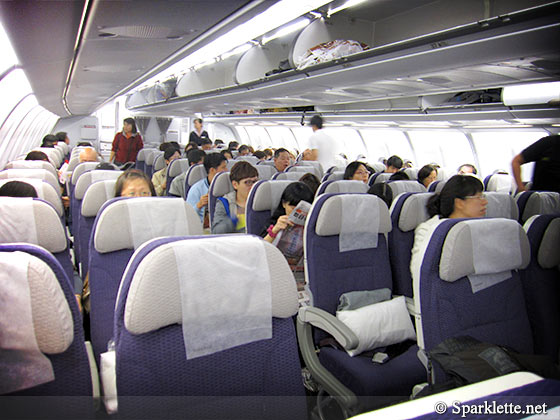 The economy class seats are placed in a 2-4-2 arrangement, decked out in royal purple. To ensure comfort throughout the flight, pillows and blankets are provided to every passenger.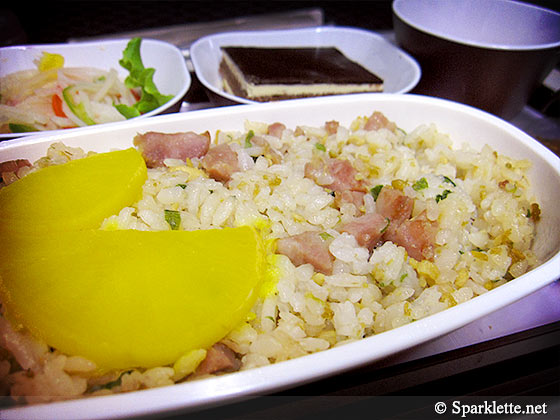 For our meals, we dug into a serving of fried rice, accompanied by a side of cold noodles and a dessert of chocolate cake. For airline food, the rice was surprisingly fragrant and the cake boasted a moist and rich texture.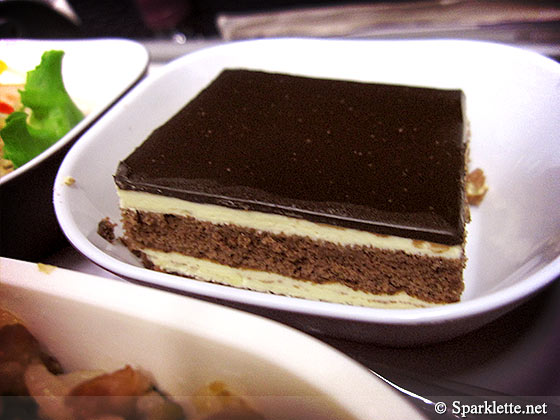 Every seat has its dedicated AVOD in-flight entertainment system with the latest movies, some old classics, music and games.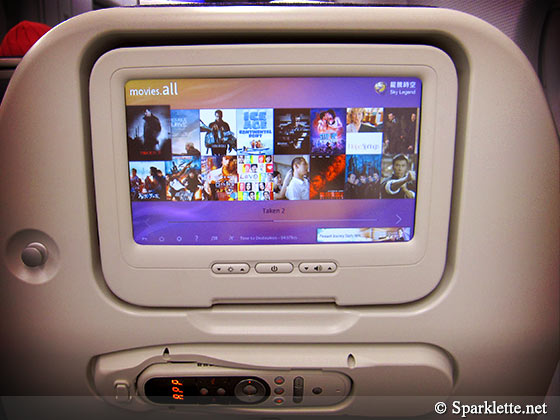 The touchscreen makes navigation easy and intuitive. With all the movies literally at your fingertips, the 5-hour flight to Taipei doesn't seem that long.
Currently, TransAsia is the only airline exiting from Singapore that allows you to conveniently book your flights directly from its Facebook Page. Check it out here. It also flies to five immediate points in Hokkaido from Taipei – great for a twin-city vacation.
Getting from Taipei on Yilan
Ever since the construction of Asia's second longest highway tunnel, the Hsuehshan Tunnel, in recent years, the driving time between Yilan and Taipei has been reduced to less than 50 minutes.
If you are travelling from Taipei to Yilan by public transport, perhaps the quickest way is to take the Kamalan bus at the Taipei Bus Station.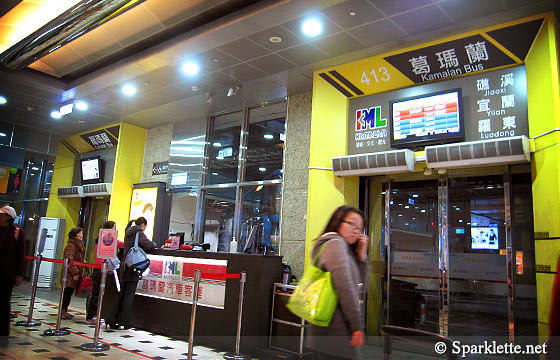 At the Taiwan Taoyuan International Airport, there are buses that take you directly to Taipei Bus Station. Tickets can be purchased on the spot.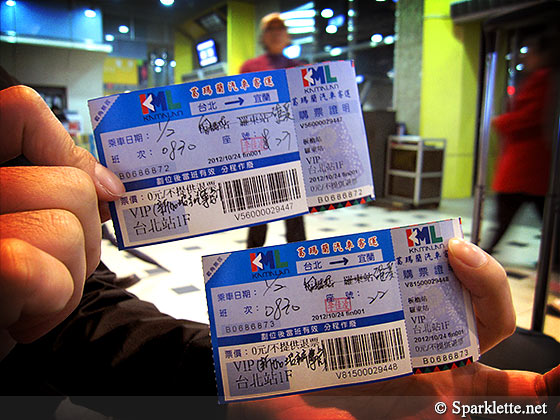 From the bus station, the Kamalan bus departs a few times every hour and makes stops at Luodong, Yilan and Jiaoxi. Again, Tickets can be purchased at the bus station.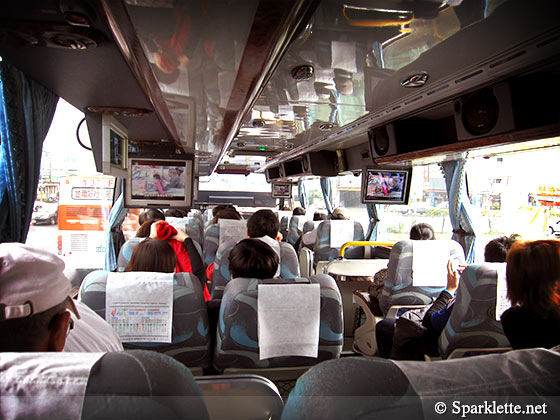 The bus ride is comfortable and takes you on a scenic route that passes through the tunnel. The total journey time is just under the hour.
Scenic side of Yilan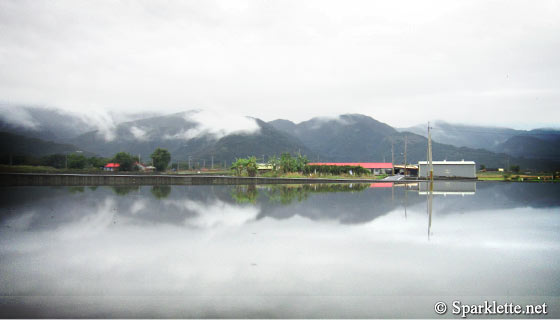 The first thing that strikes you about Yilan is its hilly landscape, sparse low-lying houses and numerous agricultural lands – a vast difference from the city of Taipei!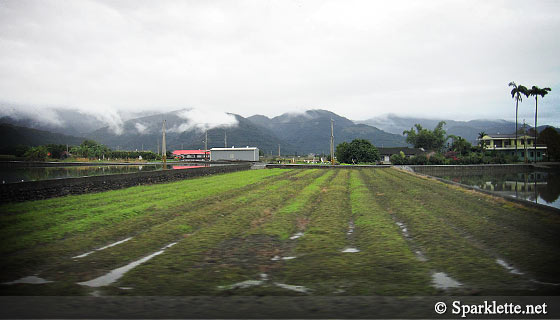 We were there during the winter season, which explains why the grounds were mostly waterlogged. During our visit, it rained perpetually everyday, though the rain could not dampen our spirit. In all my life, I have never been surrounded by such astoundingly awesome natural scenery and fresh air day in and day out!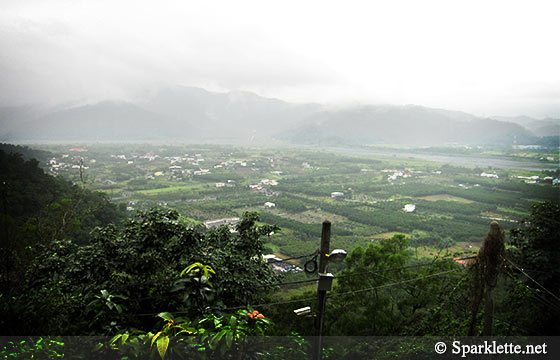 Watch the video below which we took on one of our car rides. I feel it gives a very good picture of the verdant country scenes in Yilan.
Planning Your Yilan Itinerary
At this point, I would like to give a shout-out to Qiito, a new website that all travel enthusiasts should already be using. To be honest, we didn't really have much time to plan our first trip to Yilan, and the amount of English resources available online is quite lacking. But by using Qiito, we managed to map out our itinerary effortlessly in the days before our departure.
Through other users' travel lists, we discovered new places to visit in Yilan and used the site as our main online travel resource. The photos uploaded by other travellers also provided much insight, allowing us to quickly sift out the places that looked most interesting to visit. The content written by fellow Singaporeans also proves most helpful when we share common perspectives of the places we are visiting.
Above I have embedded our travelogue from Qiito, so you can quickly check out the places referenced in this blog post. On this Yilan trip, we relied on Qiito to plan our itinerary, discover new places, and overall just be inspired by other travellers.
Wufengchi Scenic Area
Wufengchi Scenic Area is a popular spot for Yilan visitors and nature lovers. Most famous for its cascading waterfalls, this scenic spot provides hours of trekking and sightseeing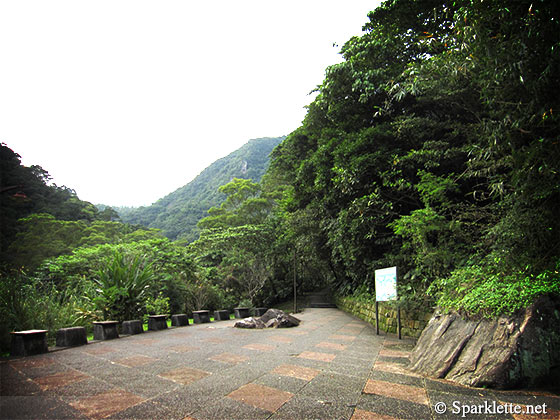 The waterfalls have three tiers; the first tier is about 15 feet high, and is close to the parking lot. The second tier is located about 100 metres up the walking path and is about 60 feet high. The third tier – the most impressive of all – is about half a kilometre up the steep walking path.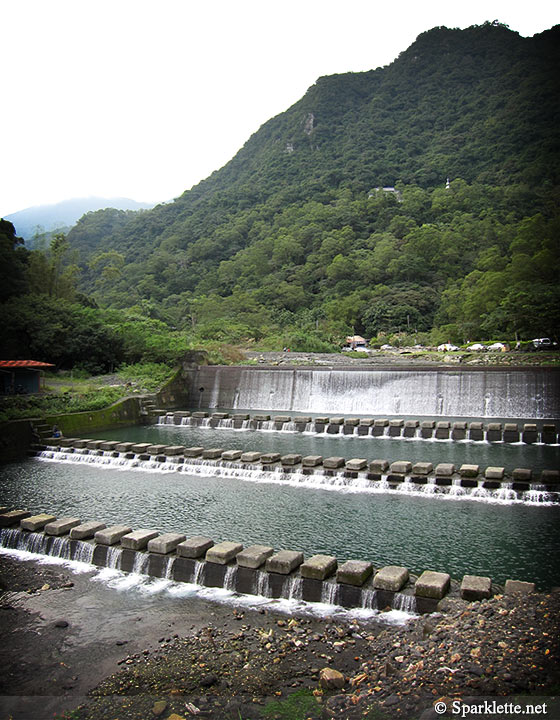 If you are determined to venture all the way to the top of the waterfalls, be sure to wear comfortable non-slip footwear. Part of the trail, especially towards the end, is steep and fraught with fallen stones – the aftermath of landslides.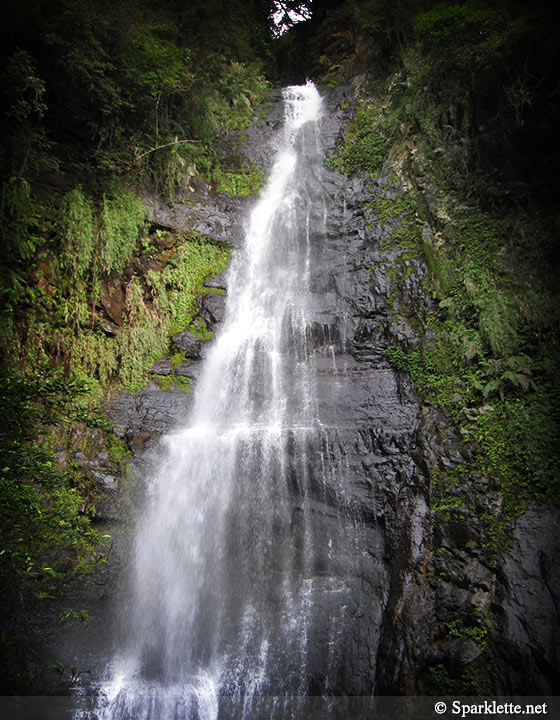 The waterfall is just beautiful! And this is just the lower tier. We were gung-ho to make it all the way to the top. Otherwise, what's the point?
Eventually, we came upon this bright red warning sign that blocked our path, threatening to cut short our trip to Wufengchi.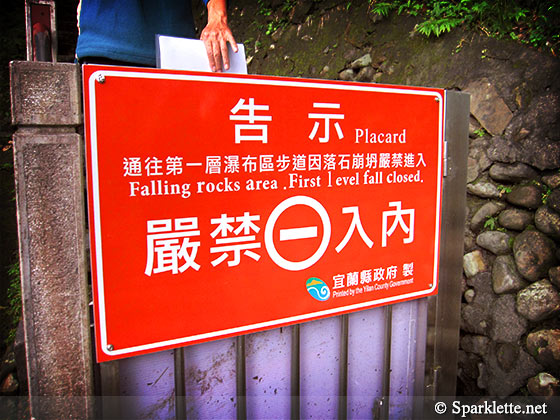 Due to falling rocks, the top-most part of the walking path was actually closed! Thankfully, we were there with the park guide, who kindly and sportingly led us past the warning sign and further up an even steeper path.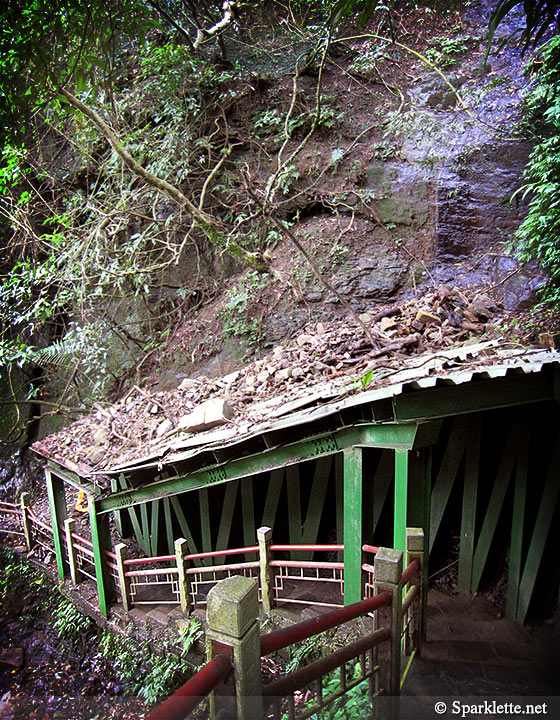 A landslide that had occurred recently had caused part of the path to be covered and therefore made unsafe for walking.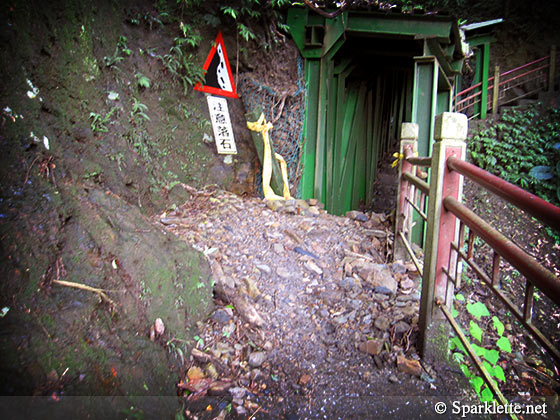 You can see the extent of the damage here. We ventured on anyway – at our own risk, of course.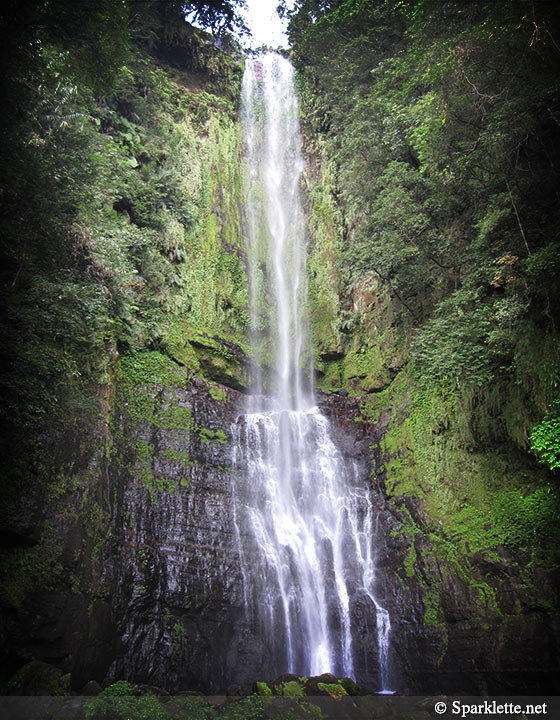 And there's our prize – the top tier of the Wufengchi waterfalls! It's a majestic sight to behold. Word has it that whoever drinks the water at the base can live to a 100 years.
Though I did not get to drink any longevity waterfall water, I felt a million dollars anyway at having made it all the way up that steep mountain trail, past the landslide danger zone to see the famed Wufengchi waterfalls.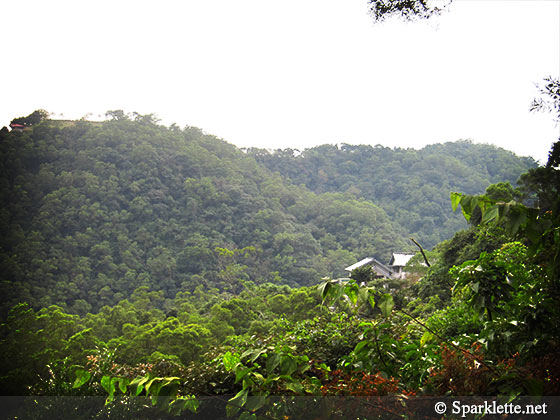 Along the way, the guide also alerted us to look out for the tip of the church peeking out from the lush tree foliage in the distance.
Wufengchi
Wufeng Road
Jiaoxi Township, Yilan County
Taiwan
Tel: +886 3 988 0940 |
Website
Shyang Yeu Organic Tea Plantation
Even as a coffee drinker, I eventually grew accustomed to Chinese tea on this Yilan trip. Tea drinking appears to be the norm here. There are boundless tea leaf plantations around, such as Shyang Yeu Organic Tea Plantation.
On one rainy afternoon, we stopped by here for a session of tea appreciation. Tea enthusiasts frequently visit to taste teas to their hearts' content, before purchasing their desired leaf teas. If weather had permitted, we would even have gotten to partake in some tea harvesting ourselves!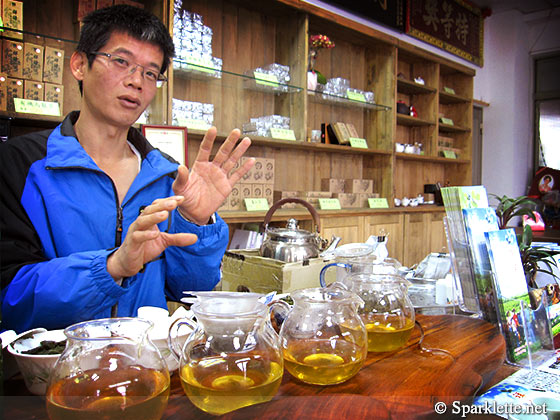 As we drank our freshly brewed teas, we also soaked in nuggets of tea knowledge shared with us by the plantation owner. My tea loving partner liked the green tea so much, he bought some right on the spot after sipping on it.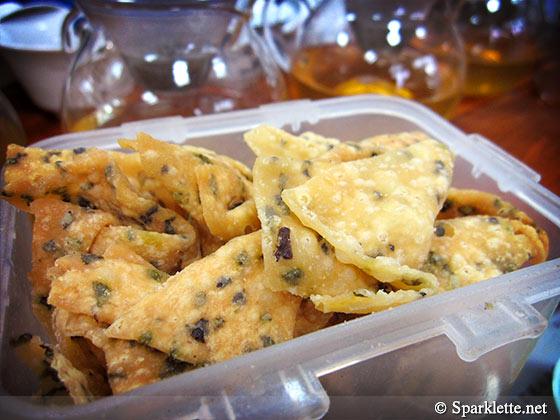 These biscuits are made using tea leaves, and taste absolutely delicious with an overall sweetness and slight tinge of tea fragrance.
Shyang Yeu Organic Tea Plantation
Dongshan Township, Yilan County
Taiwan
Tel: +886 3 958 7959 |
Website
Opening hours: 9am – 6pm daily
Plum Lake
Plum Lake is a natural lake surrounded by lush greenery. The name "Plum Lake", or Meihua Lake, which translates to "plum flower" in Chinese, was given because of its resemblance to the shape of the plum flower with five pedals.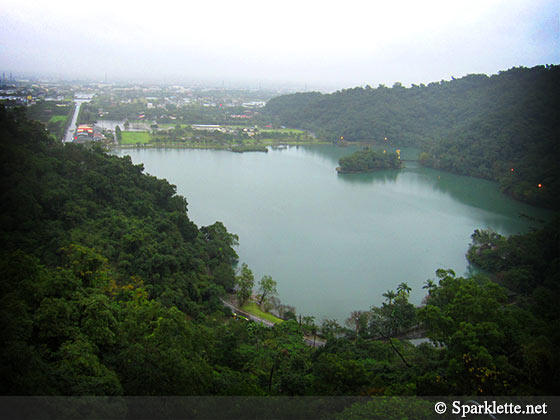 During the plum flowering period in spring, the area is popular with tourists for the masses of beautiful white and pink plum blossoms surrounding the lake.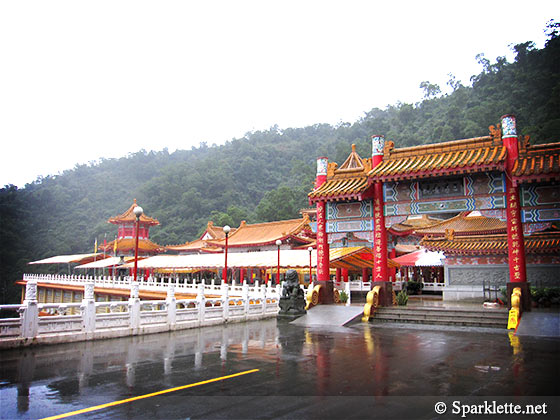 Overlooking Plum Lake on the mountain is the largest Taoist temple in Yilan.
Plum Lake
Huanhu Road
Dongshan Township, Yilan County
Taiwan
Jiaoxi Hot Spring Park
It can be said that water flows through the veins of Jiaoxi Township, and its hot springs can be considered its main draw for tourists. In some areas, foot baths are readily and freely available for the public to indulge in a relaxing dip!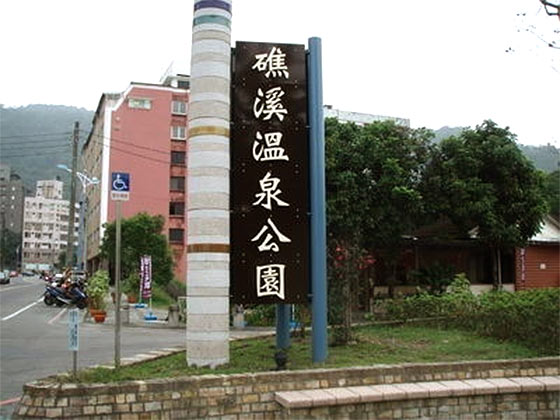 The Jiaoxi Hot Spring Park is open 24 hours everyday, with a free public foot bath as well as full body hot springs.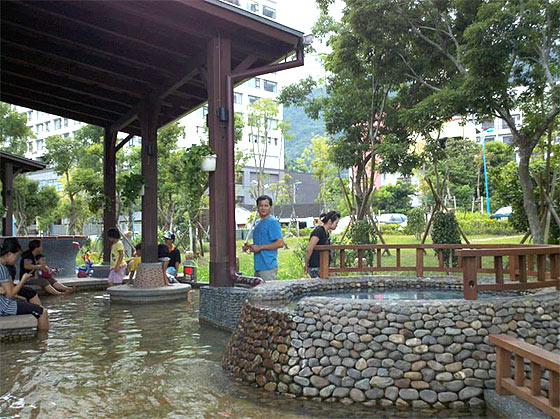 Credit
The extensive foot bath area is very popular amongst locals, with different segments in varying temperatures.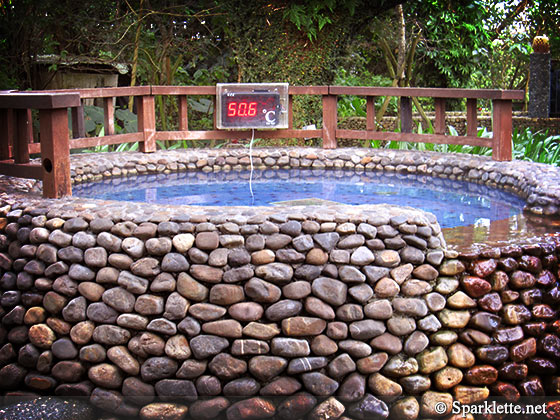 Dare you try out this foot bath with 50 degrees Celsius hot spring water? I could barely dip my fingers in!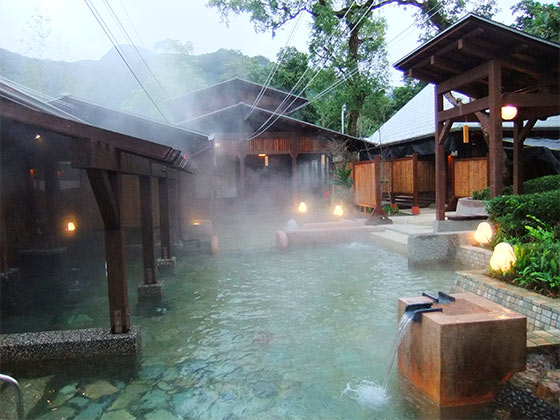 Credit
Located a 5-minute walk away are the Forest Baths, which are full body hot springs with areas designated for males and females. Tickets can be bought at NT$150 for general admission, NT$120 for students or groups of 30 or more, and NT$75 for seniors and children 6-12 years of age. Children under 6 enter free when accompanied by an adult.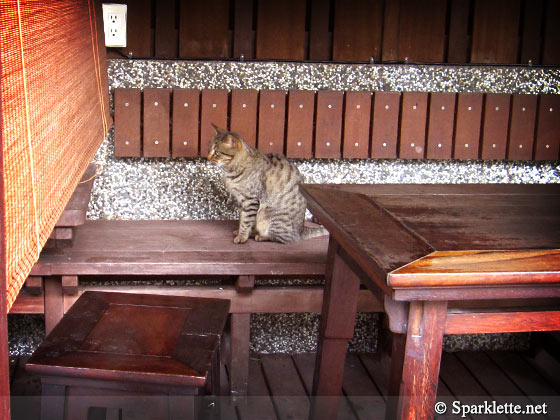 The Taiwanese really love their dogs, with many bringing their furry companions out walking or shopping at night markets. But it's here at Jiaoxi Hot Spring Park that we finally spotted our first stray cat in Yilan!
Jiaoxi Hot Spring Park
16 Gongyuan Road
Jiaoxi Township, Yilan County
Taiwan
Tel: +886 3 987 2403
Opening hours: 24 hours daily
Jioujhihze Hot Spring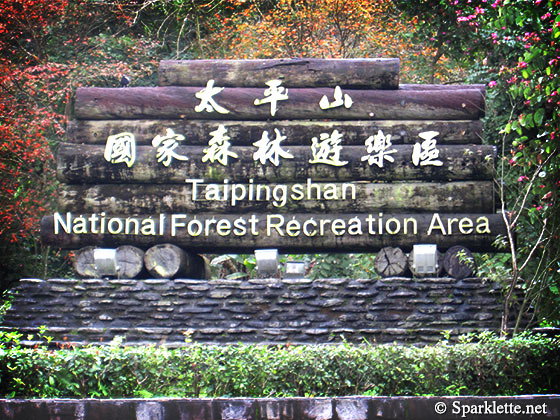 The massive Taipingshan National Forest Recreation Area located in the southwest of Datong Township covers 12,631 hectares and rises from 500 to 2,000 metres above sea level. This area is home to eight nature trails, high mountains, valleys and waterfalls.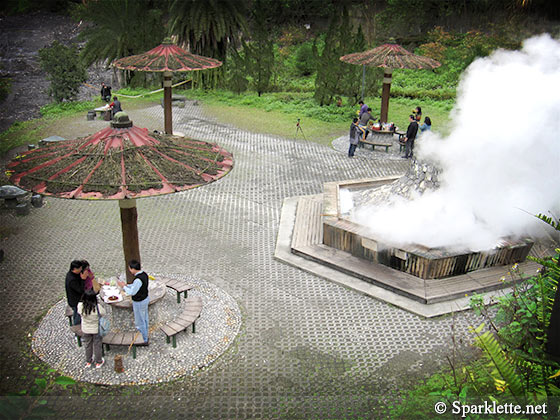 One major attraction at Taipingshan is Jioujhihze, famous for its alkaline carbonate hot springs.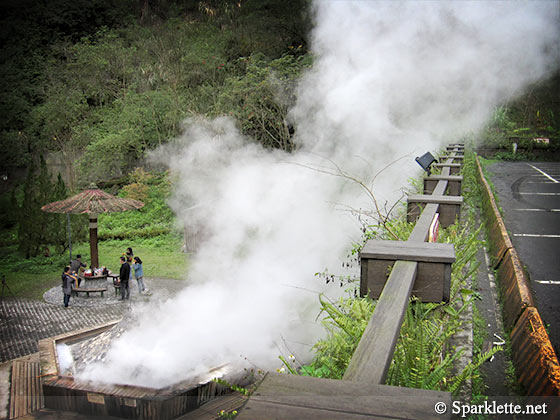 Look at the steam rising up from the hot spring. The temperature reaches a whopping 140 degrees Celsius! This is a popular barbecue spot for day trippers. There's even an egg boiling section here!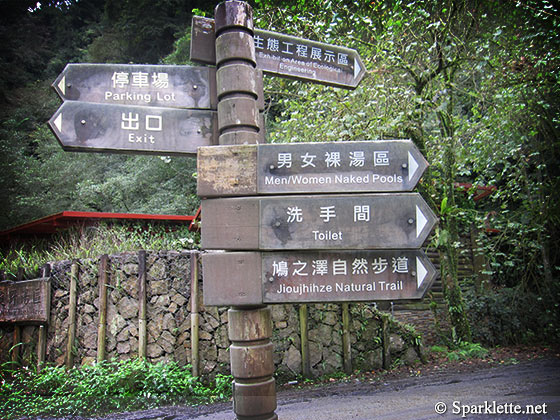 The bathing areas are separated into open, nude, and private family pools. Obviously, the waters have been reduced to a more friendly 38 to 42 degrees Celsius.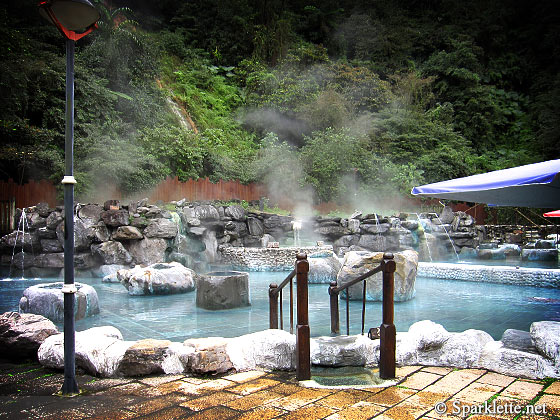 Outdoor group pools cost NT$150 for unlimited usage on weekdays and NT$200 on weekends.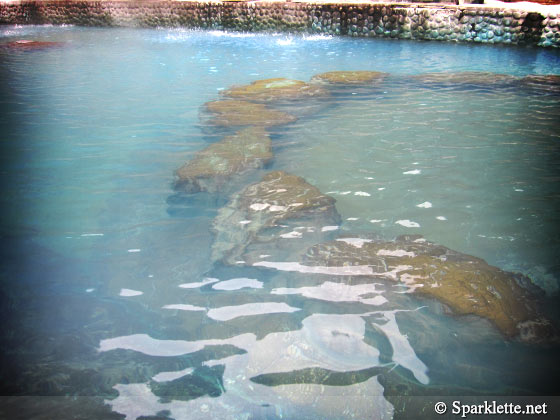 It is said that soaking in a hot spring enhances blood circulation and eases fatigue.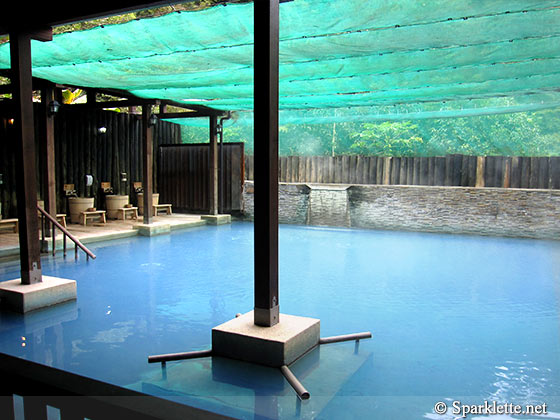 The nude bathing areas are well equipped with baths and informative signboards that display the mineral composition of the water. While it appears to be open-air, the tall tree canopies surrounding the area help provide sufficient privacy to bathers.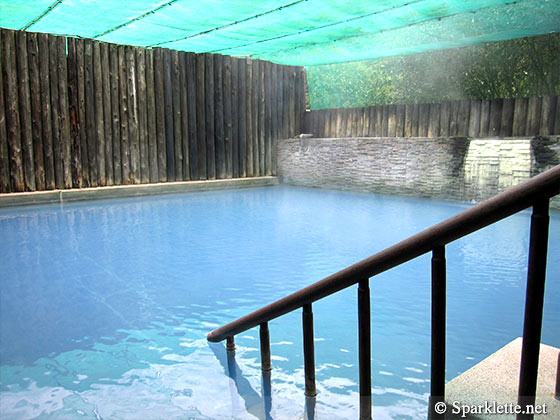 For private baths, it costs NT$300 for 40 minutes on weekdays, NT$300 on weekends.
Jioujhihze Hot Spring
25 Shaoshuei Lane
Taiping Village
Datong Township, Yilan County
Taiwan
Tel: +886 3 980 9603
Opening hours: 9am – 8:30pm daily
Yilan City Sights
Even as you escape from the hilly terrains to the more urban side of Yilan, you can still spot the tall mountains in the distance. Here's a typical street scene in Luodong Township.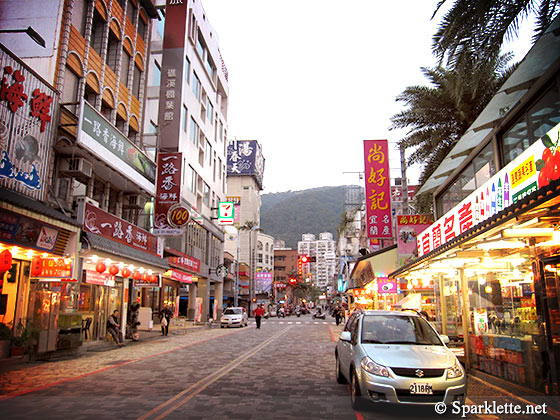 Can you tell what makes this particular ramen restaurant so special?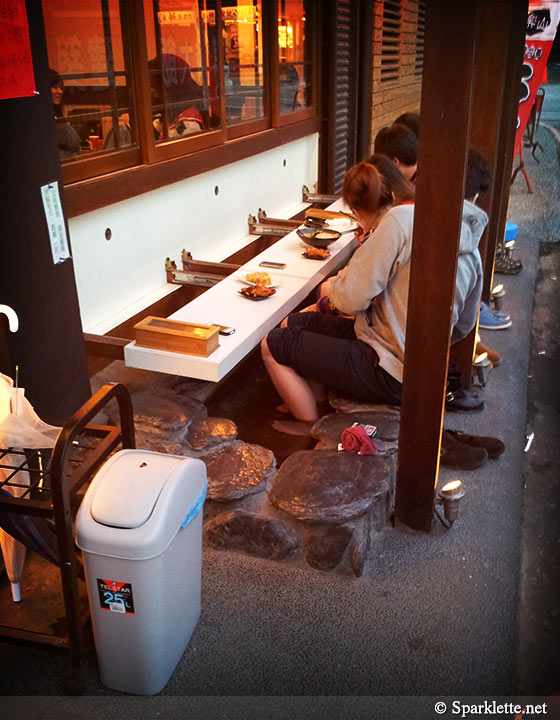 Diners get a leisurely foot bath in the hot spring water whilst dining! Certainly a one-of-a-kind experience.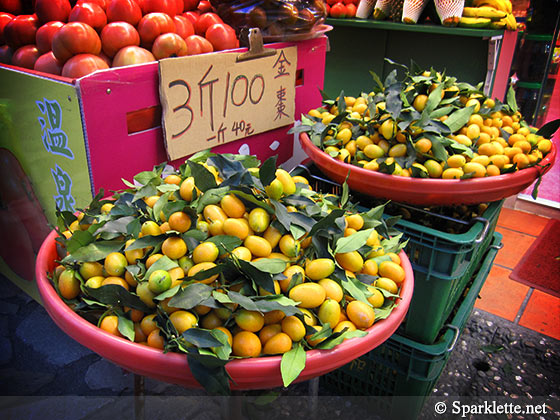 The highly nutritious hot spring water also irrigates crops such as tomatoes, spinach and loquats.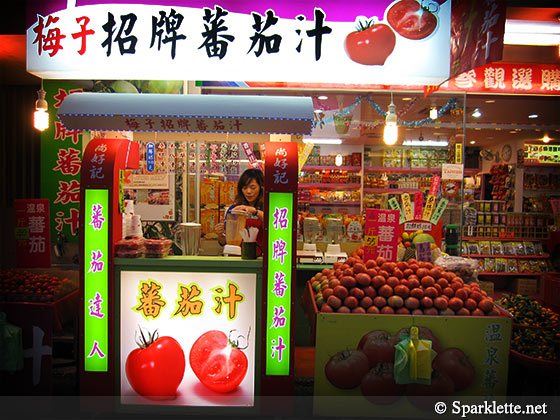 Many fruit stalls such as this one offer luscious spring-water tomato juice!
Yilan Street Food
While it's nice to dine at restaurants, we soon found that the best food we've tasted in Yilan are from roadside stalls and night markets.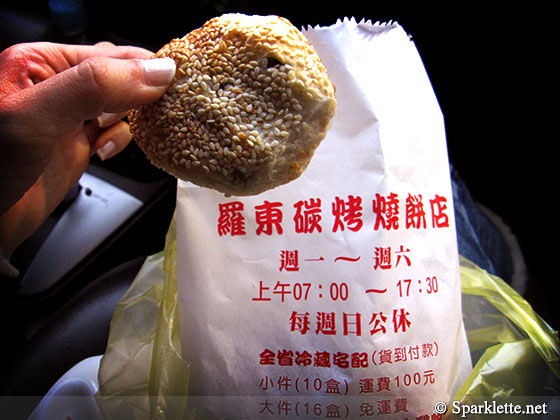 This golden brown shaobing (baked flatbread) at Luo Dong Tan Kao Shao Bing Dian is a savoury pancake covered in sesame, with a stuffing of juicy scallion.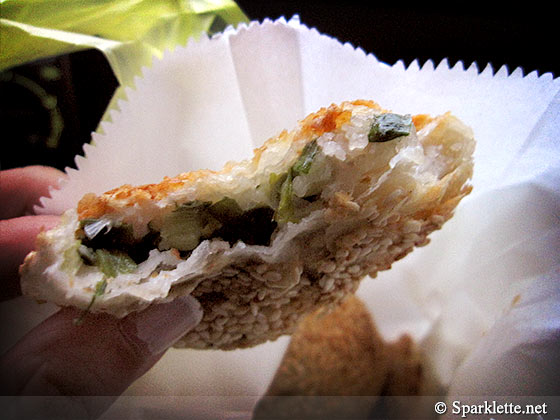 It costs just NT$12 apiece, with various fillings to choose from such as red bean, green bean and pepper.
Luo Dong Tan Kao Shao Bing Dian
32 Nanmen Road
Luodong Township, Yilan County
Taiwan
Tel: +886 3 955 0731 |
Website
Opening hours: 7am – 5:30pm daily
One of the best comfort food to have in winter is the piping hot xiao long bao. And we got to feast on some freshly made dumplings from a nondescript food stall here.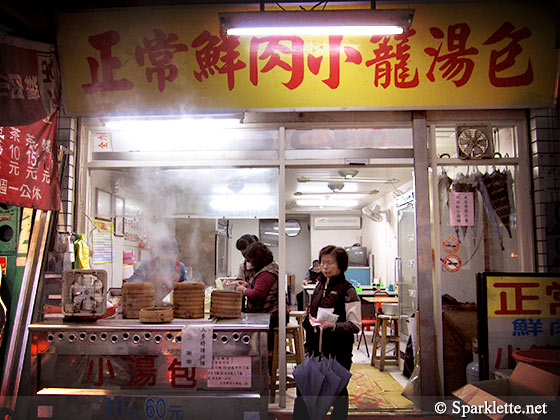 At Zheng Chang Xian Rou Xiao Long Tang Bao, the xiao long bao is hand-made on the spot. You can catch the busy action in progress right behind the counter.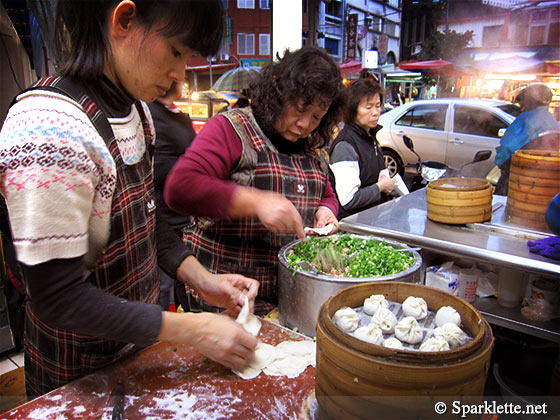 The spicy xiao long bao comprises a springy texture filled with savoury meat, drizzled with an optional dash of chilli sauce. Utterly delicious and affordable at just NT$60 for 10.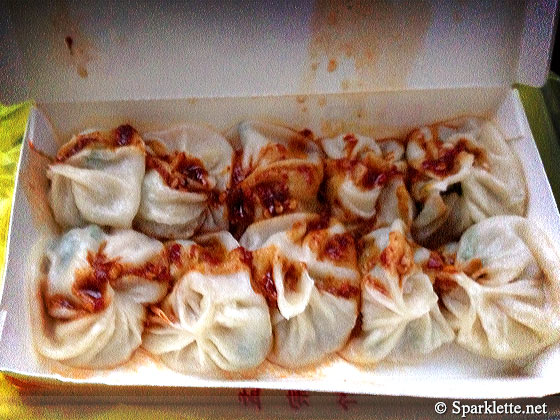 I declare these the best xiao long bao I've ever had! And they aren't from restaurants like Crystal Jade or Din Tai Fung, but a humble food stall spotted along the streets of Yilan.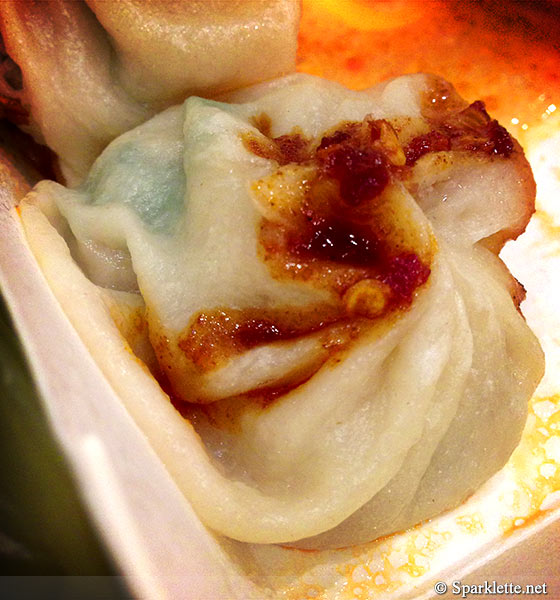 Zheng Chang Xiao Long Bao
No. 102, Section 1, Yixing Road
Yilan City
Taiwan
Tel: +886 3 931 5932 |
Website
Opening hours: 6:30am – 1pm, 3:30pm – 7pm daily
Shangrila Boutique Hotel's Eternal Water Church
An increasingly popular spot for wedding couples is the gorgeous water church at Shangrila Boutique Hotel. And it's not hard to see why.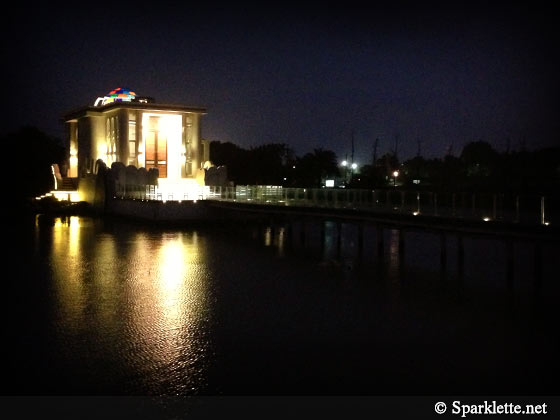 With the chapel's snowy white facade overlooking the water, it makes a picture-perfect backdrop for any celebration. This is the site for many wedding events, and has even been used for filming in local TV shows!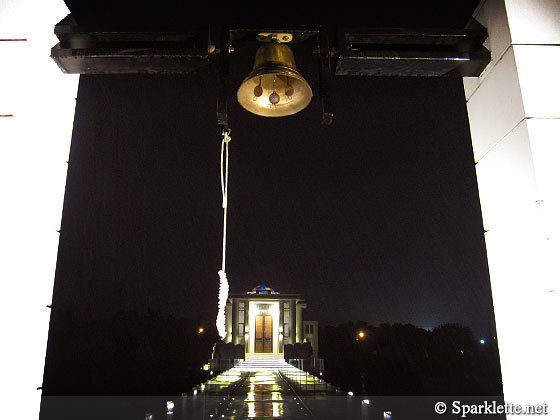 To reach the church, you would cross a long bridge, which has a gold bell that you can toll.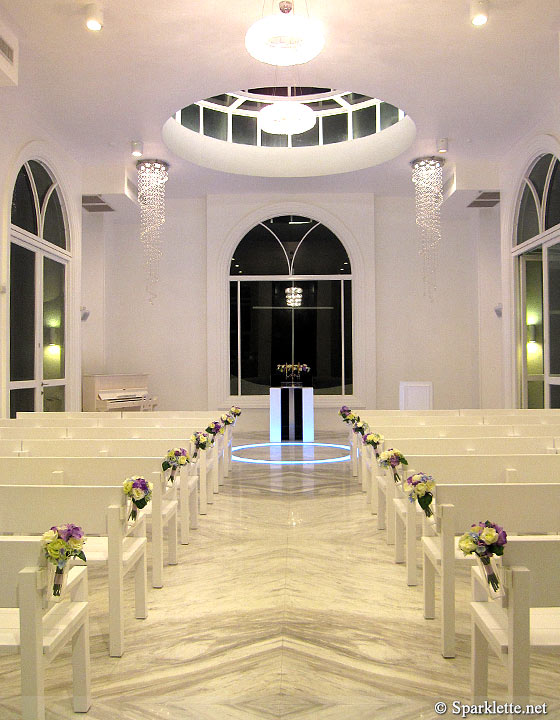 The interior is highly picturesque with glass chandeliers, white walls and long white benches adorned with flowers.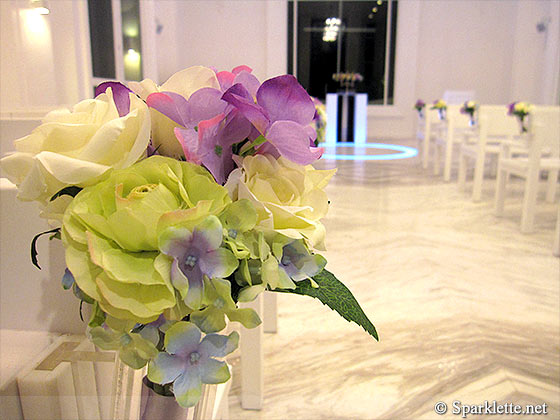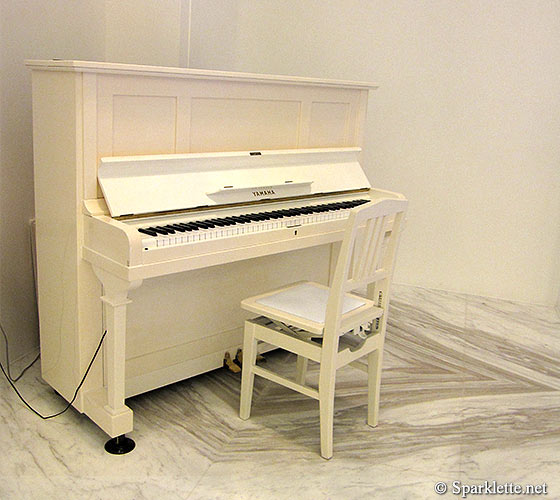 A white piano sits at one corner of the church.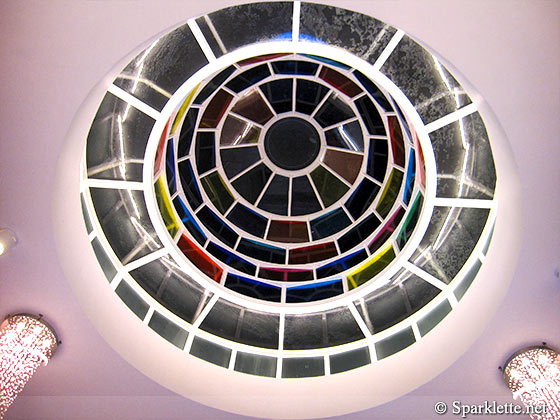 The most eye-catching aspect of the architecture is perhaps the colourful stained glass domed roof.
Yilan Shangrila Boutique Hotel
No. 15, Lane 13, Xiehe Central Road
Wujie Township, Yilan County
Taiwan
Tel: +886 3 960 5388 |
Website
Luodong Night Market
During our stay in Yilan, one place that we kept revisiting night after night is the bustling Luodong Night Market. This is the bigger of two night markets in Yilan, and home to several food and game stalls.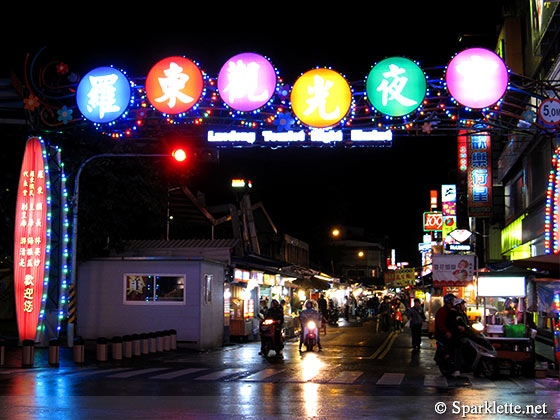 Even the rain did not deter the crowd from thronging the market!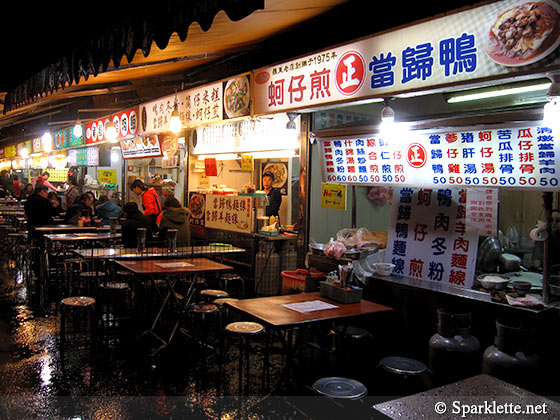 It's here that we feasted on local delicacies such as angelica root mutton soup, bu meat, fried chicken steak and so much more!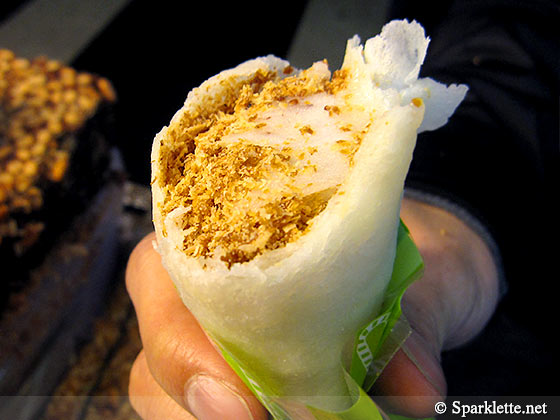 Can you tell what this delicious snack is? Check out our foodie walkthrough of Luodong Night Market for the answer!
View our foodie tour of Luodong Night Market
Luodong Night Market
100 Gongyuan Road
Luodong Township, Yilan County
Taiwan
Have Your Say!
How do you find Yilan? Share all your thoughts via Facebook or Twitter or by leaving a comment!