Laptop Giveaway – Submit a Yummy Food Photo to WIN a Lenovo IdeaPad U460! [Ended]
Update: Contest has ended. The winner has been announced. Find out who won.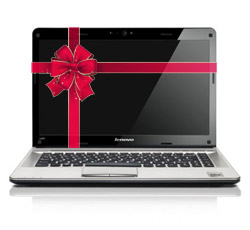 How would you like a brand new computer to start this year?
I am giving away a Lenovo IdeaPad U460 laptop to one lucky Sparklette reader, courtesy of Lenovo. All you have to do is one very simple task and rally for votes!
But for now, I will first write a little about another Lenovo computer, the all-in-one desktop IdeaCentre B310. The company has provided Sparklette with a review set and I have been happily using it for the past two weeks.
Lenovo IdeaCentre B310
What I love most about the B310 is its space-saving and stylish look, which combines the monitor and CPU into the same case. As a web designer and full-time blogger, I need a computer that is powerful enough for me to complete my tasks quickly. With its speedy Intel Core i5-650 3.2GHz processor and 4GB DDR3 DRAM, my productivity has improved dramatically. Running Photoshop, processing videos, and playing graphic-intensive games like The Sims 3 is a breeze as everything runs so quickly and smoothly.
Plus, looking at the 21.5 inch full HD display is just pure joy.
Some minor gripes: The large screen also comes with multi-touch capabilities. While that is a fun feature to have, it isn't the most conducive or ergonomic way of using a touchscreen due to its close-to-perpendicular position on a table.
The rarely used Function key would fit better next to the space bar instead of its present bottom-left position on the keyboard. With the "Fn" key in the way, it is tiring to hold both the Shift and Ctrl keys at the same time for frequently used functions, especially within Photoshop.
Lenovo IdeaPad U460
For the next two weeks, I am giving away the ultra portable IdeaPad U460 in black. Read all about it on the Lenovo What's Your Idea of Fun website or watch this video.
How to win the Lenovo IdeaPad U460
This is how you can win the laptop giveaway (worth $1,499). Please read the following carefully. It's a really simple contest with a really good prize!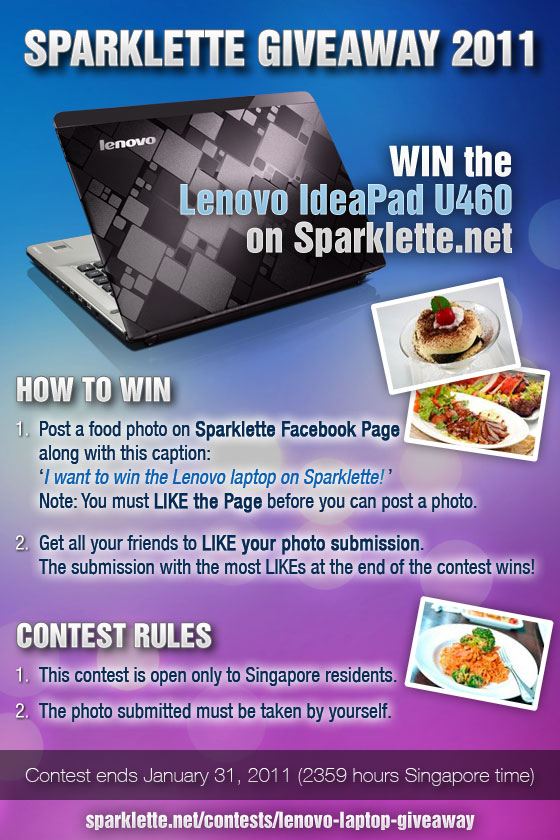 Post a food photo on the Sparklette Facebook Page along with this caption:

I want to win the Lenovo laptop on Sparklette!

Your photo submission should appear on this gallery. Get all your friends to LIKE your photo.
The photo with the most LIKEs at the end of the contest wins!
Note: Only Sparklette members are allowed to post photos and vote. So if you haven't, LIKE Sparklette on Facebook now!
Contest rules
The photo submitted must be taken by yourself.
In the event of a tie, Lenovo and Sparklette will decide who the winner is. Our decision is final.
We reserve the right to disqualify any submission deemed inappropriate, unoriginal or dishonest. Please participate in this contest fairly. Any contestant found to be using unfair means to get votes will be disqualified. Our decision is final.
This contest is open only to Singapore residents.
Start taking yummy photos and posting them on the Sparklette Facebook Page now!
Contest ends January 31, 2011 (2359 hours Singapore time)
About Lenovo
Lenovo builds an extensive lineup of computers that includes laptops, netbooks, desktops and accessories. The company's "What's Your Idea of Fun" worldwide campaign highlights its new systems that are designed to make computing more enjoyable and affordable. Learn more about these technology solutions and find the most fun PC for you on the What's Your Idea of Fun website.