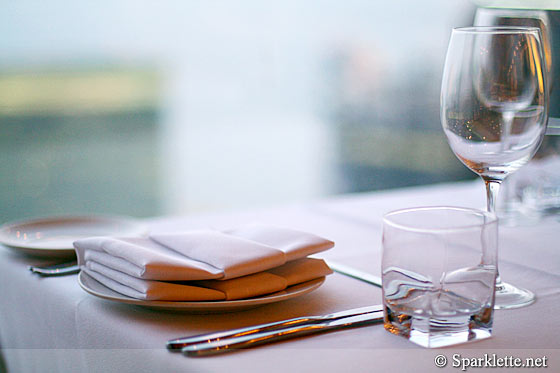 Perched high above the bustling city, 1-Altitude spans the 61st to 63rd floors of the One Raffles Place building, offering diners a view that is nothing short of spectacular.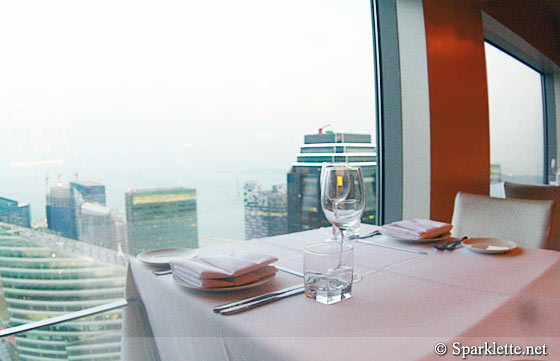 Stellar restaurant on level 62 serves international dishes with a sophisticated touch. Here, you can appreciate creative fine dining cuisine. The diverse food options ranging from Japanese to European cater to a wide audience.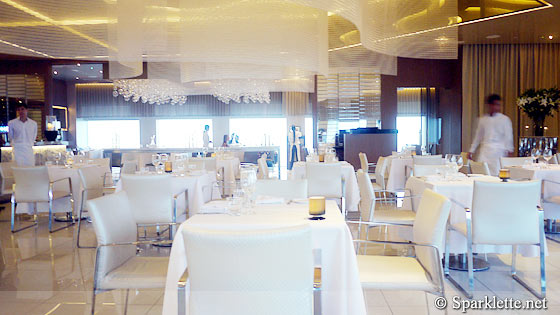 You dine in an elegant, chic and spacious restaurant with minimalist interior design. The posh setting, boasting crisp white tablecloths and modern metallic furniture, lends a classy vibe without being intimidating, thus making it an ideal spot for romantic dates and marriage proposals.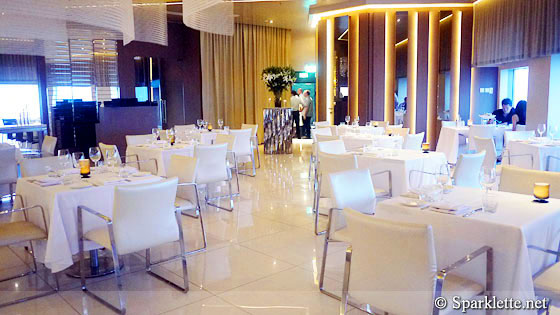 Overlooking the Singapore skyline, the stunning view only gets better as night falls.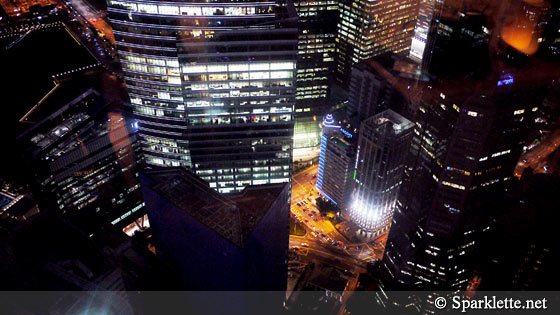 Drinks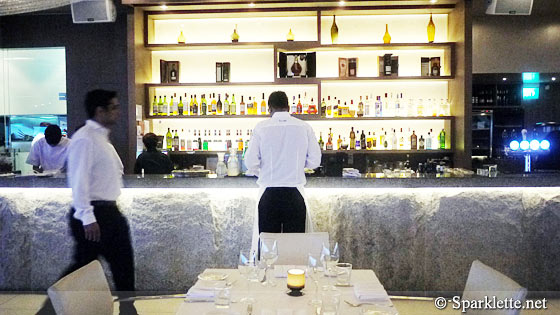 An extensive drinks menu with unique cocktails is available.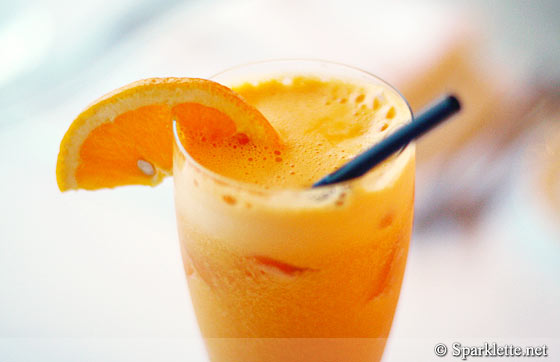 Orange juice
S$10++





For a start, you can enjoy a tall glass of orange juice. Be prepared to wait a little while, as the juice is freshly squeezed rather than coming straight out of a carton.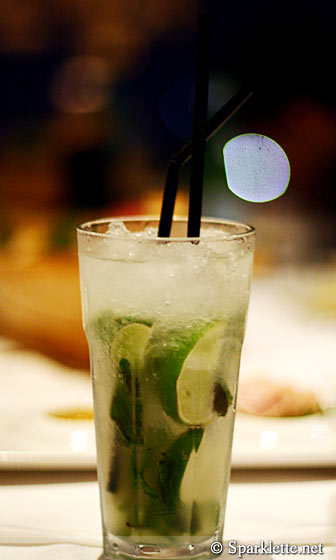 Monster Mojito
S$18++





The Monster Mojito is concocted from white rum, lime juice and mint. While it is nothing inventive, the alcohol content is pretty potent for an aperitif.
Food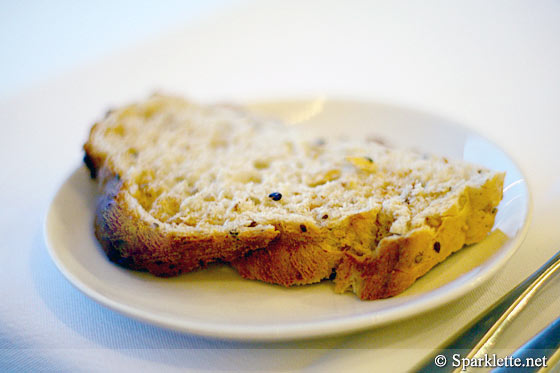 Warm rustic breads with olives, radishes and French butter
S$8++





Served with an olive oil dip and creamy French butter, the warm bread makes a comforting prelude to the meal.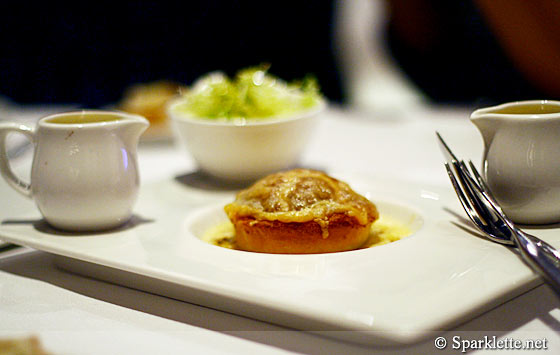 Gruyère soufflé
S$20++





Cheese fanatics must not miss out on the Gruyère soufflé. The soufflé is nicely moist, and simply irresistible! It is a different take on traditional soufflés that are often sweet.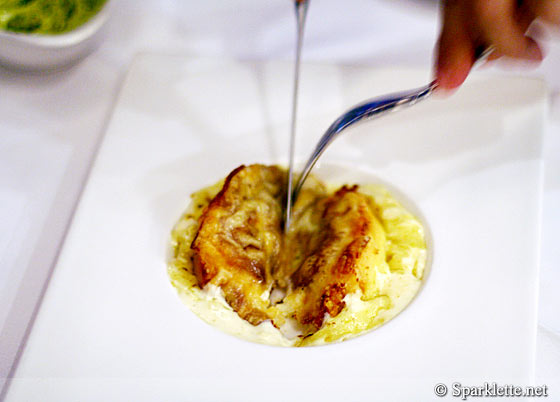 Served with two cheese sauces, yellow frisée and truffle salad, the soufflé is twice baked, with mozzarella that stretches and pulls apart as you lift a morsel-piece into your mouth. On top of that, you can choose to pile the already cheese-laden soufflé with more cheese sauce, blue cheese and Gruyère cheese.
If the cheese soufflé sounds too rich for you, then go for the lighter seared Hokkaido scallop and octopus.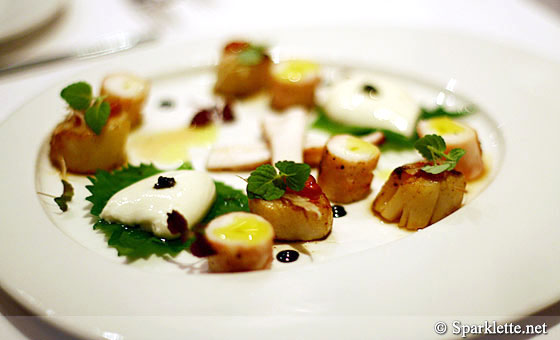 Seared Hokkaido scallop and octopus
S$24++





Slightly charred, the succulent scallops are perfectly caramelised; you can taste the briny tang. The saltiness of the caviar and the sweetness of the steamed ginger custard give the dish a good balance of flavours. The custard is so smooth it slides down the throat easily. I also like that the thick bite-sized tentacles of the octopus aren't too tough and chewy.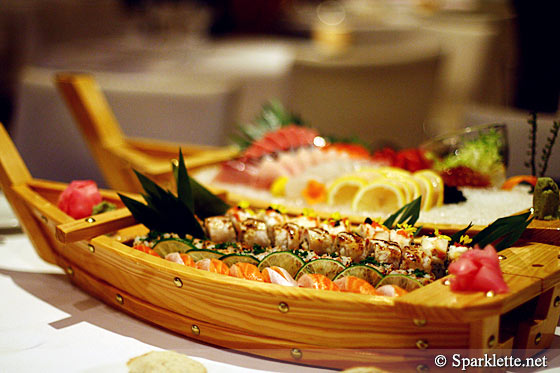 The sashimi Omakase taster and sushi rolls make a stunning entrance.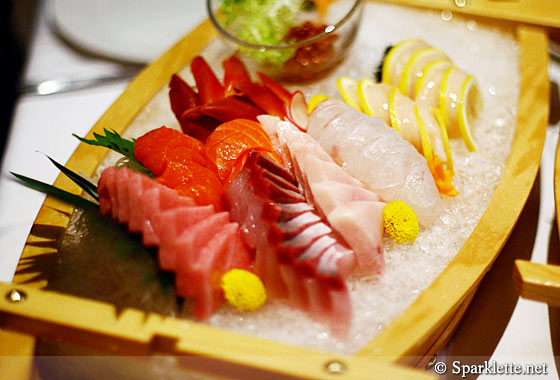 Sashimi Omakase taster
S$55++





The sashimi is pristinely fresh and devoid of fishy stench. Each piece is sliced to the right thickness, showcasing the deft skills of the chef.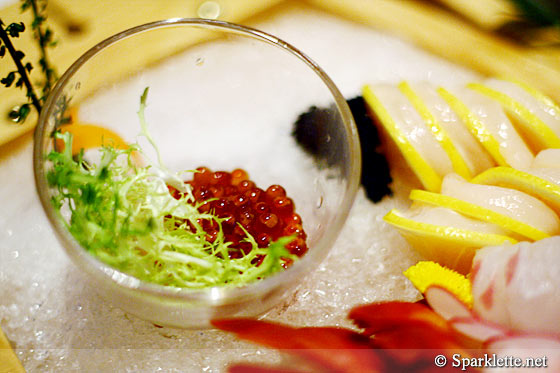 Served with pearls of caviar, the sparkling bubbles explode in your mouth with juices of the ocean.
Lobster roll with flying fish roe, avocado and moro miso
S$28++





The lobster roll is an interplay of textures and complementary flavours from lobster meat, flying fish roe, avocado and moro miso. The sweetness of the lobster lingers in the mouth, and tastes great without the need for wasabi or additional condiments.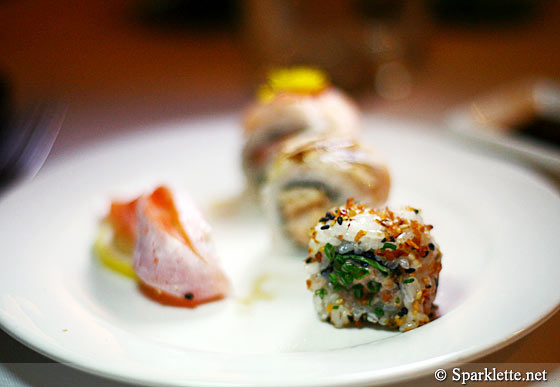 Swordfish roll with fresh crabmeat, prawns and aka miso
(left)
S$20++






Spicy tuna roll with bonito flakes and spring onion (right)
S$18++






The chef is doing well again with the layering of textures and flavours in the swordfish roll with fresh crabmeat, prawns and aka miso. You will enjoy the savoury and slightly charred swordfish.
The spicy tuna roll with bonito flakes and spring onion is spicy enough to tickle your taste buds, but comfortable for most people.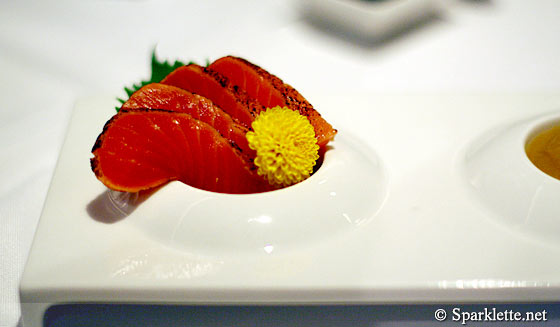 Ocean trout and swordfish tataki
S$28++





The beautifully plated ocean trout and swordfish tataki are perfectly seared with a rare centre. Taking a more sophisticated stand, the fish is paired with a completing thick miso citron sauce.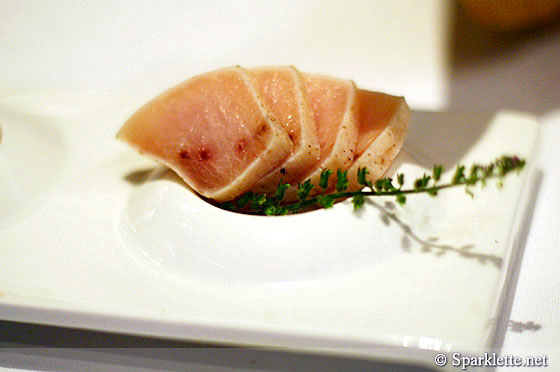 For those who are more adventurous, you can try the Charcuterie taster that includes a selection of meats for sharing. This is served with pickles, quince compote and rustic bread. As a relatively unfamiliar food to the typical Singaporean's palate, the acquired taste of cured meat may not be readily accepted by most. If the thought of raw ham puts you off, you may find it gamy and bizarre.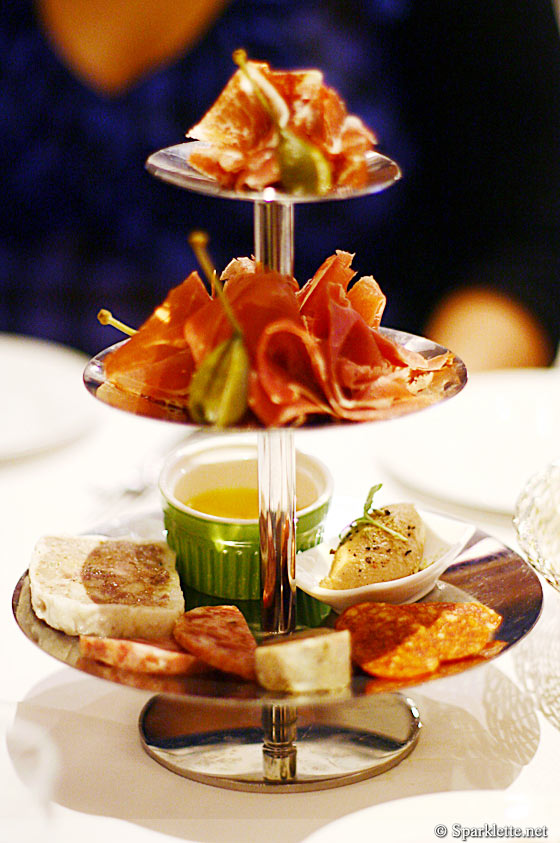 Charcuterie taster
S$48++





On the other hand, for those who appreciate this European delicacy, you'll be thrilled upon seeing the grand presentation. The top-grade jamon ham is thinly sliced and has a slightly chewy texture.
A standout dish from the platter is the Foie gras parfait. It has a mousse-like consistency that makes the dish so appealing.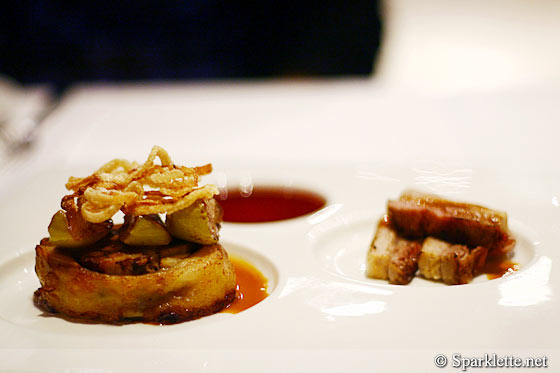 Slow roasted suckling pig and Kurobuta pork belly
S$48++





And yet more meat. The slow roasted suckling pig has an Iberico jamon and fig stuffing. Though not quite melt-in-your-mouth tender, the caramelised apples atop create a lovely texture in contrast to the minced meat stuffing. The crackling pork is crispy and addictive. In fact, the only thing you'll hate about this is the amount of calories it has.
Served with an enticing pear and apple jelly sauce, the Kurobuta pork belly is yet another exemplary work from the kitchen.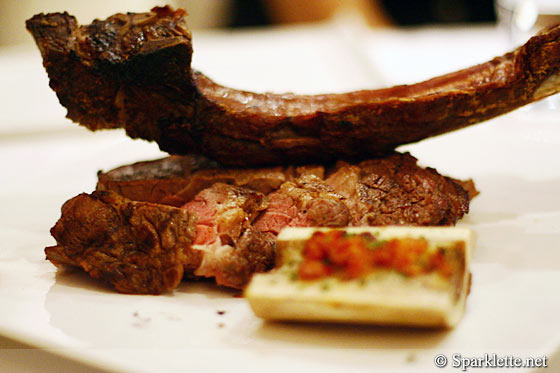 Grain fed Tomahawk rib eye
(800g)
S$140++





The Tomahawk rib eye is roasted over imported woods that impart a distinctive smoky character to the meat. Though short of seasoning, it enables you to taste the freshness of the beef. The accompanying red wine sauce gears towards a watery consistency but is tasty and goes very well with the beef. The steak is served with horseradish-crusted marrow.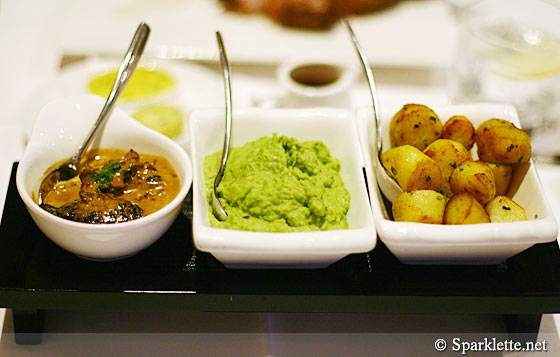 Portobello with morel cream, smashed peas and mint, and truffled kipfler potatoes





Smashed peas and mint, Portobello with morel cream and truffled kipfler potatoes are the side dishes that you can have with your steak. The Portobello mushrooms are tender and gratifying, oozing out delicious juices as you bite into them. The sauce is heavenly; you may find yourself licking the bowl dry!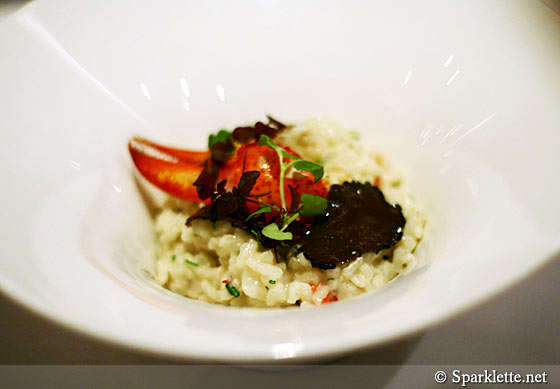 Truffled risotto with poached Maine lobster
S$48++





The truffled risotto with poached Maine lobster is another highlight. Expect a deftly cooked risotto, infused with shellfish stock and topped with truffle shavings that exude a potent fragrance. The risotto is cooked till perfection with the right consistency – neither mushy nor undercooked. Chunks of lobster meat are visible in every spoonful. This dish is top-notch in every aspect – certainly a must-try!
Desserts
After your main course, expect desserts to be of the same high quality as the rest of the meal. The desserts, made by another of the 1-Rochester Group, 1 Caramel, are known to be exquisite and creative. Get ready to indulge your inner sweet tooth.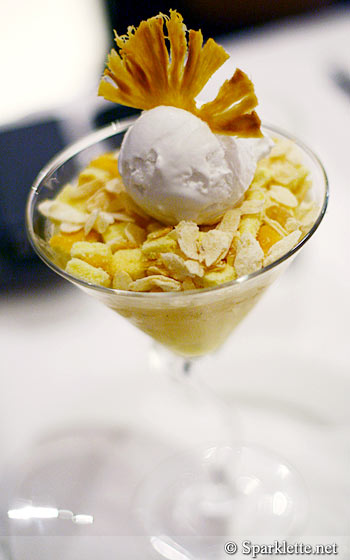 Tropical vodka trifle
S$16++





The tropical vodka trifle is a refreshing dessert comprising pineapple gazpacho jelly, pineapple sponge cubes and crystallised baked almonds topped with refreshing coconut sorbet. The acidity from the pineapple adds a nice balance to the sweet coconut sorbet.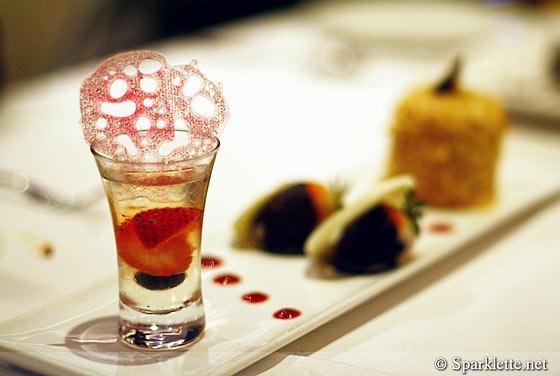 Trio Fraise
S$16++





The Trio Fraise includes three desserts served on a long platter. Seen here is the refreshing berry jelly and strawberry compote on pavlova.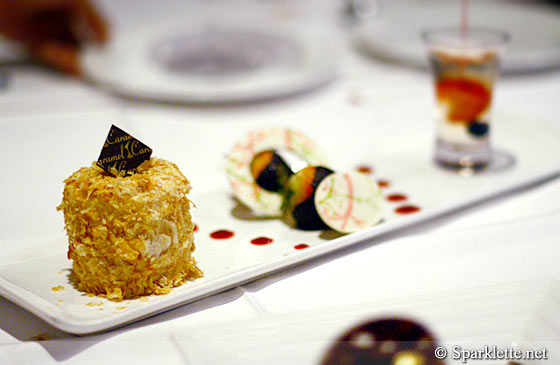 And on the same platter, there is the strawberry shortcake layered with fresh strawberries, vanilla genoise and strawberry mousseline coated with golden brown puff pastry flakes.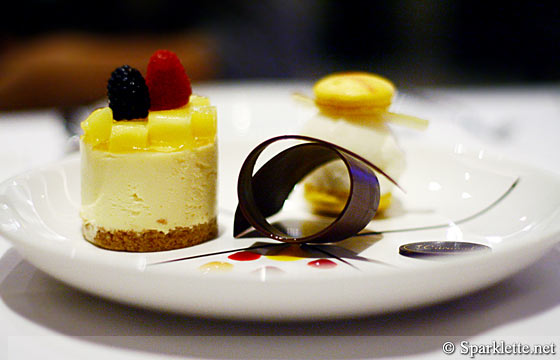 Tropical Teaser
S$16++





In the Tropical Teaser, the mascarpone cheesecake is made very light, with a fragrant coconut crumble base, and topped with fresh juicy mangoes. The mangoes are a tad too sour for my liking; you definitely won't end up with a sugar rush from this dessert.
Served with a tangy lemon sorbet with a lemon macaron, the lemon sorbet is thoroughly refreshing and enjoyable.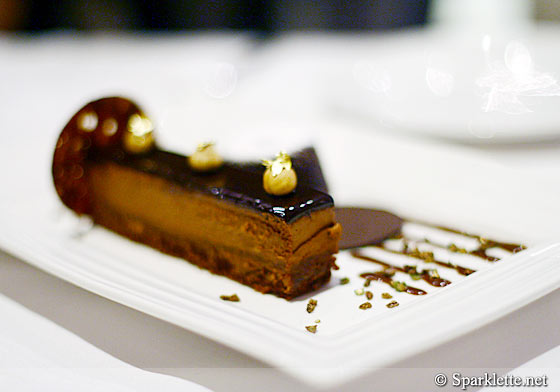 Chocolate Seduction
S$8.90++





The Chocolate Seduction is a 1-Caramel cocoa signature with varying layers of hazelnut chocolate mousse and praline fueilletine, Valrhona orange sauce and warm chocolate almond lava cake. Chocolate lovers will swoon over this dessert. The lava cake however, is a disappointment. As reviewed previously at 1 Caramel, it is once again missing the molten lava centre.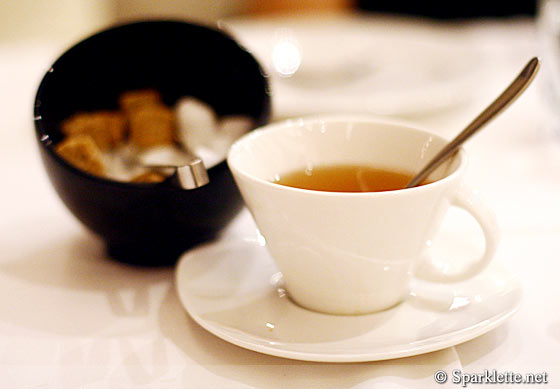 Geisha Blossom tea
S$10++





After a heavy meal, cleanse your palate with a gourmet tea. The Geisha Blossom tea – a blend of green tea and white tea with refreshing southern fruit – is elegant and refined. The scent of fruity essence is relaxing and calming – a great way to end the night!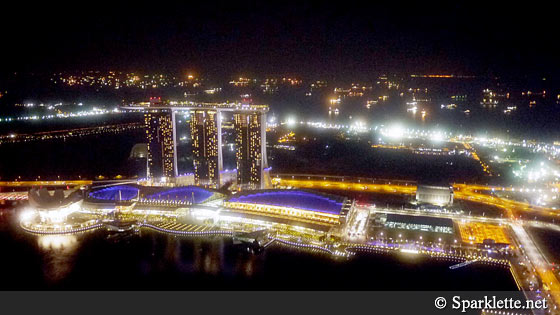 Be sure to head up to Singapore's highest rooftop bar, 1-Altitude, to enjoy a breathtaking and unobstructed view of the city skyline, overlooking the Marina Bay Sands integrated resort, Singapore Flyer and Esplanade.
Have Your Say!
Where can you dine with the best view in Singapore? Share with us in the comments!
Stellar
1-Altitude
1 Raffles Place #61-01 – #62-02
Singapore 048616
Tel: +65 6438 0410 |
Website
Opening hours:
Mon to Fri: 11:30am – 2:30pm, 6pm – 12midnight
Sat, Sun & PH: 6pm – 12midnight