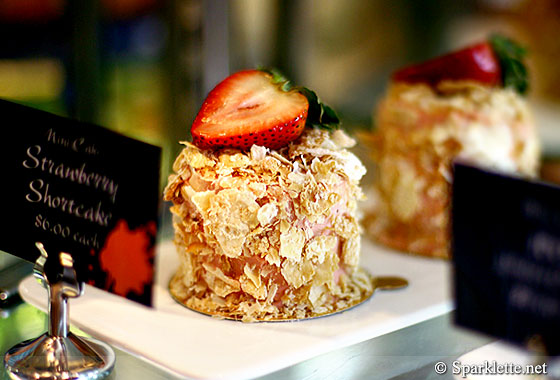 Hidden away from the bustling city, 1-Caramel is a dessert boutique located on the second level of One Rochester.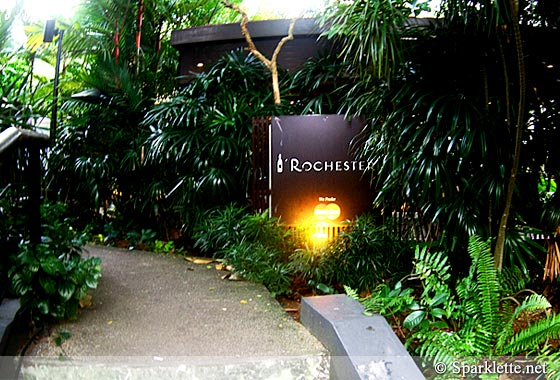 Amidst the lush greenery of Rochester Park, you would totally feel like you're on a mini getaway with the resort-like façade.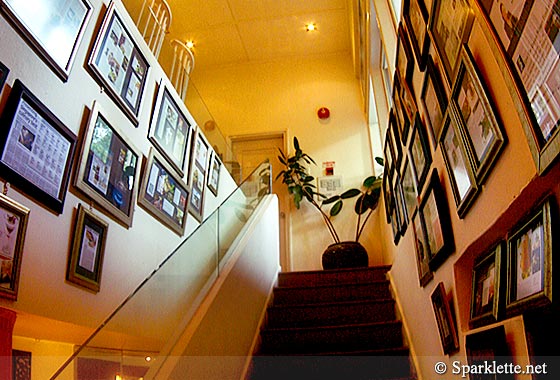 Upon entering 1 Caramel, you may get the impression that you are stepping into a pastry workshop rather than a bistro.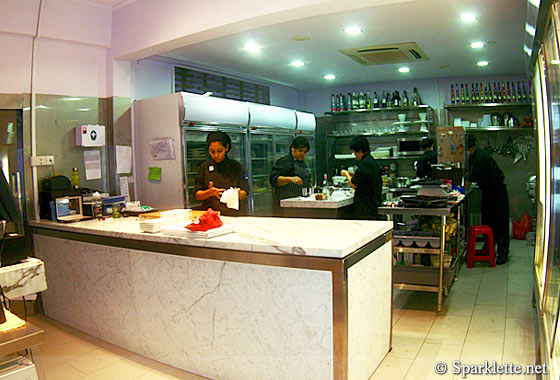 The open concept of the clean and organised pastry kitchen allows us curious diners to watch how our desserts are being meticulously prepared.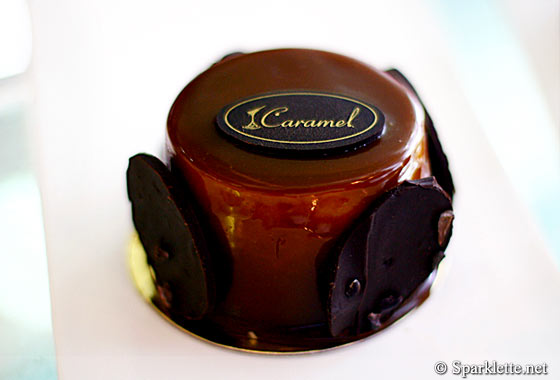 Be mesmerised by the array of exquisite cakes on display, showcasing different pastry techniques, skills and artistic creativity.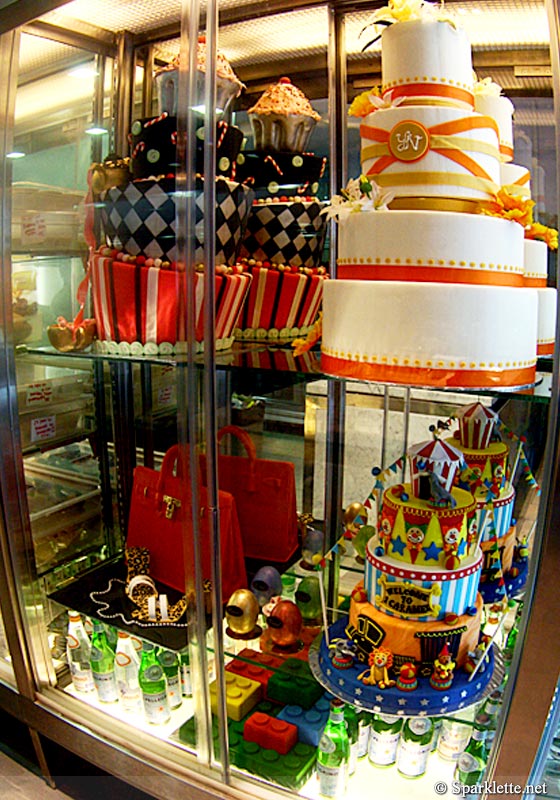 The wide range includes signature whole cakes (8 to 9 inches; S$45-85) and cupcakes (S$3-3.50). You can also opt for your cakes to be customised, whose prices would then be dependent on the complexity of design.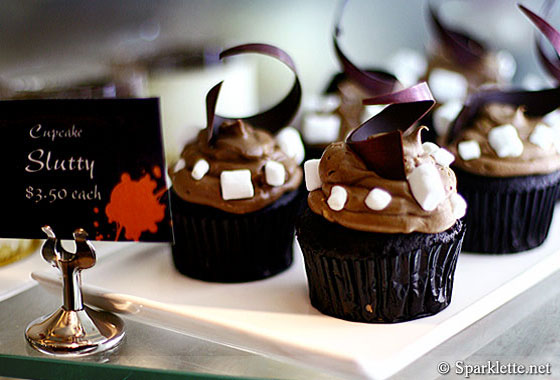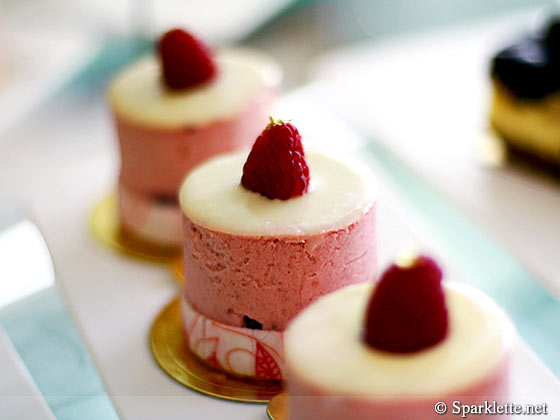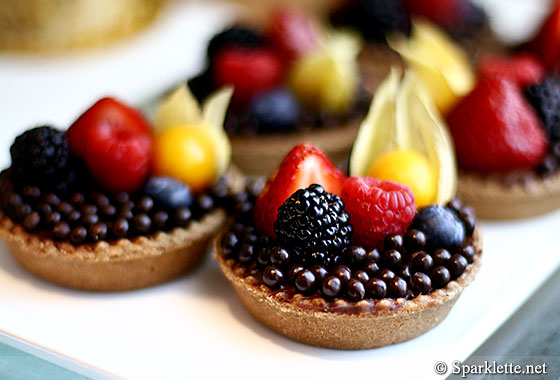 Other than desserts, set lunches (S$12-18++) and an all-day brunch menu (S$8-22++) are available. The drinks selection includes coffees and teas (S$5-8++) and ice blended beverages (S$8-8.90++).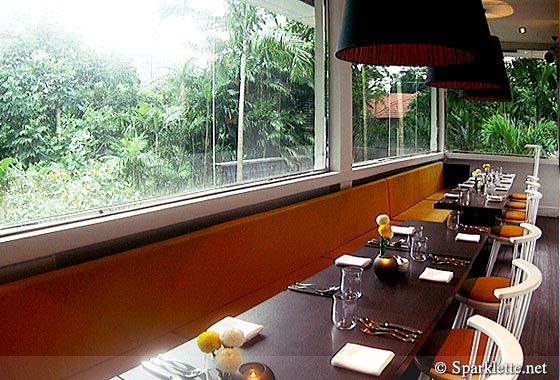 To add to the classy and modern contemporary interior, the excellent view of nature allows you to escape from the busy urban life while indulging your senses in the cosy ambience.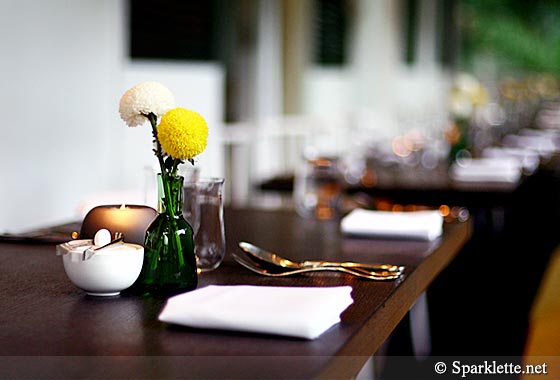 Despite the limited seating capacity of 16 diners, there is still ample room for comfort. One side benefit is that you will receive undivided attention from the staff. A reservation should be made in advance to secure a seat during peak hours.
Brunch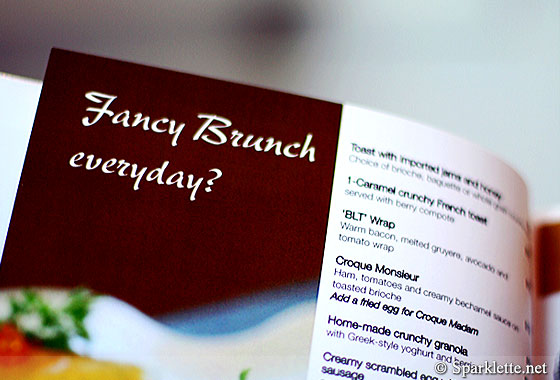 From the brunch menu, you can go for the tastefully presented traditional eggs Benedict with smoked salmon.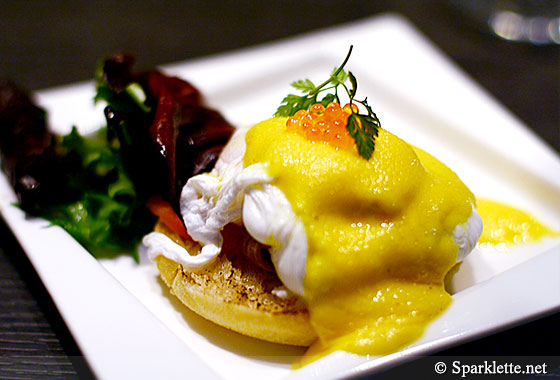 Traditional eggs Benedict
S$14++





Doused in a wonderful lemony hollandaise sauce, the poached eggs boast a runny yolk. As you cut into the eggs, they bleed beautifully to lightly coat the salmon and muffin beneath. All the elements combine to make a wholesome and well-balanced dish that you will enjoy thoroughly.
For sharing, the posh platter (S$22++) consists of three items.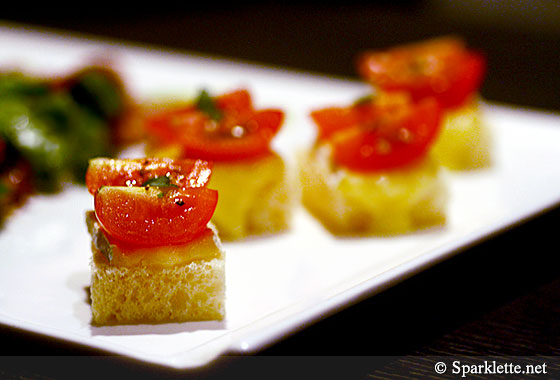 Truffled brie and cherry tomatoes





The truffled brie and cherry tomatoes on a toasted brioche make a healthful finger food. Fresh tomatoes and the light pastry crumbs are bound perfectly with the great-tasting truffled brie.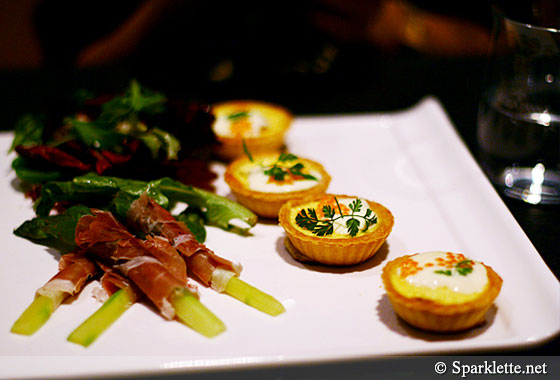 Asparagus wrapped in basil and prosciutto





Even though I am one who discards any greens I see on a plate, the asparagus is an exception. I love the teaming of salted prosciutto with the al denté asparagus.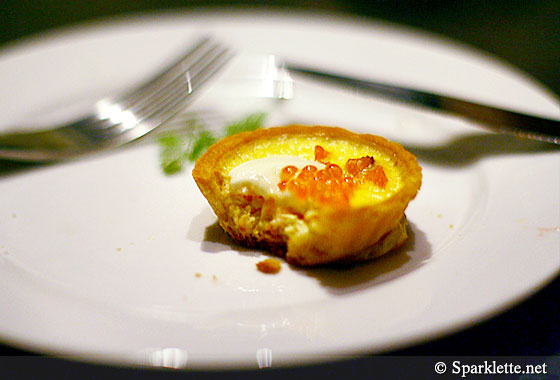 Smoked salmon tart with crème fraiche and ocean trout caviar





My favourite component of the platter would be the smoked salmon tart with crème fraiche and ocean trout caviar. The tart is freshly baked, with smoked salmon mixed in a creamy centre, and finally sprinkled with caviar for a touch of luxury.
Desserts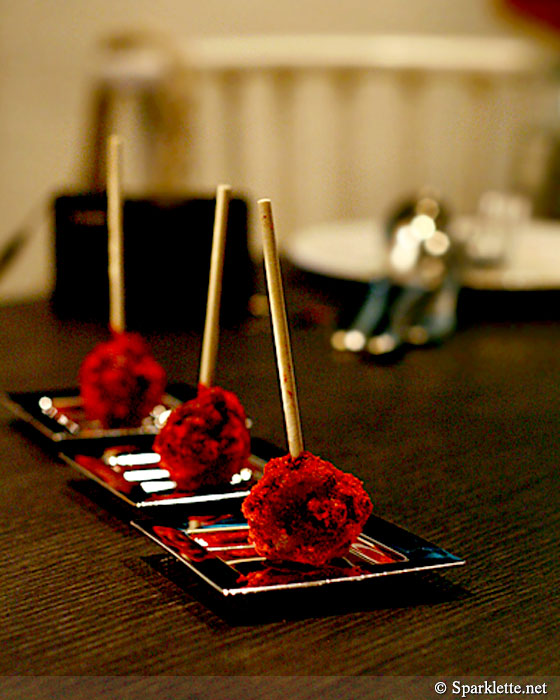 Raspberry rum chocolate lollipop
Not available on menu





These tiny raspberry rum chocolate lollipops are certainly worthy of your attention. Dusted with raspberry powder, the rich dark chocolate melts in the mouth. The raspberry and chocolate form a sexy pairing that leaves you craving for more.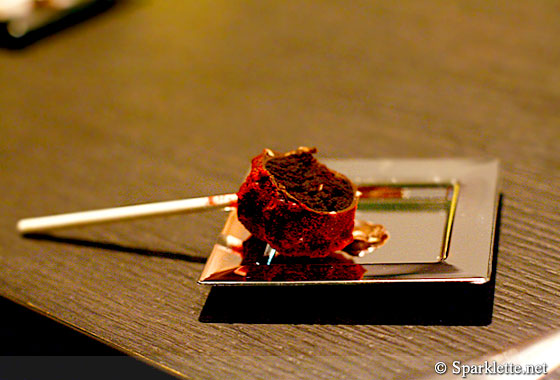 Then comes the crowd pleaser. The 1-Caramel Assiette is an assembly of elegant petite-sized desserts that look too pretty to be eaten. If you fancy any of the desserts, you can order the regular portion at S$14++ each.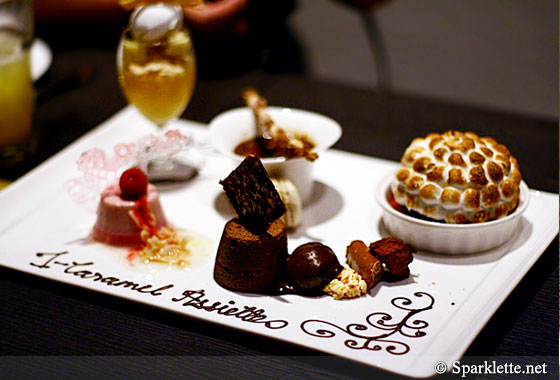 1-Caramel Assiette
S$16 / 20 / 24++ for 3 / 4 / 5 desserts
Death by chocolate (bottom right) consists of a Valrhona soffiato molten cake followed by dark chocolate sorbet and a trail of chocolaty goodness. Mysteriously, the supposedly molten chocolate centre is missing, although the very rich dark chocolate sorbet that melts into a thick chocolate sauce makes up for it.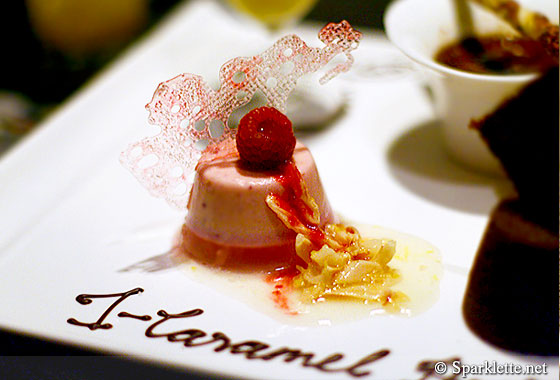 Raspberry lychee rose panna cotta





A charming light dessert, the raspberry lychee rose panna cotta with lychee-lemon compote is a natural choice for the health-conscious. The cold pudding has a comforting smooth texture that isn't too sweet. The acidity will not satisfy any sweet tooth but it definitely will galvanise your taste buds for more desserts!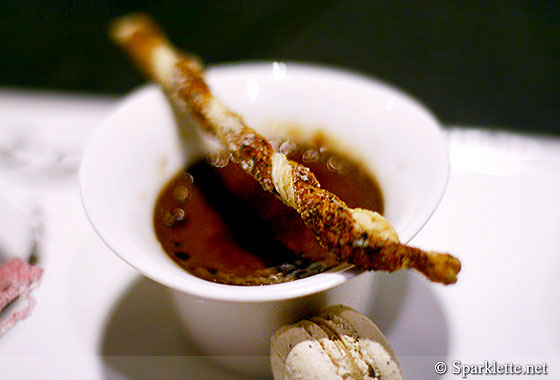 Earl Grey crème brulee





The Earl Grey crème brulee is an infusion of Earl Grey tea leaves in smooth custard. Less sweet than the classic crème brulee, it also lacks the contrasting layer of bruleed caramel on top; cracking into the dessert would have upped the excitement factor! The quaint grissini cheese straws, dusted with tea and icing powder are a delight to nibble and go very well with the crème brulee.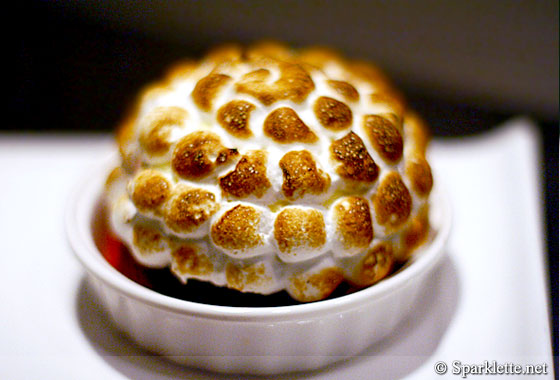 Baked Alaska





The Baked Alaska comprises of home-made strawberry and vanilla ice cream capped with rum-flavoured Italian meringue, resting on nutty chocolate brownie.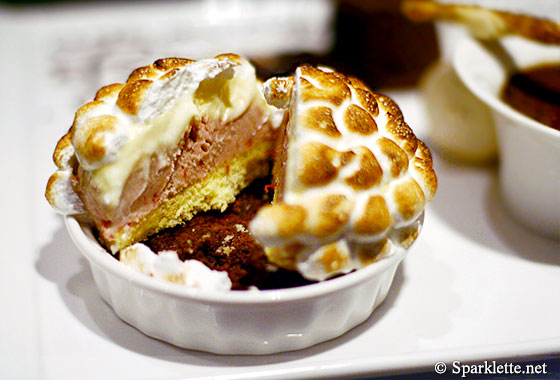 Cutting into the dessert is such a joy. Beautifully layered, the contrasting textures – ice cream, cake and baked meringue – are absolutely heavenly. I devour it in minutes!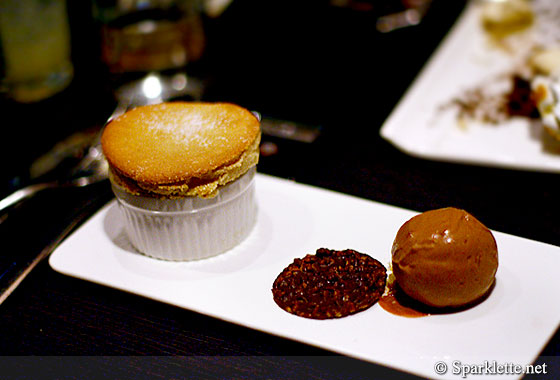 Hazelnut soufflé
S$14++





The hazelnut soufflé is coupled with a scoop of chocolate ice cream. The soufflé arrives as a puffed up pillow with a golden crown over a soft yielding centre, which spells the perfect comfort food. It is full of hazelnut richness and has a nostalgic flavour that reminds me of my favourite childhood candy bar – Kinder Bueno.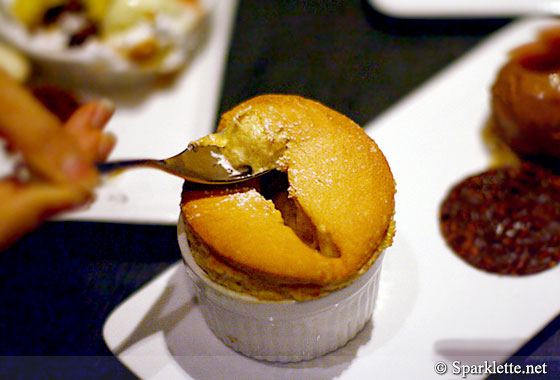 I end up eating the two separately as I feel each one tastes better on its own.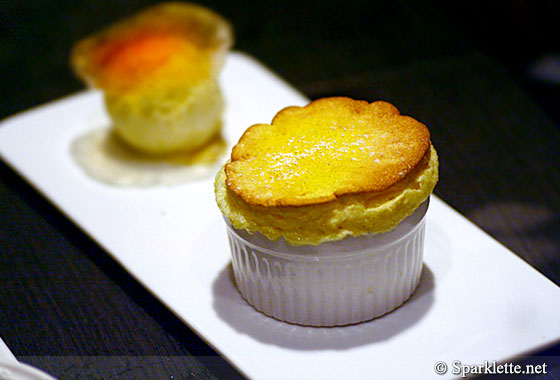 Miso soufflé
S$14++





The miso soufflé slants toward the savoury side, and I enjoy the salty-sweet combination immensely. The yuzu (a citrus fruit) ice cream that comes with it is a tad sour, and complements the soufflé. This luscious dessert is a must-try for soufflé fans.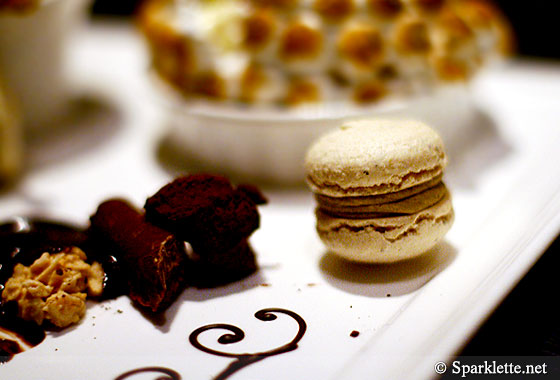 Midori macaron





Cutting into the eggshell-like crust of the midori macaron gives way to varying textures and flavours. Tiny as it is, it would leave you wanting more.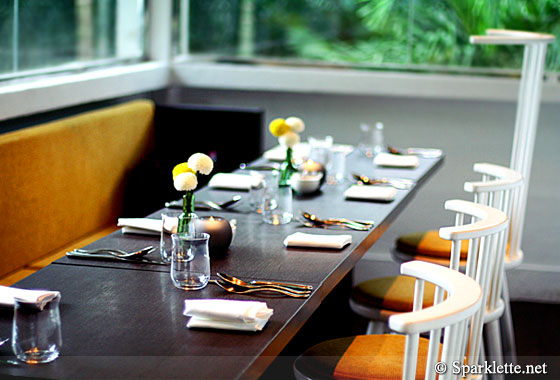 1-Caramel displays creativity and technique in fabricating these delicate desserts. No matter what your gastronomic preferences are, you will be spoilt for choice here.
Have Your Say!

Loading ...
Aside from Rochester Park, are there any other unique dining enclaves in Singapore? What is your most memorable dining experience? Share with us in the comments!