How does this sound to you: a well marinaded and perfectly grilled chicken, drenched in a fiery hot African sauce? I don't know about you, but that sure made me salivate!
As soon as I hear that the UK fast food chain, AJ's Piri Piri Chicken, has set up its first franchise outlet in Singapore that promises to bring us the aforementioned chicken, I make a mad rush down to grab a piece. It's on the 5th level of Iluma, the new shopping mall at Bugis.
So what is piri piri? It's a tiny red chilli pepper that is found in Africa. The Portuguese blend it with various herbs and spices and voila! There's your hot hot piri piri sauce!
The restaurant serves the Afro-Portuguese chicken in different tantalising styles like hot plate, burgers, wraps, pastas and more.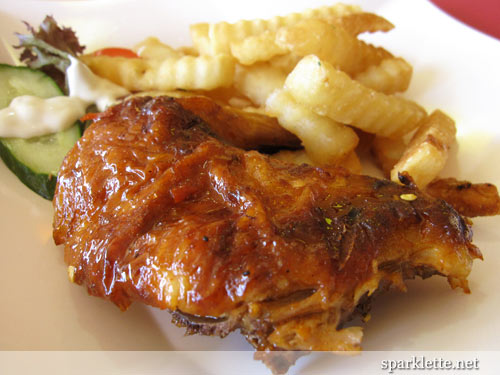 ¼ Piri Piri Chicken
S$7.20+
Rating:





Of course, a virgin taste test should start off with the piri piri chicken in all its naked glory. So I order the quarter-chicken with fries on the side, but you can opt for sweet corn if you wish. With 3 different sauces to choose from – mild, very spicy and lemon herb – I go for the first. When unsure, always err on the safer side.
For S$7.20, the lone piece of chicken thigh sure looks puny! I tell myself that quality is more important than quantity. But disappointingly the sauce is nothing to shout about. It is more salty than anything else, without any hint of other herbs. This can't be what the real piri piri sauce tastes like, can it?
On top of it all there is way too little sauce. It would help a lot if the dish comes with a small tub of the sauce on the side.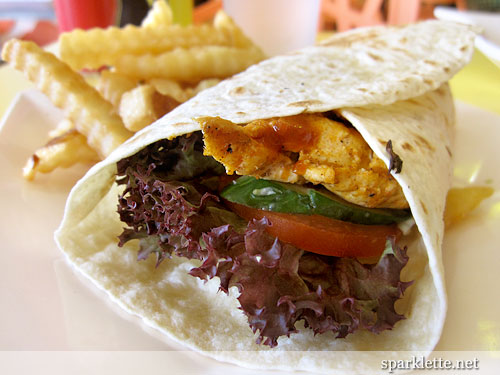 Super Slimmer chicken wrap
S$6.80+
Rating:





Thankfully, the Super Slimmer chicken wrap fares much better. Again, the chunk of chicken in the wrap is pretty small. But it also tastes very good, with the seasoned flavours penetrating all the way to the centre of the flesh.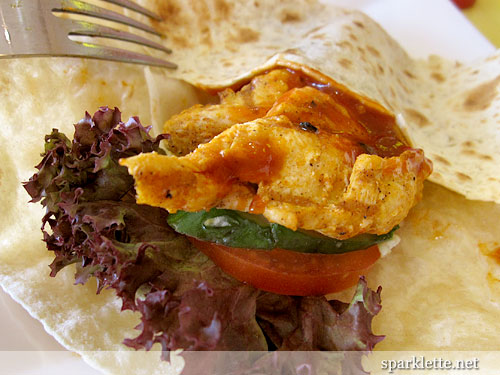 This also happens to be a healthier dish, where the less fattening chicken breast meat is used and layered with vegetables.
Earlier on, I've asked for warm water as I'm nursing a nasty cough. Unfortunately they are unwilling to do that. (The staff asked the manager, who said no right in front of me.)
The soreness soon dissipates when I make my payment and notice a 25% discount on my bill. Suddenly the meal seems a whole lot more reasonably priced! They are "not sure" when this promotion would end, so do take advantage of the discount while you can!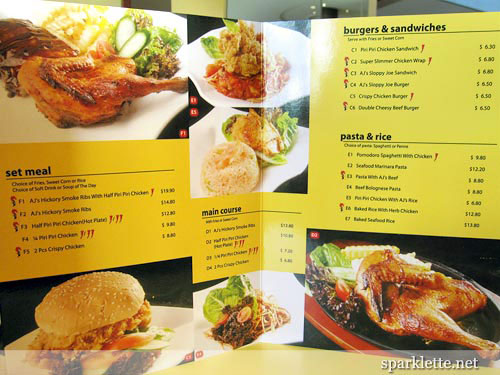 Click to enlarge
Clearly, the restaurant's isolated position in an already uncrowded mall does not work to its advantage. It is overshadowed by the Filmgarde cinema on the same level and an entire level of eateries just one floor down. Most people would simply head straight to the more accessible restaurants and miss it altogether.
I hear that Nando's is the "original" fast food chain that specialises in piri piri chicken. Here's my review of Nando's in Kuala Lumpur, Malaysia. Gotta check out the one in Singapore soon!
Is there any other eatery in Singapore that sells piri piri chicken?