While passing through a mall recently, I stopped by a Christmas bazaar. These days anything Christmasy would stop me in my tracks. Whether it is Christmas decor, Christmas tree ornaments, or Christmas yummies, I must spend at least ten minutes browsing through it all.
As it turned out, among all the Christmas logcakes and gingerbread men, it was these colourful mini cupcakes from Angelz Cup that caught my eye.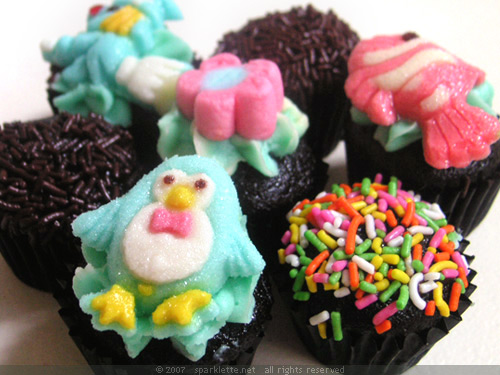 Aren't these adorable? They're chocolate too! I rarely buy things on impulse. (okay, I used to, but not anymore.) but I bought 'em anyway. At just 4 bucks for 7 of these bite-sized delights, how could I not?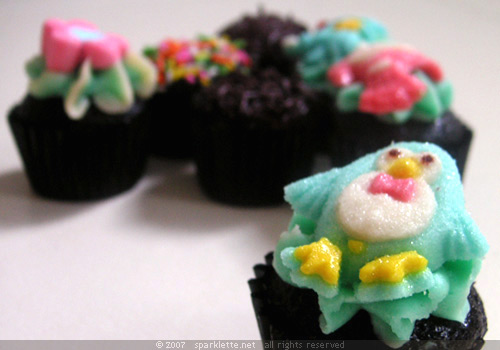 My favourite is the light blue penguin. Penguins are among the most adorable animals in the world (right up there with koalas and kittens). What do you get when you turn them into baby-sized cupcakes (not to be taken in the literal sense)? The best combo of cute! Better still if they wear pink bow-ties!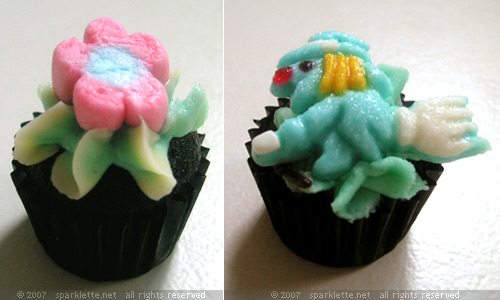 These mini cupcakes in the shape of a pink flower or a blue witch are cute and unique too! The blue frosting is mint-flavoured, which I don't really fancy. But the level of detail that went into decorating each cupcake is enough to make me overlook the fact.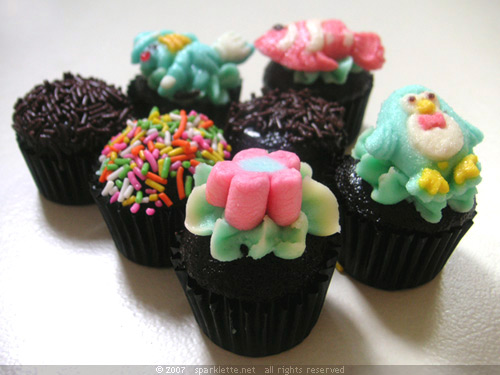 Mini Cupcakes
S$4 for a box of 7
Rating:





So what if they aren't the yummiest thing in the world? These cheery little cupcakes have won me over at first sight!
Come to think of it, cupcakes don't exactly spell Christmas do they? They seem to be more of a wedding reception or baby shower kind of snack. Christmas ought to be celebrated with cupcakes in addition to all the usual goodies! Colourful, cheery and sweet, they will put a smile on anyone's face.
This Christmas I am so ordering a batch of cute cupcakes!