I'll admit it – I'm crazy about beer. And I especially have a weak spot for Belgian beer. One of the best places to enjoy it would be Brussels Sprouts at Mohamed Sultan Road. This Belgian bar-restaurant boasts over 70 different kinds of beer. From malty full-bodied to light fruity, everyone would be able to find his favourite beer here!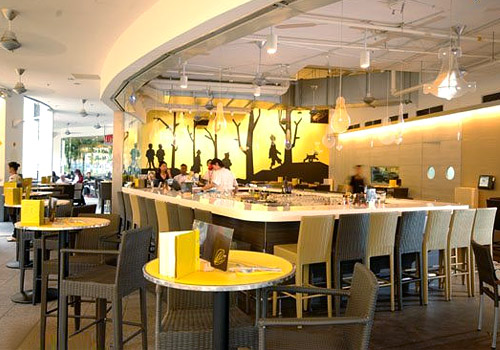 Photo by Street Directory
This casual bar is decked out in yellow, from the round-topped tables and the motif-decorated walls right down to the glossy menus. Even though the interior looks chic, my favourite spot there is definitely in the outdoor, among the high stools along the river. Drinking beer by the waterfront is the perfect way to spend a weekday evening!
Besides the dozens of different beers available, there is also an extensive selection of mussels and meat dishes to choose from.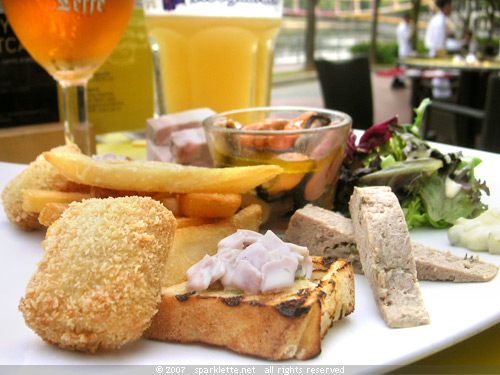 Brussels Sprouts' Platter
S$25++
We thought it would be clever to go for the Brussels Sprouts' Platter. That way we would get to sample a bit of everything, including frites, mussels and prawn croquettes.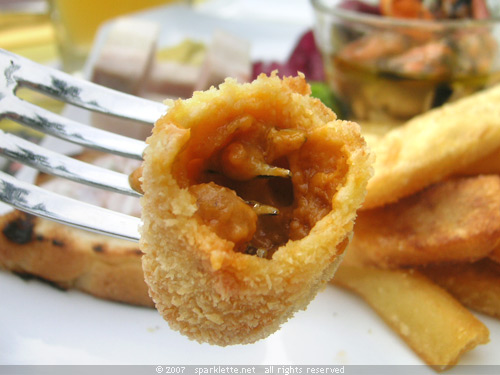 Grey shrimp croquette
Rating:





Even though the filling wasn't much, the Grey shrimp croquette was quite delicious. But then again, anything deep-fried would be yummy right? It's almost a rule!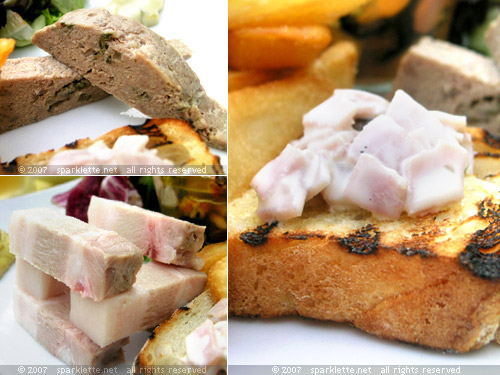 Clockwise from top left: Meatloaf with Gherkin Dressing, Ham, Caper and Gherkin Salad on Toast, Chilled Slow Braised Pork Belly with Mustard
Rating:





Half of our platter was filled with pork in different forms! And I don't even take pork! My dinner partner (actually more like drinking partner) isn't exactly a big fan of pork either. Had we bothered to read the menu carefully, we would have ordered a pot of pure mussels instead of the platter.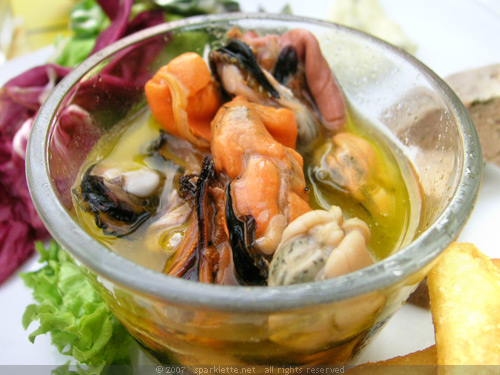 Mussels Marinated in Vinegar
Rating:





Thankfully, the mussels were awesome! Succulent and plump, it was tempting to keep popping them into my mouth one after another. Slurp! Even if it wasn't for the beer, the mussels alone would keep me coming back for more!
Mussel lovers get to choose from 14 cooking styles, be it European, such as the classic wine-and-butter combo, or Asian. Spicy tom yum, anyone? And that's not all – each pot of mussels comes with free-flowing fries and creamy mayonnaise! Yum!
Of course, the perfect way to wash it down is with… Belgian beer!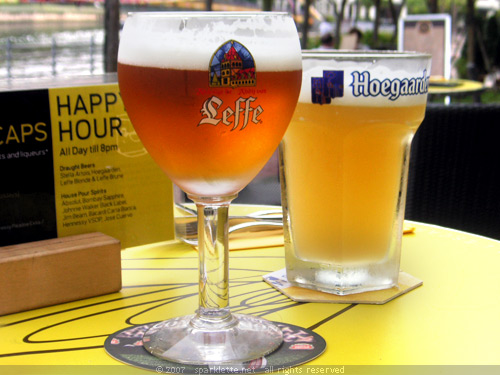 Leffe Blonde & Hoegaarden
S$7.50++ & S$9.50++ (a pint)
Ahh…! I had just a pint of Leffe Blonde. But I'm going back for more! An interesting point to note is that all beers are served in their respective glasses of varying shapes, designed to bring out their best flavour.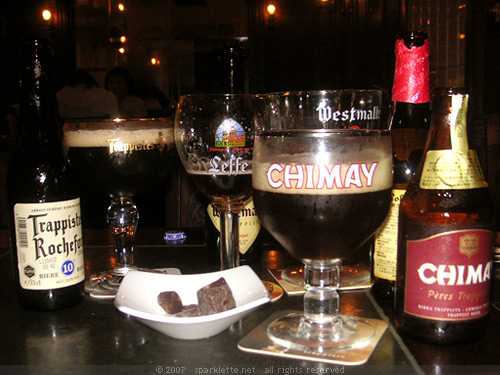 These are the different Belgian beers that I had in Tokyo. I'm so glad to be able to find them in Singapore too!
One more thing – kids aged 10 and below (one for every paying adult) get to eat for free too (weekend lunches only)! Okay, I'm pretty sure none of you would qualify. It's still useful information nonetheless.
What are you waiting for?
Brussels Sprouts
The
[email protected]
80 Mohamed Sultan Road #01-12
Singapore 239013
Tel: +65 6887 4344 |
Website
Service: