Local café chain Bakerzin has updated its menu for 2008!
The reason that keeps me going there is that the team of chefs serve up a mean seafood pasta. And let's not forget the oh-so-sinful-and-yummilicious chocolate lava cake too.
But with this new 2008 menu, I've found a third good reason.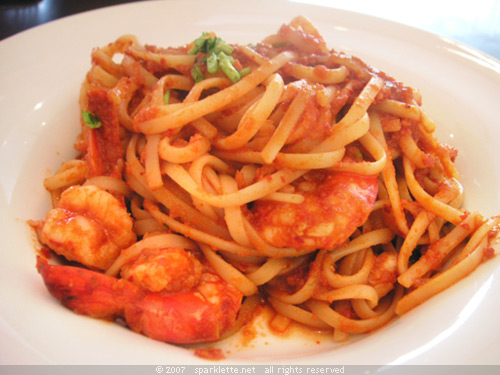 Assam Prawns with Linguini
S$14.80++
Rating:





The assam prawn dishes are newcomers to the menu, falling under the brand new category "just like home", which is dedicated to local flavours. Bakerzin owner and chef Daniel Tay was taught by his Dad on how to prepare the delicious assam prawns.
For those with a weakness for spicy food, you would totally love this. I tell ya, these juicy prawns go so well with the thick and sweet spicy gravy, they're practically exploding with flavour. It's mouthwatering and lip-smackingly good!
Just when I thought they can't possibly do any better than their 5-star seafood pasta, they whip up this new pasta that totally surpasses my expectations! Like the seafood pasta, a generous serving of prawns is tossed in too.
Besides the east-meets-west fusion of assam prawns with linguini, you can also choose to have it with Japanese rice. I might ask for spaghetti next time though; I feel spaghetti might just go better than linguini.
Update: I tried this with spaghetti a few days later and guess what? I did like it better than the linguini!
Oh, for the seafood pasta die-hard fans, this old favourite is still on the new menu. They wouldn't dare take it away would they? Personally I'm just thrilled to have another excellent option for my next visit!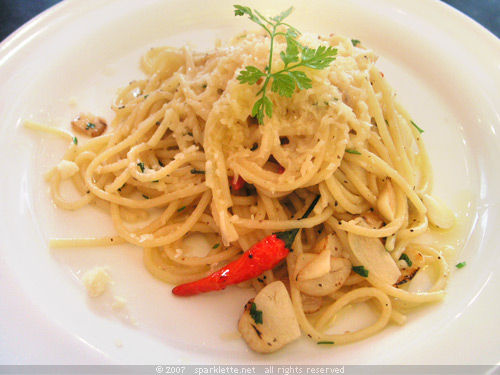 Aglio Olio Spaghetti
S$8.80++
Rating:





Another old favourite that remains is the traditionalist pasta dish, aglio olio spaghetti, sautéed with olive oil, garlic, chilli padi and parsley. While it was tasty, we did find it too dry for our liking. I sure hope it isn't always dry like that, especially since this place doesn't serve water. That's my only pet peeve with Bakerzin. (a rather major one though.)
But who needs aglio olio when you already have two awesome tried-and-tasted pasta dishes right? Wow, my entire mouth just filled up with saliva. Can't wait for my next visit!