Despite our close proximity with Indonesia, one would be hard-pressed to find an authentic Indonesian eatery in Singapore. My favourite Indonesian or Javanese place to dine is limited to The Rice Table Indonesian Restaurant. Then there's also Riverside Indonesian BBQ at the Plaza Singapura food court which is awesome, though not exactly authentic.
Over at Lucky Plaza, there are three small Indonesian-run eateries – Ayam Penyet Ria, Resto Surabaya and Ayam Bakar Ojolali – all with Malay or javanese names to boot. Due to the confined space, each of these places seats only two dozen people at max. I visited one of them recently, Ayam Bakar Ojolali.

Ayam Bakar Ojolali (Grilled Chicken Ojolali)
S$5.50
Rating:





Their signature dish is the Ayam Bakar Ojolali (also the name of the place). Ayam bakar, which is in Malay, translates to grilled chicken in English, while the Javanese word "ojolali" means "don't forget". Together, it's supposed to mean "unforgettable grilled chicken". Unfortunately it was pretty forgettable, really.
The chilli sauce that came along was fiery hot, and lent much kick to the dish. While I really liked the sweet and tasty black sauce that was drizzled over the dish, I found the chicken to be stiff, overcooked, and way too dry for my liking. It had spent too much time on the grill. I had a pretty hard time eating it. To sum it up, the sauces and condiments were good; the chicken wasn't, and that's what really mattered.
Okay, so the signature dish of Ayam Bakar Ojolali failed me. Maybe the drinks would fare better.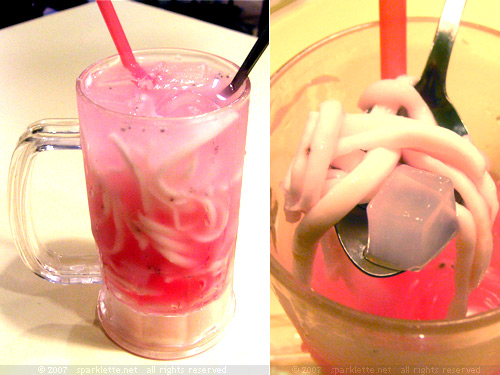 Es Ojolali (Iced Pink Coconut)
S$2.80
Rating:





I had the es ojolali (iced pink coconut) drink simply because it was in a very appealing pink and I didn't know what else to order. You are given a spoon to scoop out the generous strips of coconut flesh. It was surprisingly good and refreshing! I found myself greedily slurping it all down.
At the end of the day, it still boils down to the main dish – grilled chicken. If you're gonna name your eatery after a dish, at least make sure you are good at it!
For now, unless the other two Indonesian eateries at Lucky Plaza fare better, I would continue getting my grilled chicken from the corner stall at the Plaza Singapura food court. I've been eating there for the past… Oh my gosh, six years! Yes, it is really that good!
As for Ayam Bakar Ojolali, guys, you may wanna give this one a miss.
Ayam Bakar Ojolali
(

Halal certified
)
Lucky Plaza
304 Orchard Road #03-39/43
Singapore 238863
Tel: +65 6235 3597
Website