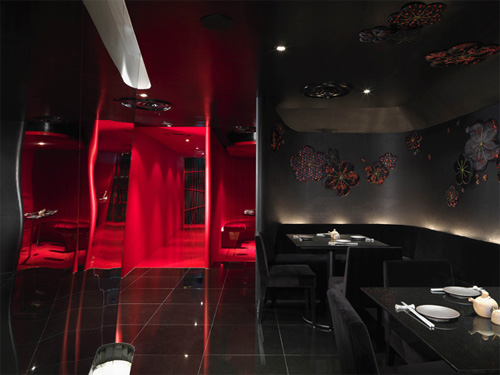 At Sho-U, one of the newest Japanese restaurants in town, the thing that strikes visitors the most would probably be its unique design.
Don't get me wrong though, the food at this contemporary Japanese fine-dining establishment is nothing short of excellent. But being a sucker for aesthetics (something that Singapore restaurants aren't particularly known for), I am glad for this new place that has a décor I can finally rave about!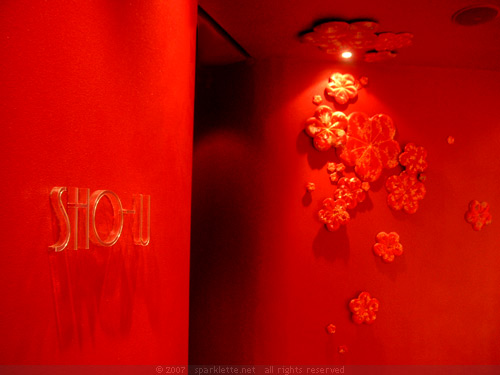 You are first greeted by the striking red entrance decorated with (red) fabric art installations of sakura (cherry blossoms) on the wall. Then you enter the restaurant through a (red) passageway that leads to an all-black dining area. Here, there are a few black private dining rooms that cater to larger groups.
Beyond this all-black dining area, the interior design takes on a dramatic turn as you walk into an all-white dining hall.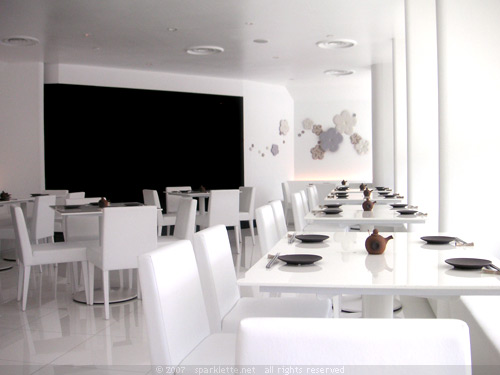 Again, there are those pretty sakura art installations on the walls. The use of sakura is a recurring theme in this restaurant. In each of the three different coloured areas – red, black and white, the sakura decorations would follow the respective colour scheme!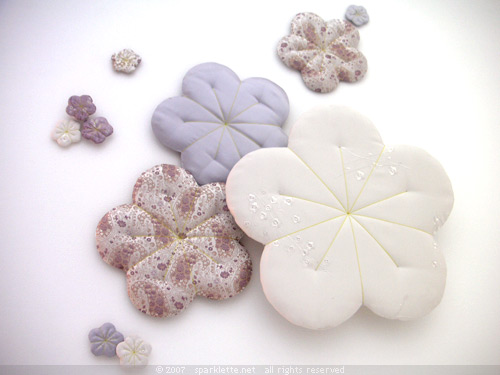 Sho-U boasts a very sleek design that screams modern chic with a tinge of tradition. Tucked into the third storey of the new (wannabe) Japanese mall, The Central at Clarke Quay, this restaurant also offers diners a nice view of the Singapore river.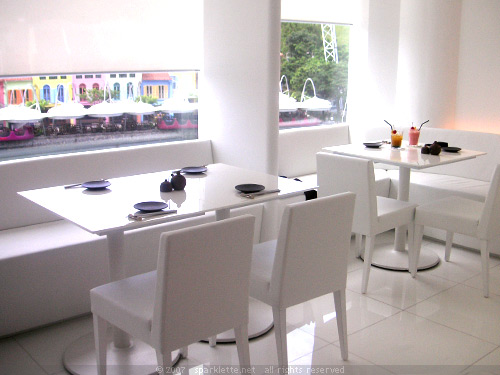 I would enjoy dining there in the day, with clean, natural light pouring in and bathing the dining hall in white. (of course, it also means that I can take great pictures of the food with my lousy camera!)
By the way, besides the interior design, dramatic colour schemes and sakura decorations, even the uniforms that the waitresses wear have been designed by esteemed designers!
"Enough of all this boring design talk already!" Okay, I hear ya! You wanna know about the food so here it is!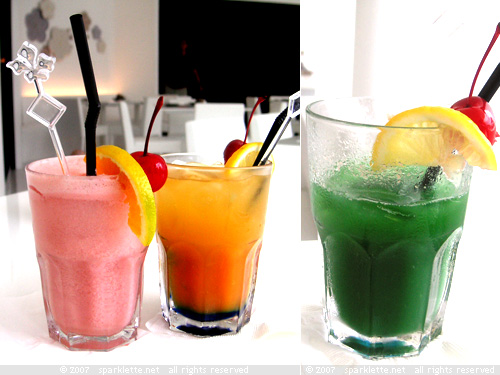 Sho-U Mocktail & Heaven's Dew
S$10.80 & $7.80++
Rating:





Waitresses are on hand to recommend the restaurant's best drinks and dishes. We had a couple of the mocktails. The Sho-U mocktail (in pink) is a mixture of strawberry, milk and a variety of other fruits. I loved the sweet and milky taste to this one.
The Heaven's Dew (in orange) is one glassful of surprise. It arrives at our table looking all orange and… safe. But once you give it a good stir (notice the blue layer at the bottom), the drink turns to a somewhat vile and yucky-looking green! In spite of that, it did taste pretty good with the mixture of orange and other assorted fruits.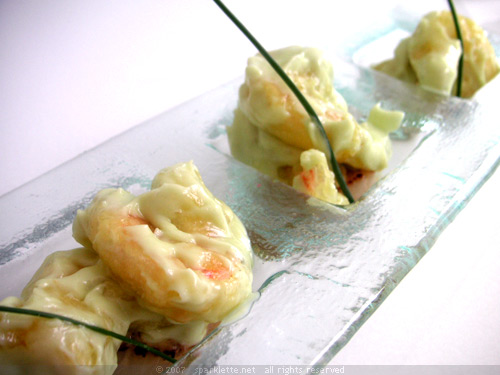 Scallop and Prawn in Creamy Sauce
S$16++
Rating:





With Japanese head chef, Tommy Ueda-san at its helm (the man has 15 years of experience), the food here definitely looked promising. The first dish we had was the scallop and prawn in creamy sauce. On first impression, the portions looked to be pretty small. But upon tasting it, I began to understand why. The creamy dressing was so rich that anything more than this, I would probably have gotten a little queasy! www.planotxmovingpros.com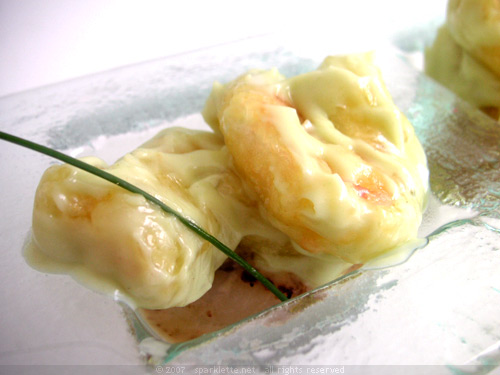 Yet, the smooth creamy sauce was also the best part of the dish. The chef added a subtle touch of wasabi to the sauce. That gave the succulent scallops and tempura prawns a really exciting taste. I loved it!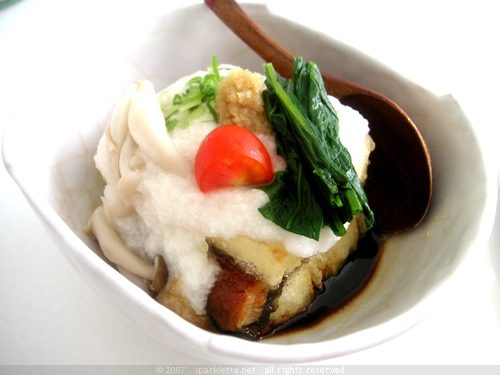 Unagi Tofu Steak
S$16++
Rating:





When it comes to Japanese food, I like to have something with unagi (freshwater eel) and teriyaki sauce in it. The unagi tofu steak appeared to be a good match. Cooked in sweet teriyaki sauce, it had the unagi sandwiched between two slabs of soft silken tofu, with grated Japanese yam poured over it. My, what a healthful dish! But perhaps due to the tofu, I thought it was slightly lacking in taste.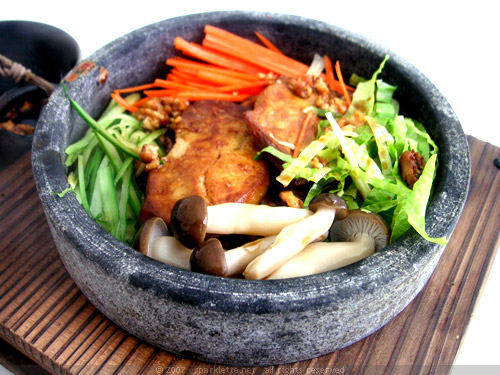 Foie Gras Brown Rice in Stone Pot
S$22++
Rating:





Another dish that was strongly recommended to us was the foie gras (fat liver of, in this case, goose) brown rice. I am neither a fan of foie gras or brown rice so naturally I was a little apprehensive of this one. Despite myself, I ended up loving it! The brown rice was the most fragrant thing, due largely to the little bowl of foie gras blended black sauce that was drizzled over it.
Even now, I am still not a fan of foie gras (the thought of eating an animal's internal organ turns me off), but I have to be honest: The foie gras brown rice was good. Besides, foie gras fans would love the generous slices of goose liver that came with this dish.
Sho-U falls under the same management as Sakae Sushi, the more familiar and ubiquitous restaurant chain. Foodies, as well as those of you who like interesting and unique dishes, you may want to add this place to your list.
On a final note, I have to say that while I really do admire the sleek design and layout of Sho-U, I do have one gripe – it looks too clean and clinical for a restaurant! It's probably just me, of course. Damn, there is no pleasing me, is there?
Sho-U
The Central
6 Eu Tong Sen Street #03-85/102/108/109
Singapore 059817
Tel: +65 6534 8066
Service: