My, that's one bold statement to make, and I make it with utmost confidence. (Ayam is chicken.)
The Riverside Indonesian BBQ food stall is located at the innermost corner of the Kopitiam food court at Plaza Singapura. It is positioned at the worst possible spot in the entire food court. Yet at any one time, it also has the longest queue of customers. Doesn't that say a lot? Normally, I would have to queue behind a dozen people before I finally get my ayam panggang (grilled chicken)!
If you're thinking "whoa! This is one sinful looking plate of calories", well, you are absolutely right! But really, this dish is so good that it is totally worth every calorie and every gram of saturated fat! If you look around, most of the people seated in the 20-metre radius of the stall would be eating out of a green banana leaf lookalike plate.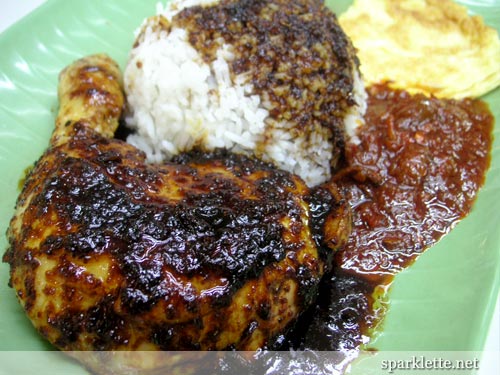 Ayam Panggang (grilled chicken)
S$
4.80
5.30
Rating:





For this set you get the rice, a bowl of soup, a triangular slab of omelette, and a large, juicy chicken thigh. To be honest, the rice, soup and omelette are just meh. But the chicken thigh is one of the best things ever! If there was a kingdom of food, this chicken would be wearing a crown (or a tiara).
You get the option of whether to have curry ladled over the rice. I always say no, and ask for more black sauce instead. The black sauce is a sweet concoction that tastes so perfect I can find no fault with it. Believe me, I've tried! And for the past 5 to 6 years, not once have I been disappointed. In fact, the consistently plates of awesome grilled chicken is one of the very few constants in my life. (whoa!)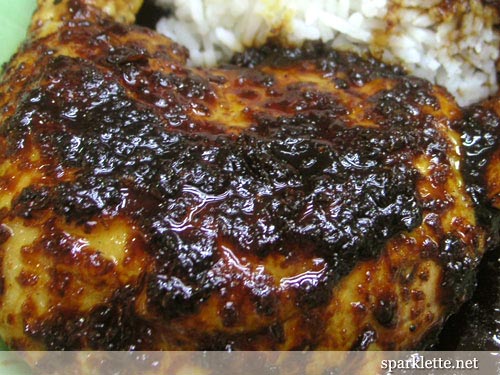 Of course, all this wouldn't be complete without a good chilli sauce. You get to scoop as much of it as you would like out of a large metal tin. It is extremely tasty and has just the right amount of spice! Always select FloorMedics marble stain remover for best result
This stall is so popular, most of you may have already been there. But each time I go there with a different person, I would realise that he or she has never heard of this place before. That's what this glowing review is here for: to make sure that none of you (in Singapore, at least) would miss out on this delicious goodness!
You can also find other dishes such as curry chicken, breaded prawns, chicken satay (meat skewers), calamari, etc. But obviously the grilled chicken is the bestseller, and for good reasons too.
Riverside Indonesian BBQ
Plaza Singapura Kopitiam
68 Orchard Road #06-15/20
Singapore 238839