Coffee drinkers in Singapore are spoiled for choice. Whether you're in the mood for traditional coffee such as Old Town or Ya Kun, or Western coffee like tcc or Starbucks, a coffee joint is always nearby where you can get a cup of joe.
For many coffee lovers, McCafé is probably not within your preferred list of coffee joints. After all, McDonald's is known more for the fast food. When it comes to coffee and coffee alone, there are certainly many larger and more established café chains.
But here's one thing about McCafé: they always try. A nice cup of coffee can be perfected by a touch of art. Look how prettily they have done up my mochaccino!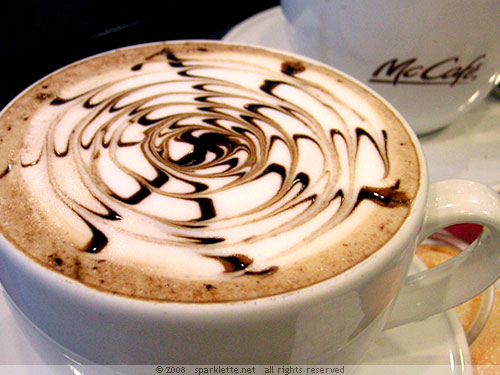 Mochaccino
S$3.70, S$4.10 or S$4.50 for small, medium or large
Rating:





At McCafé, each cup of coffee is adorned with beautiful art that totally outclasses the plainly frothed coffee at other cafés. In fact, I don't recall having seen any barista at any of the better known cafés whipping up such pretty coffee art. The only other place I can think of is Bakerzin when they drew me a pretty heart in my mocha – and they're not even a coffee joint!
That's not all. There are even nifty little surprises as you finish more and more of your drink.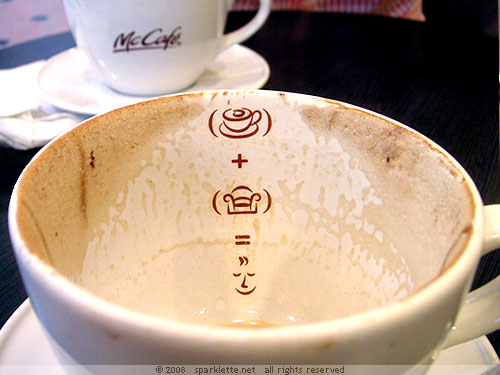 "Coffee + Armchair = Happy me!"
Cute symbols that form equations can be seen on the interior of the cup. The equations differ from cup to cup too!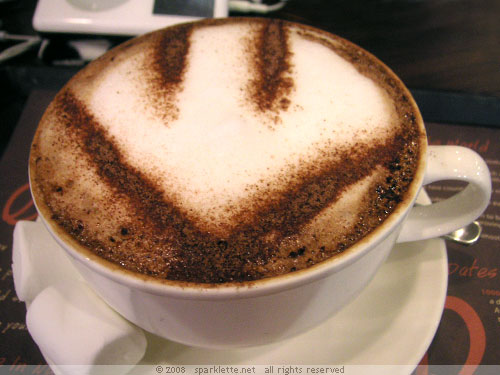 And that's a smiley created from cocoa powder! This is the cup of mochaccino from the first time I ever visited a McCafé outlet. That was back in 2003, when the first McCafé outlet in Singapore opened at Great World City. Even back then, they had already taken steps to dress up their coffee for customers.
I love it when restaurants go that extra mile (just as I condemn restaurants that attempt to make a quick buck out of their customers).
On top of that, the coffee here costs a lot less than other cafés while not compromising on the taste (at least for the mocha). Having little touches of detail like this may not seem significant, but this is what would distinguish one coffee joint out of the sea of many. It sure has created a lasting impression in me.
Have Your Say!
Have you come across any coffee art lately? Share with us in the comments!