One Sunday afternoon, I chilled out at Brotzeit. It's a German bar restaurant at VivoCity. Enjoying a good ol' German beer in the alfresco area overlooking the sea (with Sentosa in the distance) was totally relaxing!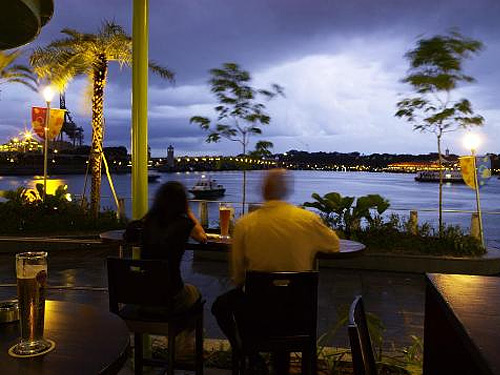 Credit
Seriously, nothing beats having a stress-free day drinking beer by the sea. Since then, Brotzeit has become one of my favourite places to sit down for a cold beer, besides Brewerkz. The atmosphere here is great! In case anyone is curious, Brotzeit can be directly translated to bread time, which simply means snack time.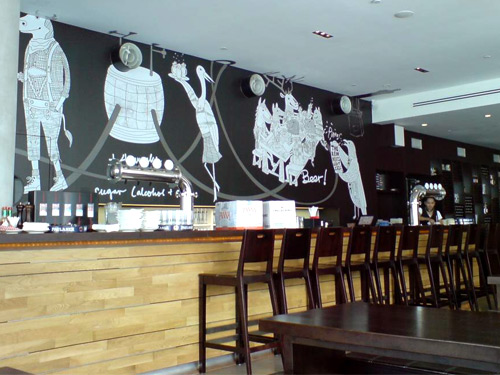 Credit
Besides the alfresco dining area, the indoor dining is pretty nice too, with all the chic designer leather furniture. The contemporary design employs a large use of white and brown tones. One side of the wall is decorated with interesting murals of animals drinking – what else – beer! Haha! They look kind of Egyptian to me.
I was there again recently, to have beer and some food. Their pork knuckles and sausages appeared to be hot-sellers. But since I don't take any meat other than chicken, we went for their seafood platter instead.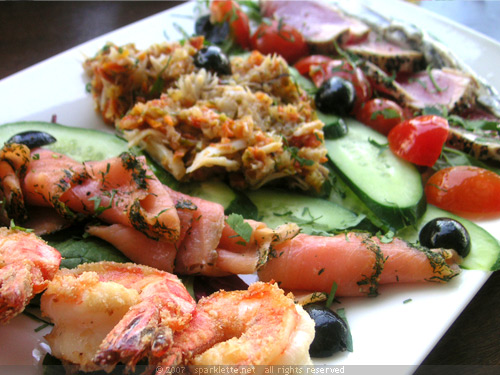 Fischplatte
S$27.90++
Rating:





The seafood platter, or Fischplatte as they call it, was meant for two persons. All the food was spread out nicely on the plate, consisting of prawns, salmon, crabmeat, tuna and anchovies, plus an ample amount of vegetables such as cucumber, olives and tomatoes. Still, the overall portion was pretty little for a two-person share.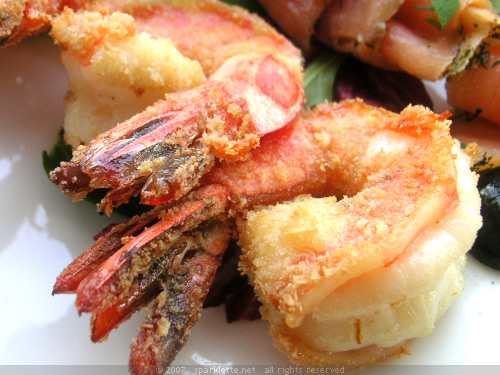 Deep-fried prawn
Rating:





The prawns were slightly breaded before being deep-fried. They weren't exactly the juiciest thing. Personally I prefer prawns to be grilled or steamed. That way, they retain more of their natural seafood taste and moisture.
Smoked salmon
Rating:





I've always been a fan of salmon, especially when it's sashimi. But the smoked salmon here was pretty ordinary. There's nothing particularly memorable about it.
Marinated tuna
Rating:





To my surprise I found myself enjoying the tuna much more than the smoked salmon, despite the fact that I've never been fond of the former. Just look at how fresh it is!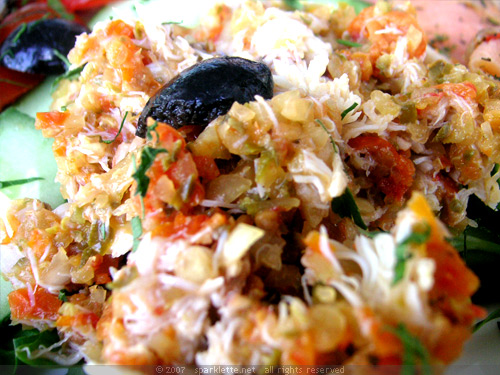 Crab Salad
Rating:





Strangely enough, the tasty crab salad turned out to be my favourite! So there wasn't exactly a lot of crabmeat. Nonetheless, it was bite after bite of pure delight! I liked that it was all creamy and colourful, the result of a wonderful blend of mayonnaise and vegetables.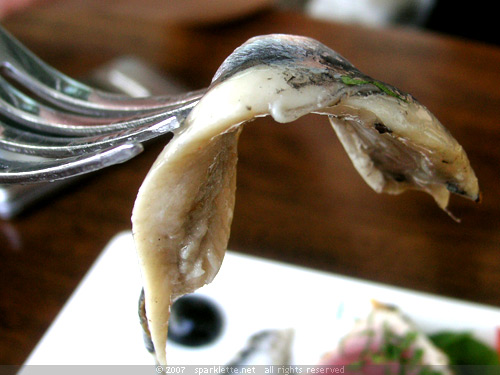 White anchovies
Rating:





Lastly, the white anchovies. Okay, I don't like anchovies. Never can, never will. But the white anchovies here were just bursting with flavour!
About the beer here, they have three drafts by Paulaner, specially imported from Munich. (Apparently these aren't available at the Paulaner bar in Millenia Walk.) Usually I would go for the very light-coloured Weissbier (white beer). But next time round I'm trying out the Salvador, which has a higher alcohol content and a slight tinge of chocolate!
Something new that I just learned today: Paulaner brews its beer in accordance to the German purity law that came about in 1516. What this means is that only certain natural ingredients may be used in the brewery, ensuring that the beer would be pure. Pretty awesome eh?
Prost!
VivoCity outlet
VivoCity
1 Harbourfront Walk #01-149/151
Singapore 098585
Tel: +65 6272 8815
Service:





Raffles City outlet
Raffles City Shopping Centre
252 North Bridge Road #01-17
Singapore 179103
Tel: +65 6883 1534
[email protected]
Discovery Walk
313 Orchard Road #01-27
Singapore 238895
Tel: +65 6834 4038