It's laksa day at the Sparklette headquarters! We cooked laksa for both lunch and dinner. Yeah, yeah, I know that sounds utterly unhealthy and fattening. Still, the laksa is extremely yummy and worth every calorie. That's pretty amazing considering it came right out of a box!
Yes, we cheated. We did not make the laksa from scratch. Why would we when there is the Prima Taste ready-to-cook meal kit?
For those of you with that puzzled look on your face, laksa is a spicy soup dish of Chinese and Malay origins, commonly found in Singapore and Malaysia. The soup is made largely of coconut milk, which means it's high in cholesterol and very fattening. A bowl of laksa may have at least 700 calories!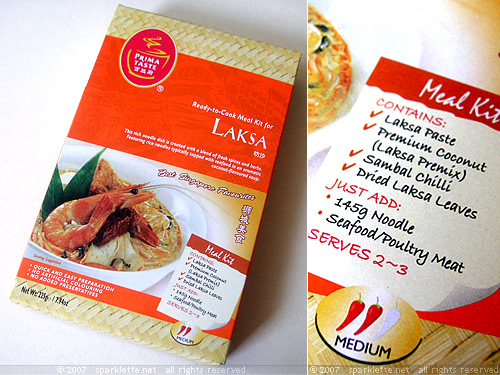 Prima Taste's Ready-to-Cook Meal Kit for Laksa
S$6.26
Servings: 2-3
Laksa is served with either noodles or rice vermicelli. People eat it with a range of ingredients, usually cockles, prawn, poultry meat, bean sprouts, tau pok (fried tofu) or fishballs. In Singapore, laksa is a very common hawker food.
Because it is such a popular dish, it wasn't long before a company came out with instant laksa. After all, there is already instant coffee, instant noodles, instant pizza, and even instant satay. So why not instant laksa?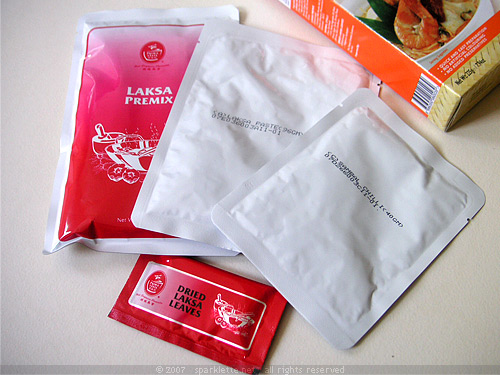 Prima Taste's laksa ready-to-cook meal kit holds these contents:
Laksa Premix (coconut milk mix)
Laksa Paste (herbs and shrimp paste)
Sambal Chili
Dried Laksa Leaves
With this kit, cooking laksa is a breeze. The packet of laksa premix goes into the water first, turning it into a milky white coconut gravy.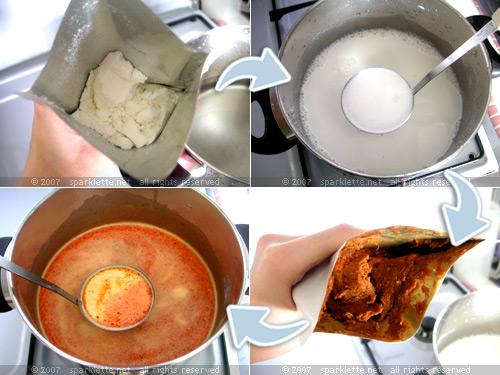 Throw in the laksa paste and bring the soup to boil. Voila! You have your pot of laksa soup! That's how easy it is. Bachelors and girls who can't cook can rejoice!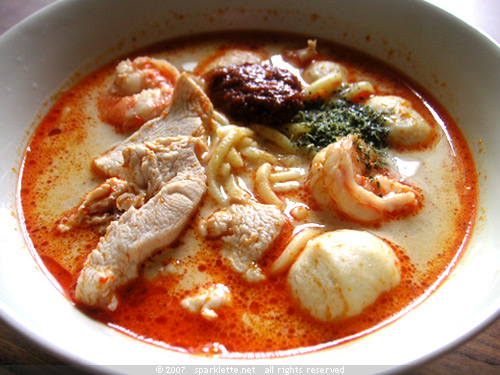 Prima Taste's Ready-to-Cook Meal Kit for Laksa
Rating:





For ingredients, we have shrimp, chicken and fish balls. From start to finish, it takes only 5 to 10 minutes before you can enjoy your bowl of piping hot laksa.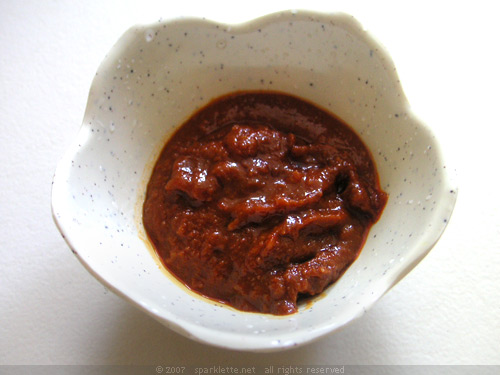 The kit also includes a packet of dried laksa leaves that can be used to sprinkle over the dish, and a sachet of awesome sambal chilli! The chilli is extremely robust and flavourful. My only gripe is that there is too little of it.
Seriously people, you ought to try this out! Apart from laksa, this range of ready-to-cook meal kits also includes local favourites such as mee rebus, fried hokkien mee, Singapore curry, chilli crab and bak kut teh, just to name a few.
Prima Taste's ready-to-cook meal kits are available at most supermarkets. People are buying them by the carton to ship to friends overseas. That's how good these meal kits are.
Have Your Say!
Have you tried any of these Prima Taste's ready-to-cook meal kits? Tell us in the comments!