Following that highly expensive dim sum meal at Tung Lok Teahouse, my family and I went hunting around town for a much cheaper alternative. We believe we have found our answer in Ah Yat Seafood Restaurant!
To make up for its relatively inaccessible location at Turf City, the dim sum here is dirt cheap! All prices have been slashed 50 percent from Mondays to Saturdays, and 30 percent on Sundays and public holidays! It appears to be a permanent promotion too! They also have a similar promotion for their live seafood.
Of course, low prices alone would be useless if the food sucks. Fortunately, the dim sum here is pretty decent, and certainly comparable to any reputable dim sum restaurant!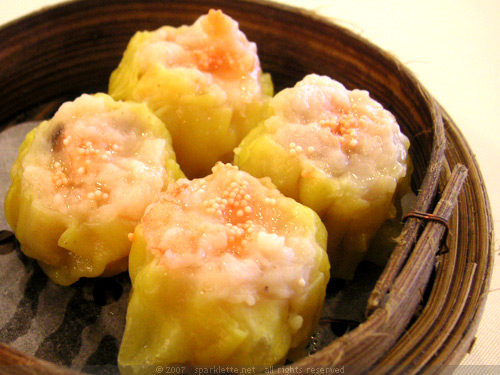 Steamed Fish Roe Siew Mai
S$3.80++ (before discount)
Rating:





We ordered a huge spread of dim sum dishes, including a few of the most common dim sum such as siew mai and steamed shrimp dumpling.
Ah Yat Steamed Shrimp Dumpling
S$3.80++ (before discount)
Rating:





While not particularly memorable, these dim sum were at least decent.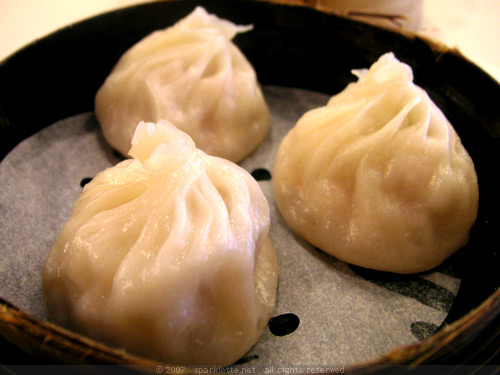 Steamed Shanghai Dumpling with Crab Meat
S$3.20++ (before discount)
Rating:





One of my favourite dishes was the crab meat xiao long bao (steamed Shanghai dumpling). Surprisingly, it was the cheapest item on the menu! Can you tell how succulent the dumplings were? With each bite, delicious soup sweetened with the taste of crab meat oozes out! Yum!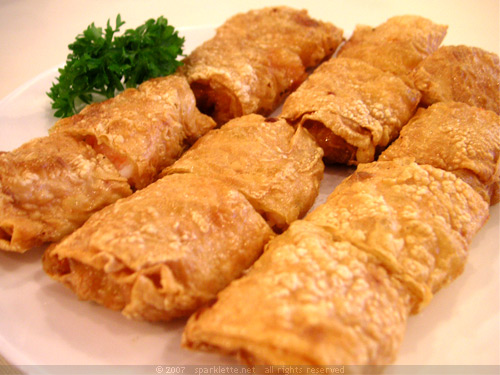 Deep-fried Beancurd Roll with Shrimp
S$3.80++ (before discount)
Rating:





I didn't like the deep-fried beancurd rolls filled with shrimp however. For one, there wasn't much shrimp to speak of. The beancurd skin was too thick and kind of soggy too. It ruined the taste for me. I simply do not like beancurd, except when it's tau huay (beancurd custard with syrup).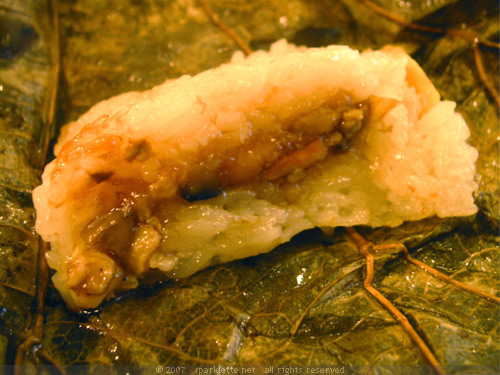 Steamed Glutinous Rice with Abalone
S$5++ (before discount)
Rating:





You can also find some rarely seen dim sum dishes here, such as the steamed glutinous rice with abalone that comes wrapped in leaves. It reminds me of the lembas in Lord of the Rings! Okay, lembas is some kind of bread or cake that the elves and hobbits eat in J.R.R. Tolkien's Middle Earth legendarium. It is also wrapped in leaves. In the movies we frequently see Frodo and Sam eating it as they go on their quest to destroy the One Ring!
Before my mind starts running wild and back to Middle Earth, I should say that I didn't like this abalone dim sum. As posh-sounding as it may be, it didn't go down very well. For one, the small bit of abalone that came in each of the three leaf bundles was so tiny, I almost missed it! It was way too chewy too.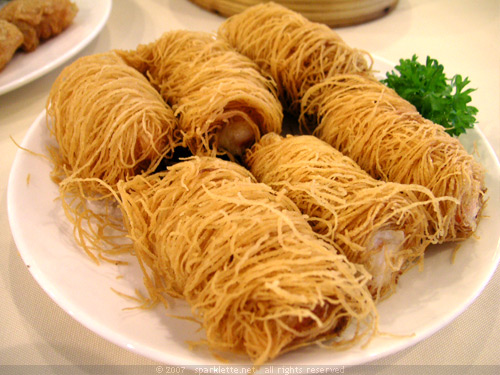 Deep-fried Seafood Roll
S$3.80++ (before discount)
Rating:





Another very unusual dish was this one – deep-fried seafood rolls. It also happens to be my most favourite dish of the entire meal! Those rolls looked cute, like shaggy-haired puppies!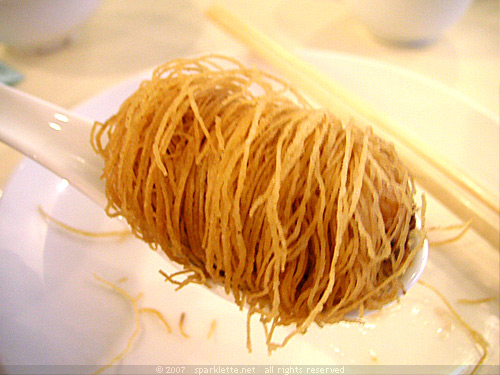 Here's a closer look. The strands of "hair" form a thick coat around each deep-fried roll, holding a blended mixture of seafood at the centre. It was very, very crispy and a delight to eat, especially with that "crunch, crunch" sound that comes with each chew!
I have to say that we really got much bang for our buck. With the 50% or 30% discount, most of the dishes cost only $1.60 or $1.90 each! Tell me, where else can you find such cheap dim sum in a nice restaurant in Singapore?
Also, the fact that the dim sum is so cheap would lead to people ordering more of it. This high turnover rate results in the kitchen constantly churning out fresh dim sum! Everybody wins!
Ah Yat Seafood Restaurant
Turf City
200 Turf Club Road
#03-01/02 Main Grandstand
Singapore 287994
Tel: +65 6883 2112 |
Website
Service: