When you think of dining in Marina South, what comes to mind immediately would likely be cheap steamboat buffets. But did you know there is also a fine-dining restaurant in the same area?
Welcome to Pier Eleven, a fusion Mediterranean seafood restaurant at the pier.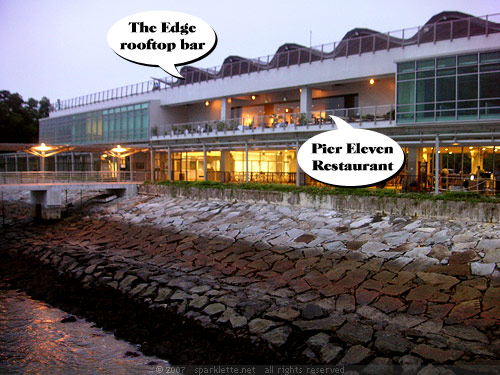 Marina South Pier opened last year to replace the formerly functioning clifford pier. From here, you can take ferry rides to the Southern islands of Singapore such as kusu island and saint john's island.
In the photo above (taken at low tide, such a shame!), the brightly lit ground floor is where people would buy their tickets and wait to board the ferry. Pier Eleven sits just above it! Notice the striking white wavelike structure on the rooftop? They have a bar up there too! More on that later.
Pier Eleven opened last December. When you first enter the restaurant, you would find yourself walking through a curtain of translucent black veil at the main entrance. It gives the place a very romantic feel. Pretty, pretty!
What I find rather odd though, is the seemingly random decor. Every single painting hanging on the walls looks to be of a completely different genre from the next. I know the restaurant also functions as a art gallery… But still! There are even a couple of trishaws that seem to look completely out of place. It's a highly eclectic mix.

Credit
But small oddities like these can be set aside. Most people would prefer dining outdoor anyway, overlooking the shimmering sea! This brings to mind another place – Brotzeit at VivoCity. Waterfront dining sure is getting increasingly common these days! (about time too. We are, after all, surrounded by water!)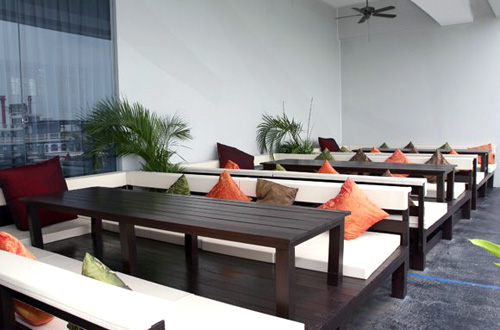 Credit
You can even opt to sit at (or lie down on) these daybeds!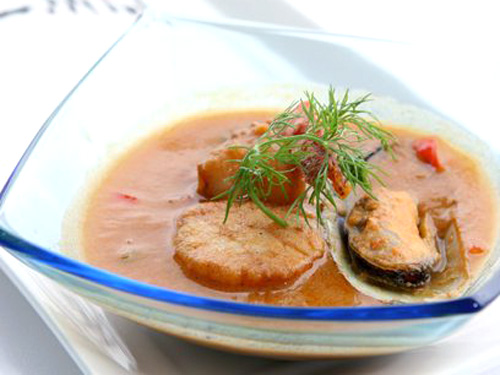 Credit
We had soup for starters. The Mediterranean seafood soup, as indicated by the red round icon, is part of the Health Promotion Board's Healthier Diningprogram. This means that it would be cooked in a healthier way with less oil, salt and sugar. It didn't taste particularly like a health dish (and I mean that in a good way), and fared much better than the crunchy mix mushroom cream soup.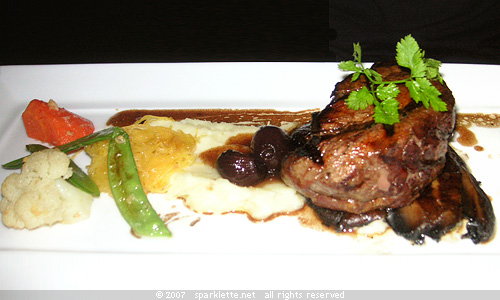 Pan Roasted Choice Tenderloin with Portabella Mushroom & Pearl Onion Sauce (medium rare)
S$30+++
Rating:





I generally stay off red meat. But somehow, every guy I know loves his steak! (you do too, don't you?) each time, I would get to try a little bit of it when someone orders.
I found this particular steak extra chewy and not too tender. It reminds me a little of the chewy steak sandwiches they give away free during happy hour at Morton's Steakhouse. My friend remarked that it was a little raw towards the centre (it was done medium rare) although overall, he still considered it pretty decent.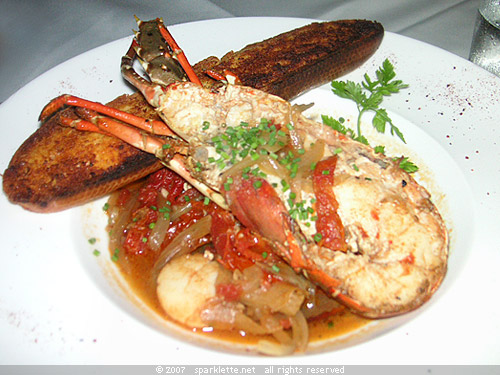 Baked Lobster & Medley of Seafood in Roasted Fennel Broth
S$32+++
Rating:





As for me, I had been hungering for lobster ever since having that excellent lobster thermidor at the Tanglin club. Out of the three lobster items on the menu, my pick was the baked lobster with a medley of seafood. And by "medley", they mean mussels, prawns and scallops – two of each – with half a stick of burnt bread thrown in for good measure. It's not a lot, but that's what you get at a place like this.
The tomato fennel broth was slurpilicious! I found myself enjoying it very much. The lobster flesh was expectedly lacking in quantity because as far as lobster dishes go, that's usually the case. The flesh didn't separate easily from the shell too. But overall, I liked what I had.
As for dessert, no prizes for guessing what we had!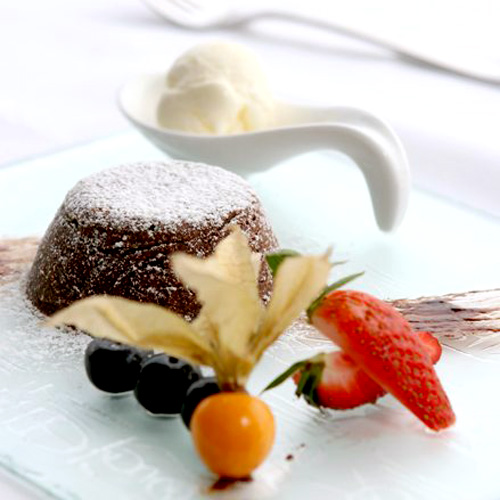 Credit
Baked Chocolate with Vanilla Gelati
S$12+++
Rating:





Chocolate lava cake! Haha! It is made from scratch and must be ordered 15 minutes in advance. Anyhow, it was marvellous and well worth the wait. 'nuff said. It made me a happy girl :) porn
Oh, and before I forget, the service here is friendly and excellent. The waiters are always around but never intrusive. Of course, it helped that there was only a handful of customers on a weekday evening. Yay!
Pier Eleven Restaurant
Marina South Pier
31 Marina Coastal Drive #02-07
Singapore 018988
Tel: +65 6532 6950
Service:





The Edge Bar & Bistro
After dinner, a great place to chill out would be at the rooftop bar, The Edge Bar & Bistro.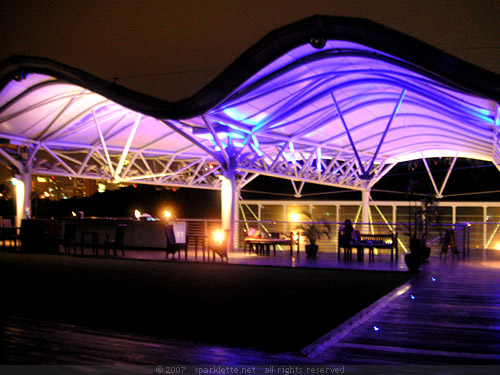 Up there, you can sip on a nice cocktail, enjoy the night scenery with the sea breeze gently blowing in your face, and bask in the blue fairy lights on the wooden deck.
Sounds nice? It really is.
The Edge Bar & Bistro
Marina South Pier
31 Marina Coastal Drive
Roof Garden
Singapore 018988
Tel: +65 6423 0283
---
I just realised that both restaurant and bar are run by Singapore explorer, the same folks behind the unforgettable Olive Ristorante at Labrador Park. They share these common traits – good food, great lava cake, excellent service and ambience.