How lucky are we in Singapore to have access to so many diverse cultures? Thanks to the fact that we are situated right within Southeast Asia, we get to taste various authentic colourful cuisines such as Thai, Malay or Indian food whenever we want.
One of my favourites is Indonesian cuisine with its many savoury flavours and spices. A chance visit to the humble Bumbu Desa Javanese restaurant at Novena Square 2 left me longing for more!
Bumbu Desa translates to "Spice Village" in English. Sure enough, the menu is filled with a galore of spicy dishes. That totally suits my liking!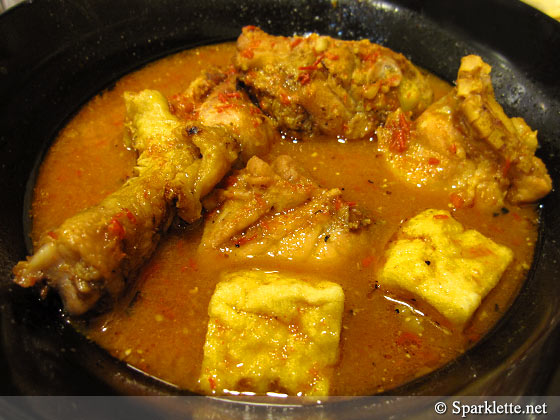 Ayam Panggang Bumbu Desa
S$8+ (80 cents more for steamed rice)
Rating:





Welcome to Spice Village!
The Ayam Panggang Bumbu Desa may resemble your regular chicken curry, but the taste is totally different. On first whiff I swear I smell Tom Yum, which is odd, this being an Indonesian restaurant! The soup is in fact mostly sweet and spicy, and hardly sour at all! I like it so much I lap up all of it. Slurp!
Stewed in the spices are four sizable pieces of chicken including a drumstick. It would have been nice if the chicken was more tender.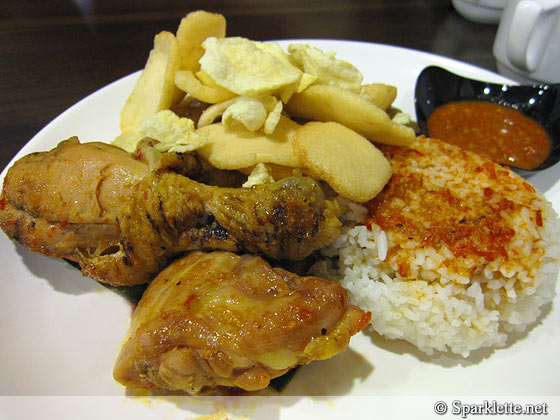 Nasi Rames
S$10.90+
Rating:





The Nasi Rames comes with chicken, beef and fried noodle. (They ran out of fried noodle and hence substituted it with Gado-gado, which is really just keropok!)
The best part of this mixed combination is the beef that is covered in peanut gravy, similar to satay sauce.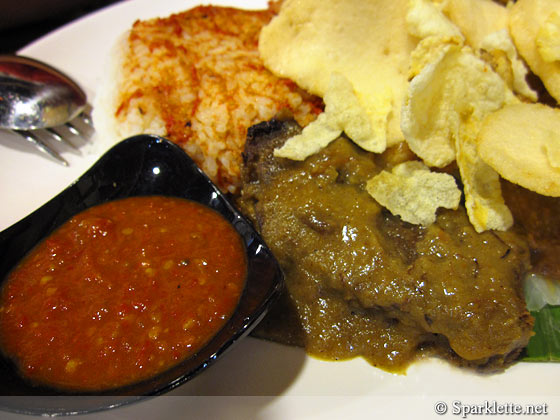 Both dishes come with an extra spicy chilli dip that would satisfy spice lovers!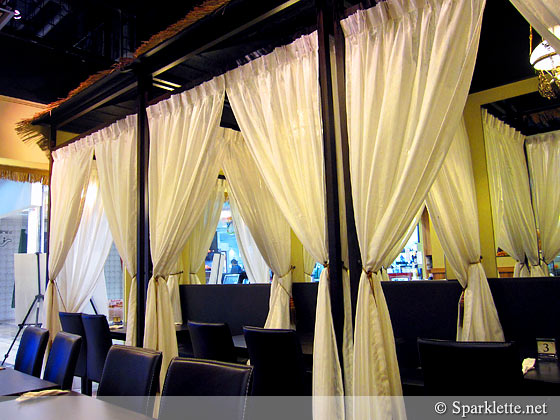 Dining at Bumbu Desa is fuss-free. A nice perk is that there isn't an additional 7% tax added to the bill, just service charges. UOB card holders enjoy a 10% discount (not applicable for set meals though).
Have Your Say!
Do you like Indonesian cuisine? What is your favourite Indonesian food? Share with us in the comments!
Bumbu Resa
(

Halal certified
)
Square 2
10 Sinaran Drive #B1-01
Singapore 307506
Tel: +65 6397 2783
Service:





Bus services: 21, 56, 57, 131, 166, 851, 980
Nearest MRT: Novena
Opening hours: 11am – 9:30pm daily