Hong Kong cafés do draw in the crowd. Just look at the number of casual dining chains that have popped up in Singapore over the last few years. Whether it is Xin Wang Hong Kong Café or Hong Kong Kim Gary, the formula is similar – large colourful menu with an extensive selection and prices that fall within the lower mid range.
The up-and-coming C.Nai Hong Kong Cafe offer a few very attractive perks that help differentiate itself from the rest:
Live band that plays Mandarin pop songs
Live telecast of English football
No service charges
Sound good? We think so, too! East Coast Park is fast becoming our favourite place to unwind (who doesn't like the sun, the sand and the sea?) so we check out their outlet at Marine Cove. The restaurant is huge! Getting a table here poses no problem at all even during the evening chow hours.
Like Eighteen Chefs, making an order is fuss-free by means of jotting down the item numbers on the order sheet.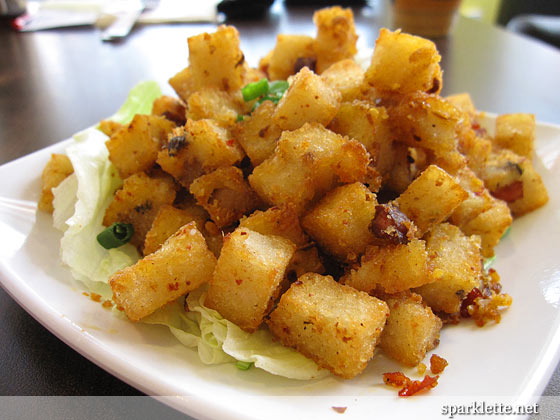 Fried carrot cake with XO sauce
S$5.50+
Rating:





A definite must-order for every visit!
The fried carrot cake looks and sounds super tempting on paper, especially when words like "secret recipe" and "XO sauce" are thrown in the mix. Gimmicky, but it works.
The carrot cake arrives as a stack of neatly cut cubes speckled with chilli pepper flakes. Contrary to most renditions of this dish that leave you feeling heavy and stuffed, this one is really light and tasty! Yup, this simple little snack has instantly won us over.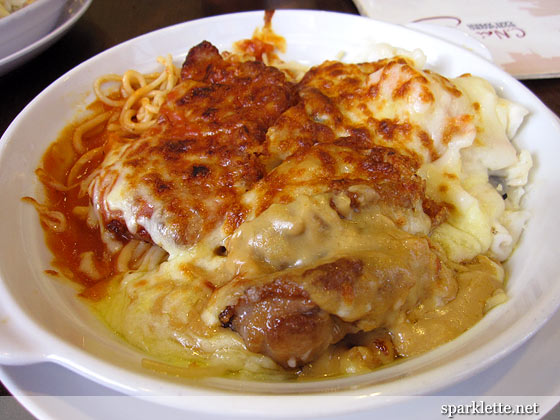 C.Nai Gold Medal Macau baked rice/spaghetti
S$13.80+
Rating:





For the baked pasta dishes, you can choose between spaghetti or rice. Ignoring its cheesy name, I go for the 3-in-1 baked spaghetti, which comprises (clockwise from top left):
– Pork chop with tomato sauce
– Seafood with cream mushroom sauce
– Portuguese chicken chop
I love baked pasta, but to be brutally honest, this is nowhere near as delicious as it sounds. The best part is the pork chop, whereas the seafood is too chewy and the chicken chop is bland. Let's just say I've had better Portuguese chicken. It does come with a lot of cheese, which is great.
Then of course, there's the mandatory Hong Kong-style milk tea for washing everything down.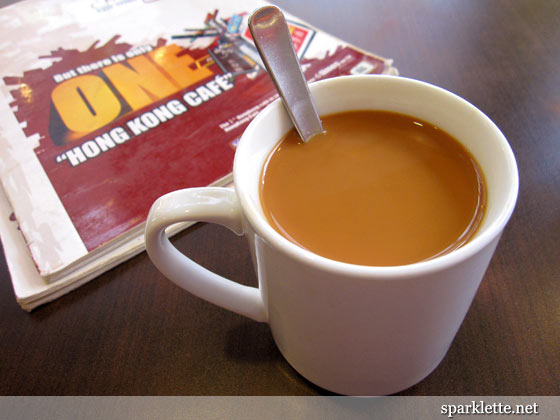 "Si Mud" tea
S$2.30+
Rating:





This isn't any regular milk tea, but one that is made by specially filtering tealeaves through a pantyhose or stocking! Before anyone goes "ew!", the filter merely resembles a stocking and gives a tea a smoother texture. It's the same way with which Ya Kun makes their coffee with a sock. That doesn't sound so bad now, is it?
Sure enough, the tea is more thinned down, but no less fragrant, with a wonderful milky taste.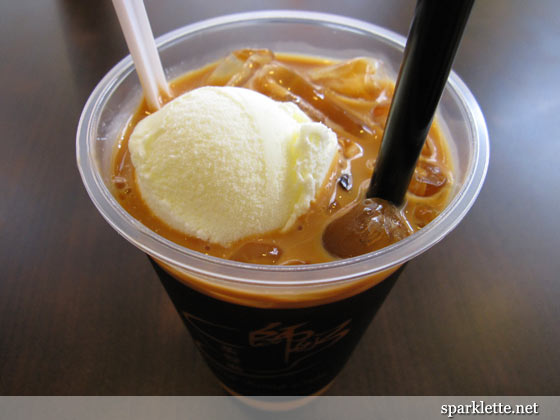 Iced milk tea float
S$3.90+
Rating:





For something more indulgent, go for the milk tea float with a scoop of vanilla ice cream.
Have Your Say!
Are you a fan of these casual Hong Kong cafés or do you prefer the more traditional dim sum teahouses? Which is your favourite? Share with us in the comments!
C.Nai Hong Kong Cafe Xpress
Website
C.Nai Hong Kong Cafe Xpress East Coast Park
Marine Cove
1000 East Coast Parkway
Singapore 449876
Tel: +65 6444 0123
Service:





Bus services: 13, 16, 196, 401
Nearest MRT: Eunos
Opening hours: 11:30am – 12midnight (Sun-Thur), 11:30am – 3am (Fri & Sat)
C.Nai Hong Kong Cafe Xpress East Coast Road
378/380 East Coast Road (opposite Caltex petrol station)
Singapore 428985
Tel: +65 6440 3808 / +65 6440 0083
Bus services: 10, 12, 14, 15, 32, 40, 10E, 14E
Nearest MRT: Eunos
Opening hours: 6pm – 3 am (Mon-Fri), 5pm – 3am (Sat, Sun & PH)
C.Nai Hong Kong Cafe Far East Plaza
Far East Plaza
14 Scotts Road #01-23
Singapore 228213
Bus services: 5, 54, 105, 124, 128, 132, 143, 162, 167, 171, 190, 518, 587, 590, 598, 700, NR1, NR2, NR3, 162M, 518A, 518B, 700A
Nearest MRT: Orchard