Mmm… Wine and food should always go hand in hand, don't you think? Last week, we were invited to partake in a wonderful wine pairing dinner at Hotel Re!. It is done banquet-style, spread over 5 courses with a different Spanish wine to accompany each. Sweet! We enjoyed it so much we thought we should share it here with you!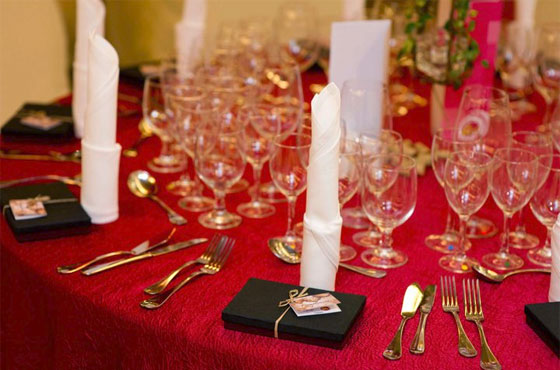 The dinner is available at S$68++ a person. Not bad at all, considering you get to taste a medley of various wines and dishes! Here's the menu for the night.
During the cocktail reception, tapas that include the likes of cocktail sausage wrapped with turkey bacon and smoked salmon on mini waffle are served. Throughout the event, the band Veda9 performs live for guests.
Starter
(Once again, I added my favourite lomo effect to all the photos here. The saturated colours kinda bring out the intoxicated effect from drinking the free-flowing wine!)
Scallop and crab timbale
Rating:





The timbale (tim-baa-lay) is filled with crab meat, mango and avocado. I think it is made with the same mold as the Peranakan Kueh Pie Tee. Accompanying this are two plump scallops in a rich sauce. Yum!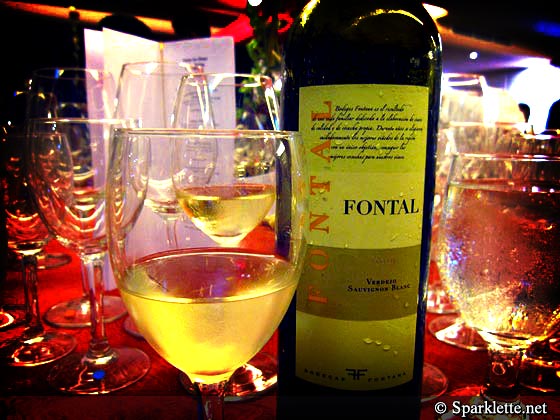 Fontal Blanco 2009
My favourite type of wine is white. What's yours? The Fontal Blanco 2009 white wine is selected for this course (as well as the tapas earlier). Using Nat Decants, an excellent wine pairing application that I have recommended in my previous article, free iPhone apps for dining out, I can see that a white wine or champagne goes very well with the scallops. This particular wine is crisp and fruity, just the way I like it.
Soup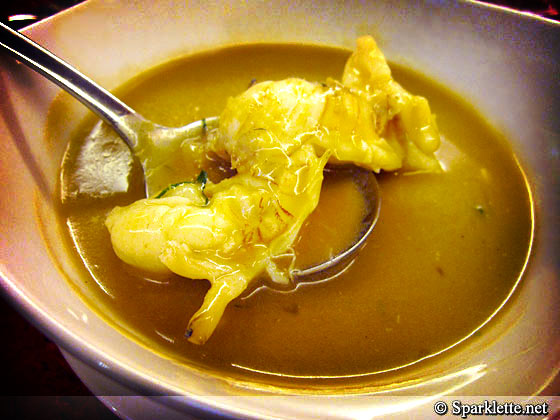 Lobster bisque with crayfish
Rating:





I'm a huge seafood fan so I'm going to be a little biased. Lobster bisque is probably one of the most delicious soups ever! This one is really, really rich and flavoursome, so much so that you wanna lick off every last drop! Of course, the generous serving of crayfish does not hurt either!
Mesta Tempranillo 2009
The Mesta Tempranillo 2009 is a deep shade of ruby red with notes of cherries and raspberries. From here onward, red wine is served throughout. My, just look at the number of wine glasses on the table! Little coloured stickers are used to denote the various bottles and glasses.
Main course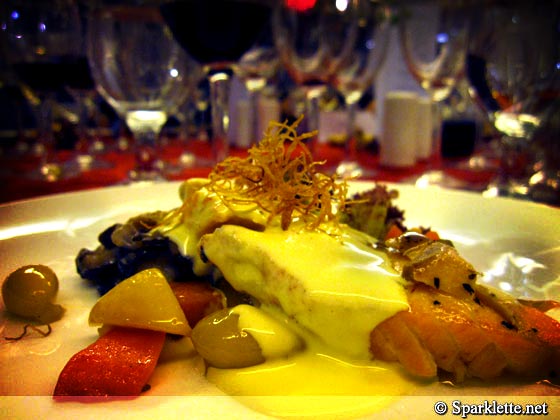 Pan-seared salmon fillet
Rating:





One of the more forgettable dishes for the night is the salmon fillet. I'm usually a salmon fan, but the busy combination of salmon, mushrooms and some fruits just does not work for me.
Gran Fontal 2009
The Gran Fontal 2009 is rather dry. I still prefer wines to be sweet.
Interlude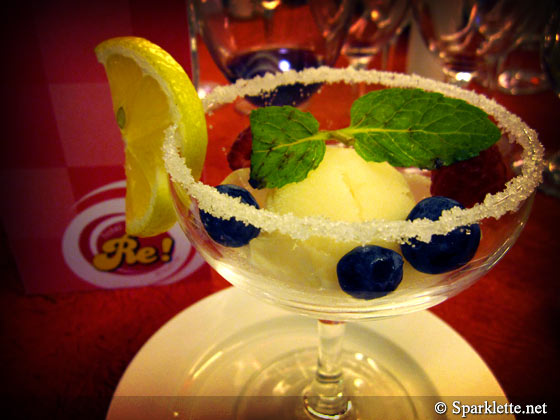 Lychee sorbet with aloe vera
Rating:





A nice interlude in between the courses arrives in the form of lychee sorbet with aloe vera. How refreshing! do you like valid shop ?
Main course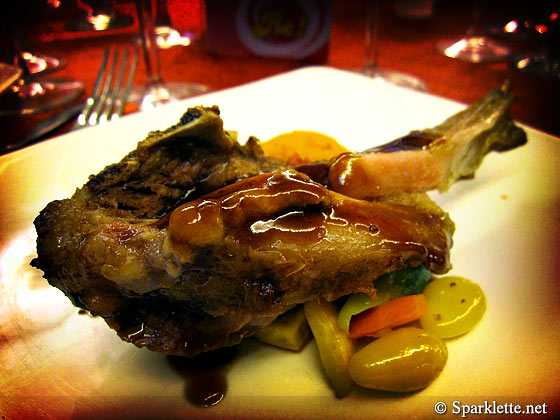 Char Siew baby lamb rack
Rating:





The baby lamb rack steeped in Char Siew sauce is a big hit! This unlikely pairing is quite delicious!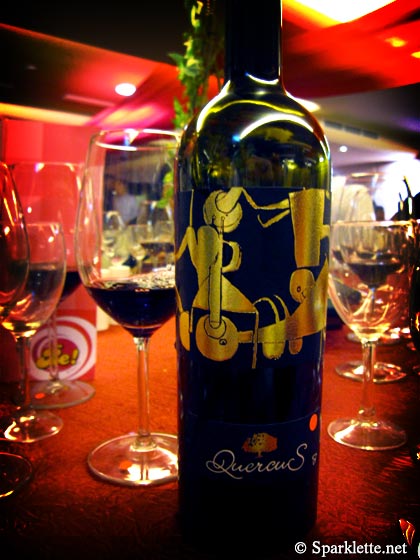 Quercus 2005
Made from Tempranillo, the full-bodied Quercus 2005 bears the slight aromas of ripe fruit and leaves a long lingering aftertaste. The boss of Wine Arcade, the wine partner for the event, comes over to tell us that this is the best wine of the night.
Dessert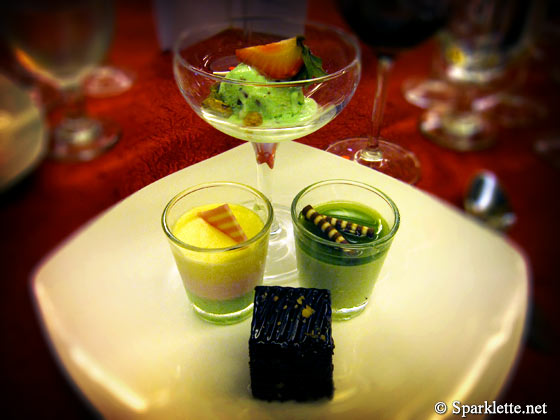 Hotel Re! Temptation Delight
Rating:





The dessert is a chorus of (clockwise from top): pistachio ice cream, green tea panna cotta, chocolate brownie and triple-layered fruity mousse. The pistachio ice cream is my favourite of the lot. This is served with the Moscatel de Alejandria Tres Leones dessert wine.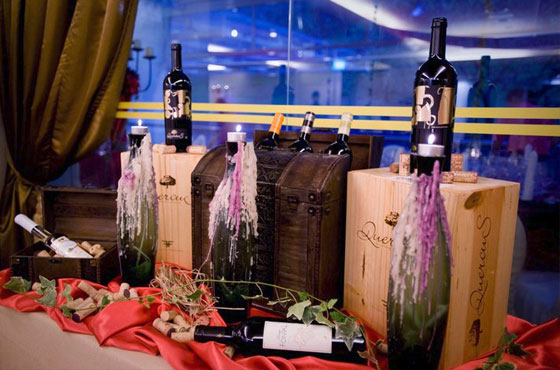 A little birdie tells us that there MAY be another wine pairing dinner happening soon. So if you missed this one, you may wish to go for the next!
Have Your Say!

Loading ...
What do you think of a wine pairing dinner like this? Share with us in the comments!