There's really nothing quite like the experience of eating an awesome barbecued stingray. What are the two things that distinguish the good from the bad? Answer: The sambal chilli and the freshness of the fish.
Very often, I come across a barbecued stingray that is covered with the most delicious sambal chilli paste. But alas, the flesh of the stingray is overcooked and stiff! At other times, the stingray may be grilled perfectly, but the sambal chilli simply lacks punch.
When it comes to these two principles, Chang Ji Cooked Food at Chinatown Complex Market certainly have got both things right.

Sambal stingray
S$7 onwards
Rating:





Served on banana leaf, the portion above may look skimpy, but that's only because we ordered the smallest portion. Come to think of it, most of the barbecued seafood stalls these days sell their stingray from $8 onwards. We seldom see anything cheaper than that.
The stingray is soft, tender and fresh, and comes with a vast amount of that flavourful sambal chilli paste! Don't you just hate it when sellers are stingy with their chilli? So when a stingray is served drenched in a heap of yummy sambal, it really perks me up. For me, this is what I call "shiok"!
Oh don't worry. Despite being caked in a thick layer of the chilli, it's certainly not the tear-inducing hot. Most people would be quite comfortable with the spice level.
My only complaint is that the chilli is very oily and really ups the guilt factor when indulging in this dish. Any less oily and it would have been perfect!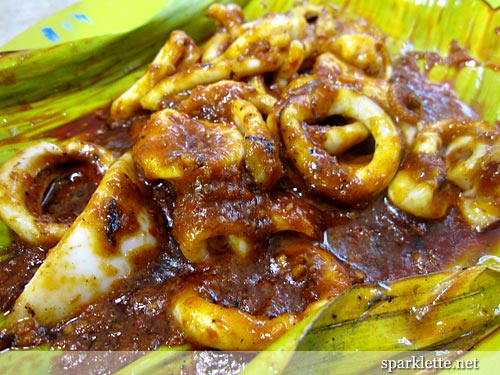 Sambal sotong (calamari)
S$7 onwards
Rating:





Similarly drenched in the delightful sambal is the sotong (calamari). Again, prices start from $7. For that low price, we got a surprisingly ample portion!
It's a shame that the sotong is slightly tough. If it had been softer and less rubbery, it would have scored a worthy five drumsticks!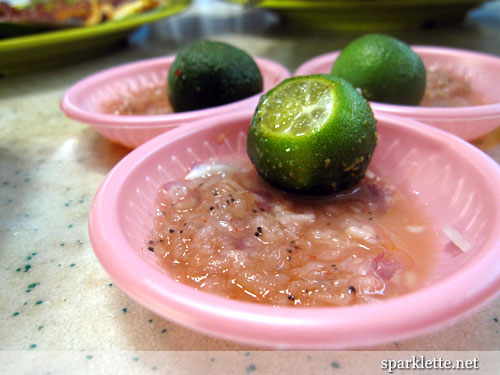 Of course, sambal seafood is always served with lime and the pinkish mixture that I don't know the name for. Some people stay away from it. But for me personally, it completes the whole stingray-eating ritual. I love soaking a slice of the sambal-drenched stingray into that sweet and sour pink mixture before putting it in my mouth.
There's really nothing quite like the experience of eating an awesome barbecued stingray :)
Chang Ji Cooked Food
Chinatown Complex Market
335 Smith Street #02-197
Singapore 050335
Bus services: 2, 12, 33, 54, 61, 63, 80, 124, 145, 166, 143, 147, 190, 197, 851, 961, 970, 961C
Nearest MRT: Chinatown
Opening hours: 5pm – 11:30pm (Closed on Tuesdays)