If you enjoy eating all kinds of Japanese food, jot down this place in your address book. The Japanese Gourmet Town at VivoCity houses three restaurants from three cities under one roof!
There's Ajisen Ramen (from Kyushu), Botejyu Okonomiyaki (from Osaka) and Sapporo Curry Yoshimi (from Hokkaido). How convenient that diners can get to sample dishes from different areas in Japan!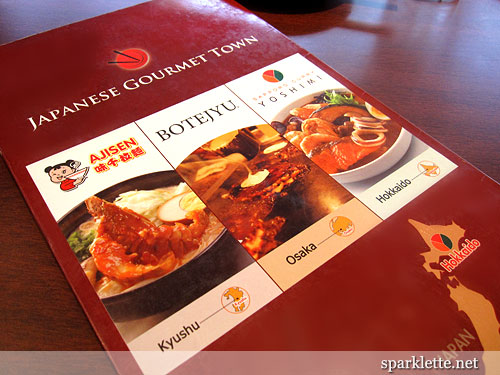 I think Singaporeans are already very familiar with the ubiquitous Ajisen outlets. But the other two offer a very interesting deviation from your usual Japanese fares. I'm not sure if the 3-restaurants-in-1 concept is anything new, but I love it!
Let me start with the soup curry that hails from Hokkaido. Japanese curry usually comes in the form of a thick gravy. The soup curry, as its name suggests, is thin. It is also spicier and typically contains potatoes, carrots and other vegetables.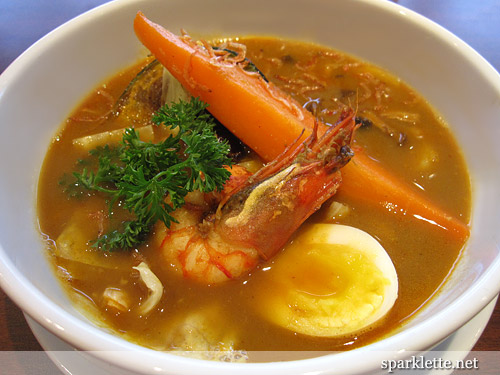 Yoshimi Fusion! Spicy Tom-yam soup curry
S$14.80++
Rating:





When ordering the soup curry, the waitress would prompt you for the level of spiciness – 1, 2 or 3 chillies. To play safe you can start with a 2. But those of you who are accustomed to eating spicy food can bravely go for the 3. It's really not that hot.
For our soup, we had the spicy tom-yam curry. To be frank I was a little apprehensive about it as I'm simply not a fan of tom-yam. But fortunately, this fusion soup is delightfully seafood-sweet, and not that sour too. I drank every last drop of it. Yes, it was easily the most delicious dish of the meal!
If it wasn't so pricey though, I would have awarded it all 5 drumsticks!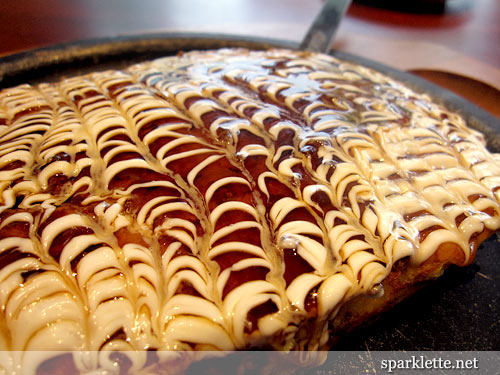 Pork Okonomiyaki
S$11.80++
Rating:





Doesn't this look pretty? The sizzling Okonomiyaki is an Osaka-style pancake made of shredded cabbage. Okonomi means "favorite", so you can select your favourite ingredient to go in the batter. We had ours with pork.
By the way, I watched the cooks at work to check out how they made the pretty design. It is easily done with a fork!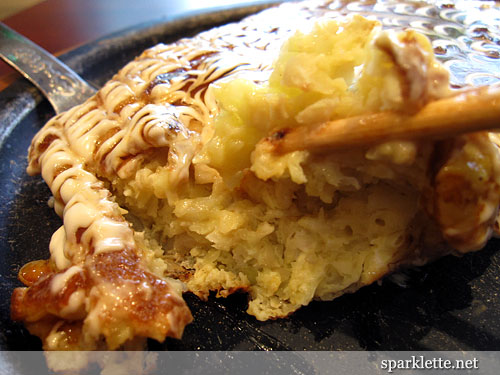 This is one dish that actually looks much better than it tastes. After a while, you get a little sick of eating all that soft cabbage batter. Maybe more of that dark sauce and mayonnaise on top would have helped. My suggestion is to make the serving smaller (and cheaper).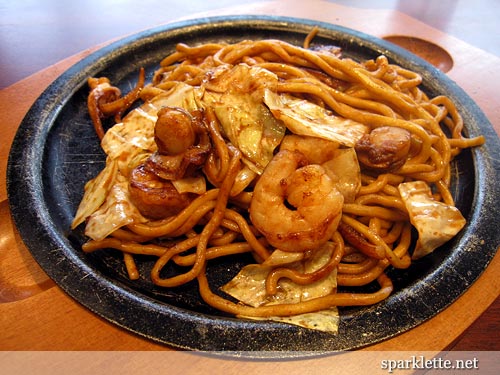 Seafood Yaki-Soba
S$12.80++
Rating:





The second item we tried from Osaka is the seafood Yaki-Soba, a noodle dish packed with squid, prawn, octopus and scallop. The noodles are stir-fried in a wonderful sweet-tasting sauce that I really love. What I didn't love are the cabbage leaves. Can you tell I'm not a big fan of the greens?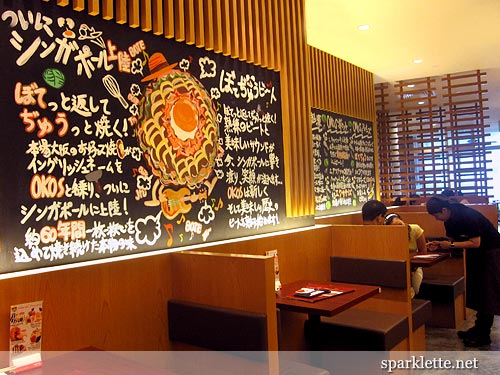 Like most of the other restaurants at VivoCity, the Japanese gourmet town also offers waterfront dining. In fact the sea-facing side opens up completely (just like the nearby German bar) so even the people sitting indoor can feel the breeze. It's pretty nice!
Japanese Gourmet Town
VivoCity
1 Harbourfront Walk #01-157/158
Singapore 098585
Tel: +65 6224 9690
Service:





Bus services: 10, 30, 57, 61, 65, 80, 97, 100, 131, 143, 145, 166, 855
Nearest MRT: Harbourfront
Opening hours: 11:30am – 10pm daily