Each time someone asks me to recommend a place for awesome grilled seafood, Rong Guang BBQ Seafood is the first (and only) name that comes to mind. And each time, the person would come back and thank me for my recommendation. Yes, that's how good the food really is. I have been patronising the stall since 2003.
Update: Note that this original stall has moved to Makansutra Gluttons Bay, and is no longer at the Alexandra Village Food Centre where another stall has spawned with almost the exact same name, but is unrelated.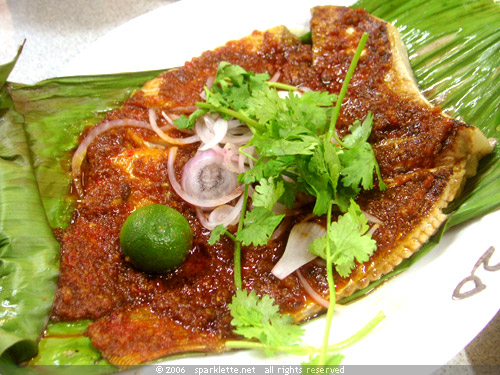 Sambal Stingray
S$10-16
Rating:





Sambal stingray is their must-try dish. For a while over the past few months their standards seemed to have dipped as the sambal chilli they used was not as fragrant or robust as previously. When we were there yesterday, I was delighted to find that the chilli I have loved so much is finally back! Served on banana leaf, the stingray was as usual soft, tender and fresh, as though it had just been caught from the sea. I only wished it had come with more chilli!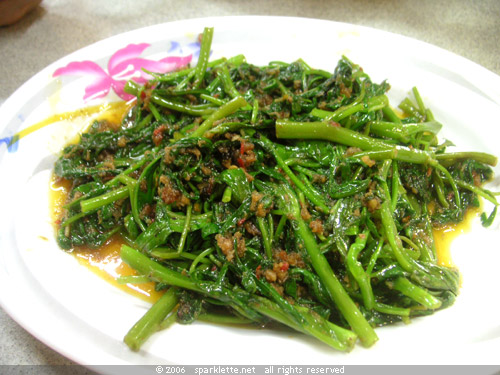 Sambal Kang Kong (Chinese Kale)
S$6-8
Rating:





As most of my friends (and blog readers) would know by now, I'm someone who hates eating vegetables. Whenever I go to any zi char (home-cooked fare) stall, the only vegetable dish I would order, if any, is sambal kang kong. Needless to say, I have eaten a good number of this dish at various stalls. But at Rong Guang, it was only my first time. And I absolutely loved it! The belachan (fermented ground shrimp) was so delicious you could still taste the shrimp!
This would be the second best sambal kang kong I have ever eaten. The absolute best comes from Gu Zao Ren Seafood Taiwan Porridge.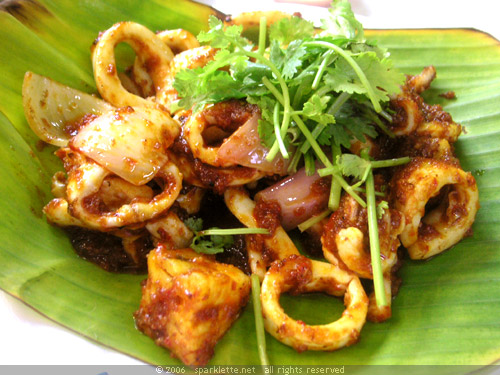 Sambal Sotong (Calamari)
S$8-12 dependent upon serving size
Rating:





As long as the sotong (calamari) is fresh, this would be a five-star dish. But more often than not, the sotong tends to be a little stiffer than what I desire. The sambal chilli used for this dish is different from that of the sambal stingray. It's a little sweeter, a little yummier. Come to think of it, different kinds of sambal chilli are used for all three sambal dishes. Each one has its own distinctive taste and tastes just as good, if not better than the previous.
Except on Tuesdays when the stall closes, it is always full house at Rong Guang. But somehow the friendly lady always magically finds a table for her customers. The customers range from families, to white-collar workers coming after work, to large groups of Caucasian tourists. Yeah the food is that good!
Rong Guang BBQ Seafood
Makansutra Gluttons Bay
Opening hours:
Mon-Thu: 5pm – 2am
Fri-Sat: 5pm – 3am
Sun: 4pm – 1am
News updates
February 3, 2007: My list of Best (& Worst) Restaurants in Singapore for 2006
– Nominated for "Best Hawker Stall"