Many of us grew up with Disney cartoons. Some of us even had childhood dreams of visiting a Disneyland theme park one day. (I finally did that in 2007!) for me personally, this fondness for Disney characters continued even through adulthood.
So when I checked out the newly revamped Anchorpoint shopping mall, I was ecstatic to find Disney Naturally, a Disney-themed restaurant. And what a rare find it was! According to the staff, this is the first Disney-themed eatery outside of Disneyland! Given how commercially successful Disney is, that is certainly a surprise.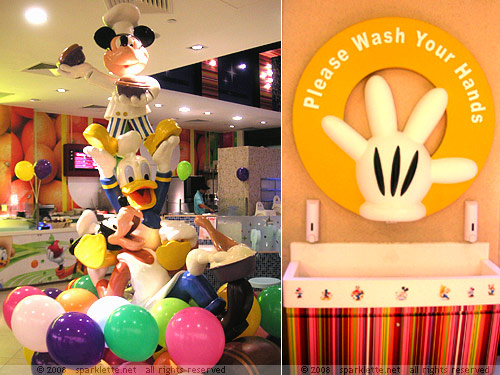 Of course, everything here is decked out in the full flavours of Disney. Life-sized statues of Mickey, Donald and Goofy greet visitors at the entrance of this 1,400 square foot restaurant. Don't forget to wash your hands at the giant Mickey's hand wash basin before dining!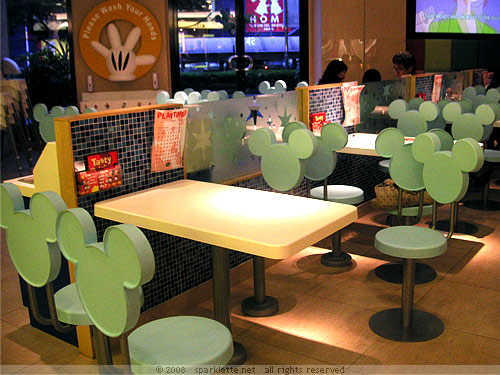 All the chairs here are baby blue and shaped like Mickey's head. Cute! And the Mickey-shaped things here are not limited to just the chairs.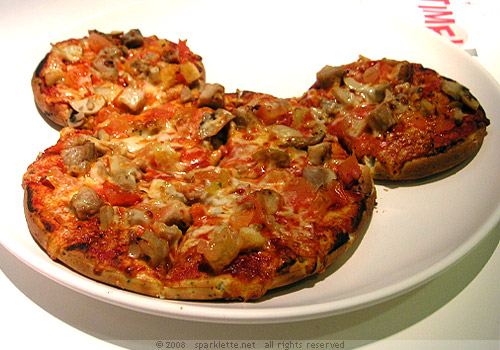 Minnie's Secret
S$15.90+
Rating:





The pizzas are Mickey-shaped too! 6 different kinds of pizza dominate the rather small menu. I can't resist listing down their names so here they are:
– Mickey's Classic
– Daisy's Garden
– Donald's Legend
– Minnie's Secret
– Pete's Pan
– Pino's Fancy
We share a Minnie's Secret which was just about right for two not-so-hungry people. It comes with toppings of cajun chicken, tomato and mushroom. While the taste isn't exactly that memorable, what is unique about it (other than its distinctive shape) is that spinach bits have been sneakily hidden in its crust! It's a healthful treat especially suitable for people that dislike vegetables. In fact, I didn't even realise there was spinach until I read the menu more carefully!
Despite the small menu, it is certainly packed with healthful goodness! Colourful little square booklets at every table serve to inform diners about the nutritional value of all menu items.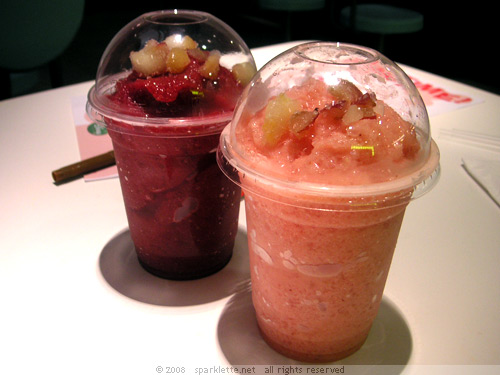 Prince Charming's Kiss (pink) & Goofy's Favorite (red)
S$5.50 each+
Rating:





For drinks, options include the usual juices and cuppas, as well as icy fruit blends. I think most people would go for the fruit blends which, again, sport very colourful names:
– Goofy's Favorite
– Winnie's Rainforest
– Prince Charming's Kiss
– Mermaid's Whisper
– Fairy Godmother's Magic
– Pluto's Pick
Goofy's Favorite is a red-coloured blend of apple, orange, blueberry and cranberry that tastes very refreshing. Prince Charming's Kiss, a sweet pink-coloured blend of strawberry and mango fails to charm. There's just too much of the chunky ice shavings!
That said, these fruit blends have no sugar added, and stands true to Disney Naturally's philosophy of promoting healthy eating.
Fun activity: Try making a guy order the Prince Charming's Kiss. Sure, the drink itself isn't impressive, but the ordering process would be so worth it!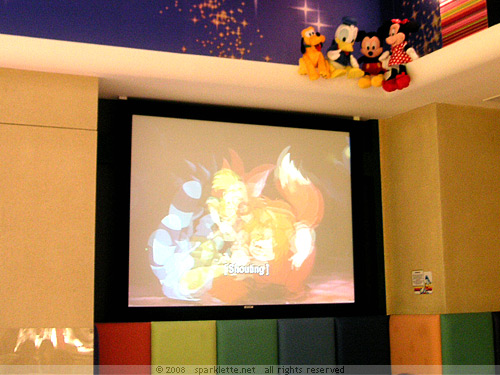 While enjoying a cute Disney-themed meal, you can also watch movies at the same time! Popular titles include Finding Nemo and even the more recent Ratatouille.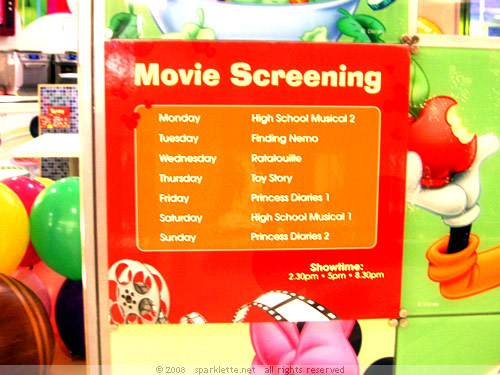 The movie schedule is displayed at the storefront. I think it changes weekly so be sure to call them up and find out what movie is playing before heading down!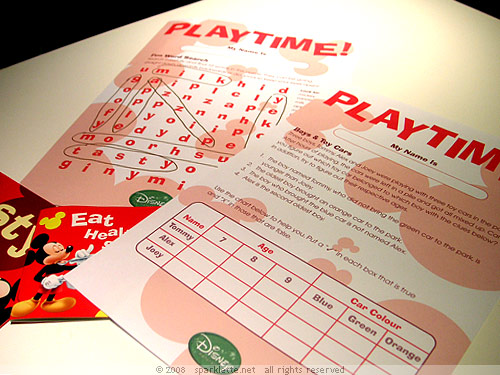 To keep children busy while waiting for their food, game sheets are available at every table that allow them to engage in some fun activities such as crossword puzzles and quizzes. There are also Mickey-shaped computer terminals for children to surf the Disney website and play Disney games. Man, these guys think of everything! Reklama internete, el parduotuvių ir interneto svetainių kūrimas, CPM reikšmė, pardavimų skatinimas ir seo paslaugos
One thing to note: if you are going there with your children, you may be forced to buy a pre-paid card at one counter, top it up with cash on top of a $2 deposit, then proceed to order and pay for your food at another counter. At the end of the visit, you can choose to keep the card for the next visit, or get your refund back at the first counter.
It's all quite a hassle and the purpose is to educate kids on @#$!&#!. I don't quite remember; the guy lost me at the $2 deposit. In the end, we found out that since we didn't go there with kids, we could do away with all the hassle and just pay with good ol' cash.
Little hassles aside, this is a fun place to visit for everyone, and not just families with children. It provides a nice little Disney experience outside of Disneyland. Perhaps, having Disney characters walking around the restaurant or sitting down with diners would make it even more memorable!
Disney Naturally
(

Halal certified
)
Anchorpoint
370 Alexandra Road
#01-05/06 Singapore 159953
Tel: +65 6479 2823
Service: