Being a huge fan of ayam penyet (smashed fried chicken), I am always on the prowl for this sinful dish. But now that there are so many places where you can find it these days, it's becoming hard to sift out the really good ones from the rest. The latest gem I have uncovered is Sri Bistari Changi Village.
Don't be misled by the name though. They actually have six outlets, albeit most of them in the east, with just one in the central area. My family and I visited one of their stalls at Changi Village while we were en route to pengerang.
So just what made me fall in love with the sri bistari ayam penyet?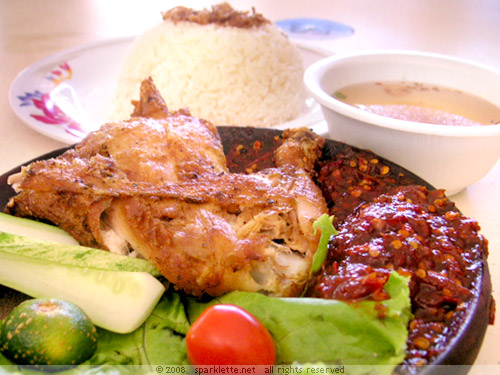 Nasi Ayam Penyet (Smashed Fried Chicken with Rice)
S$4
Rating:





Upon savouring the chicken flesh, I knew I was gonna thoroughly enjoy my next 15 minutes of pigging into the sinful dish that's served on its usual wooden platter. It was just so tender and juicy, much unlike the many severely dry ayam penyet I had tasted before.
The fluffy nasi (rice) here is flavoured a la Hainanese chicken rice – very fragrant and tasty! Even the soup tastes awesome with the dash of fried shallots.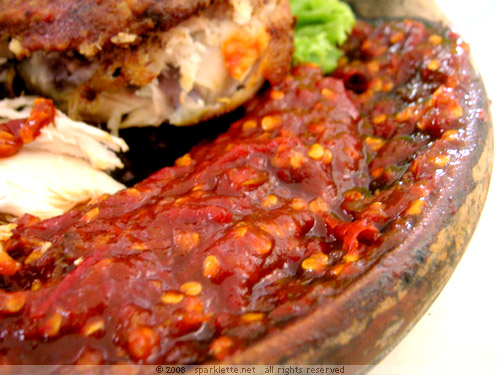 No good ayam penyet is complete without a generous heap of sambal chilli. The chilli here is rather roughly ground. It is also extremely addictive, so much so that you would want to have more, and more, and MORE of it in your rice despite how spicy it is. Just be sure to have an iced drink and tissues ready while you ask for more chilli! You will not regret it!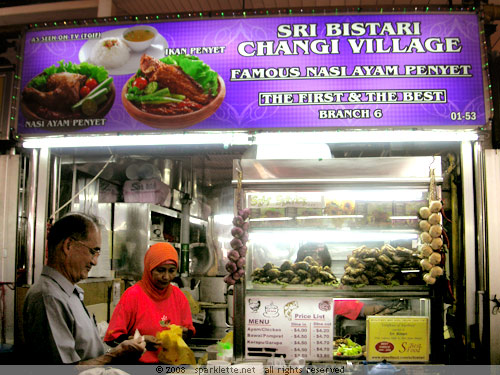 At Changi Village alone, there are two Sri Bistari outlets. The original stall is at the wet market area, and the second one is at the Muslim section that includes the famous nasi lemak stall with the perpetually long queues. Look out for the purple signboard. There are 2 stalls with purple signboards so make sure you get to the right one!
Sri Bistari Changi Village
(

Halal certified
)
2 Changi Village Road #01-53
Singapore 500002