If you are like me, you probably go to work everyday where you would have your meals at the same few places. So when a new restaurant opens in the vicinity, it would generate a bit of excitement among you and your colleagues. All the better if the food is cheap and good! And that's exactly what Food Addict Café is like.
Some months back, this little restaurant opened in Toa Payoh Central. It is such a breath of fresh air and easily stands out from along a row of nondescript shops where it is situated. Being just the size of a single shop unit, seats are limited and especially so during chow time. Hence, besides indoor seating, there are also tables spilling out to the outside of the restaurant.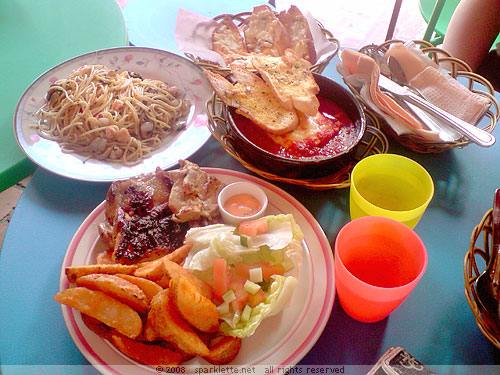 The owners have given the place a funky decor, with colourful wall motifs and brightly coloured furniture and cups. Food-wise, what you would find here is mainly Italian and Western cuisine. And it certainly doesn't fail to impress! After all, the chef has 15 years of experience whipping up dishes at N.Y.D.C.!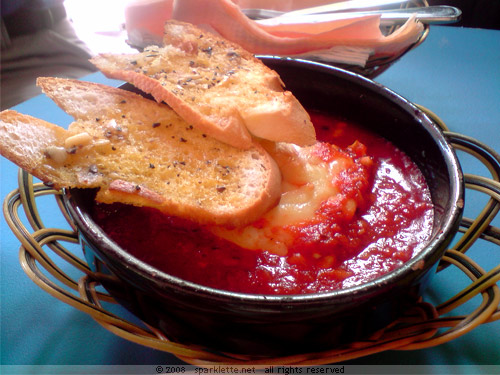 Lasagna
S$6.95
Rating:





Lasagna! Check out the garlic bread that comes with it. It is yummy and has cheese too! In fact, we like it so much we even order a separate helping of it. Of course, the lasagna tastes great with the thick tomato gravy. It is most unlike the many soggy and oily lasagnas out there – and at just half the price too!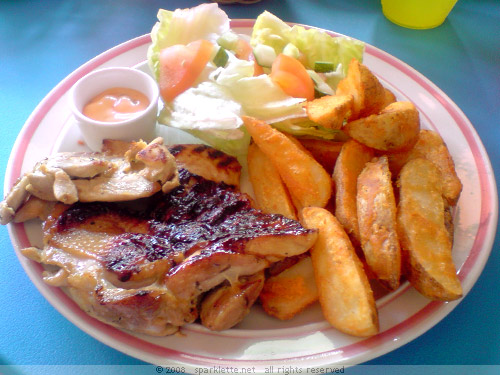 Hot Chicken
S$8.50
Rating:





To get my daily chicken fix, I go for the hot chicken. Why "hot"? Apparently it is a hot seller (since it isn't spicy)! Having had too many chicken cutlets and chops served in gargantuan sizes at ABC Market, I'm not too impressed with the chicken serving here. But to be fair, it is definitely more than enough to fill my stomach, especially with the wedges.
I like the fact that instead of the usual fries, the chicken is served with chunky potato wedges that are oh-so-fluffy on the inside. My lunch partners wasted no time in finishing them for me! Worth mentioning, too, is the mustard dressing that is made from scratch.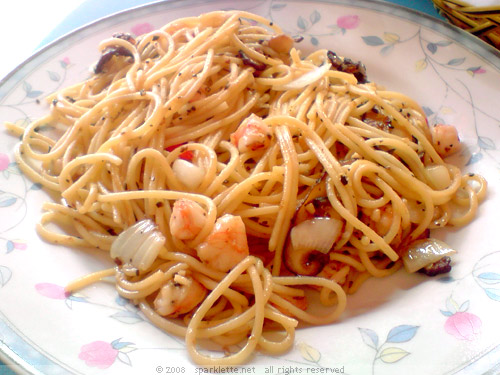 Prawn Aglio
S$7.50
Rating:





Spicy food lovers wouldn't want to miss this. The prawn aglio here is the spiciest pasta I have ever tasted! Pan-fried with garlic and lots of chilli, the average person may find this too hot to handle! But beware: once you eat it once, you may find yourself hooked, as are my colleagues who are hooked on this and the lasagna!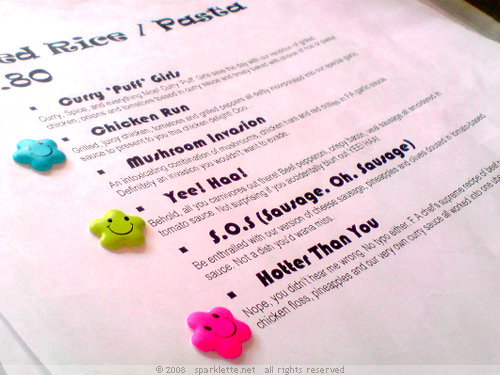 All three dishes that I have introduced are house recommendations, as indicated by the cute puffy flower stickers. I like the fact that the menu items bear playful names such as "curry puff girls" and "hotter than you"! Yee haa!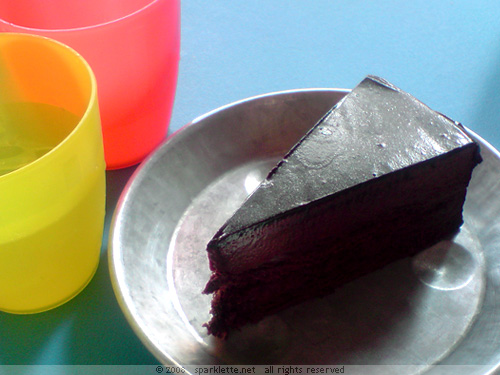 Chocolate Truffle Cake
S$3.95
Rating:





If you're craving something sweet, you can take your pick from a range of desserts and cakes. The chocolate truffle cake is decent enough, though not as chocolatey rich as I would have liked. I hear they serve drinks that are code-named BFGs (big friendly giants), with rainbow sprinkles and whipped cream. Yum! I'm so gonna have me a BFG the next time round.
So those of you that are working in Toa Payoh, or just happen to be passing by, don't forget to give food addict café a try! Who knows, you may get really addicted!
Food Addict Café
185 Toa Payoh Central
#01-324 Singapore 310185
Tel: +65 6259 4218 |
Website
Service:





(Note: All photos in this post had been captured using my LG Viewty.)