Normally, degustation or tasting meals would turn me away because they tend to cost a lot while offering only petite-sized portions rather than a hearty meal. Yeah, yeah, I know that's the idea, but still… Anyway, Dozo is one restaurant that offers degustation meals at friendly prices.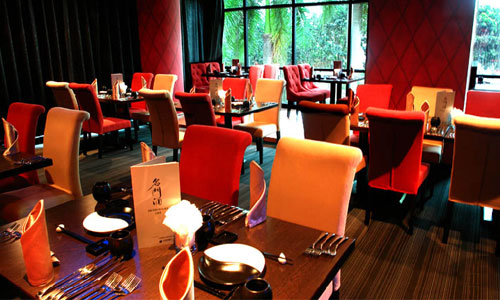 Degustation menu
Lunch (6-course): S$38.80++
Dinner (7-course): S$58.80++
The conventional degustation meal consists of multiple courses, with each course fixed by the chef. But in Dozo's case, with the exception of the chef's platter for starters, diners can select from a few dishes for each course. The menu is chiefly Japanese with a deep infusion of French and European influences, similar to the design of the restaurant.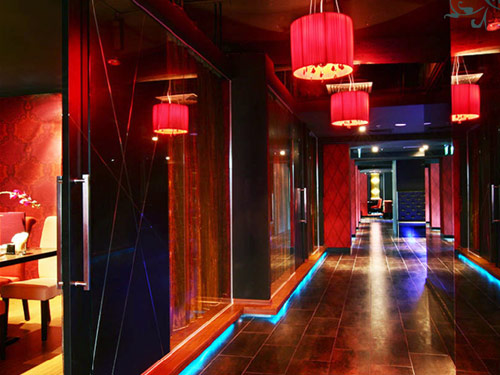 The restaurant is elegantly designed with a luxurious ambience and soft lighting. In some ways, it's almost like a club, complete with a bar area! Upon entering, you would be led through a dark corridor to the communal dining area, or the private rooms if you have a bigger party (no additional charges!).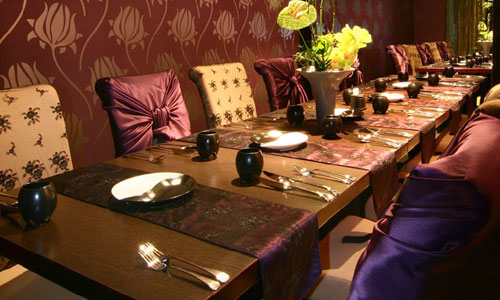 One of the segregated private rooms is a ladies' room with floral motifs on the walls and chairs in plum and purple.
Once you're ready to start your six or seven-course meal, waiters would take your order for all the courses. No worries if you're feeling lost as to which dish to pick. The waitstaff who are well-acquainted with the menu would be most eager to help.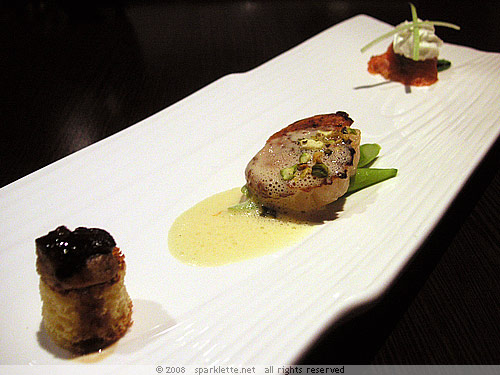 Chef's Seasonal Assorted Platter
Course: Starter
Rating:





The meal kicks off with the chef's seasonal assorted platter. It serves three canapés on a long dish. The canapés change from time to time and in this case, it was foie gras with bread, scallop with cream sauce and greens, and smoked salmon wrapped in avocado.
The waiters informed us that there's a specific order to eat the three which, if I remember correctly, would be the scallop first, foie gras second and salmon finally. My favourites are the scallop, which is plump and fresh and goes well with the light miso cream sauce, and the salmon, which comes with a little tuft of cream with a sweetness that complements the fish nicely.
Side dishes follow next, for which I had the tempura soft shell crab and my partner had the steamed egg custard.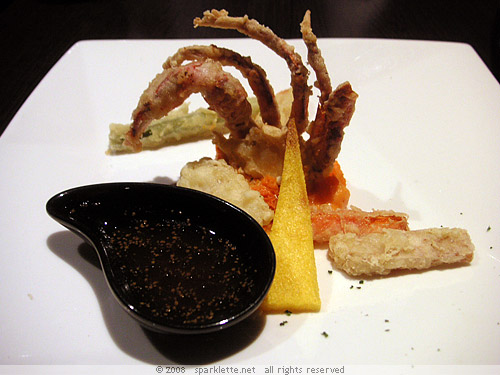 Tempura Battered Soft Shell Crab on Galette of Mash
Course: Side dish
Rating:





The soft shell crab was deep-fried to a light, perfect crispness. Eat it alone or dip it into the delicious dark sauce of a sweet, sour and spicy combination. I didn't exactly care for the accompanying mash and other tempura and only focused on enjoying the crispy crab bit by bit.
Steamed Egg Custard with Scallop and Foie Gras topped with Caviar
Course: Side dish
Rating:





The egg custard with scallop and foie gras was really nothing to shout about. The plating was excellent though, a testament of the importance that the restaurant pays to aesthetics and presentation of food. I always appreciate such attention to detail, and thought the little yellow chrysanthemum flower too pretty to be thrown away.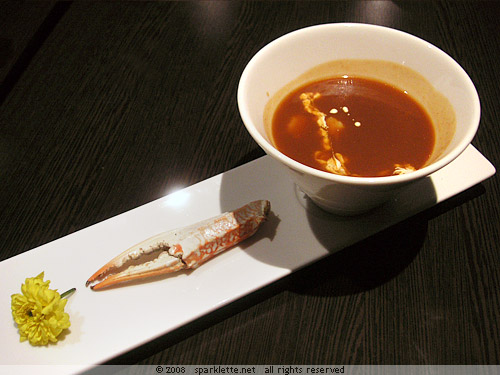 Seafood Bisque
Course: Soup
Rating:





For soup, the seafood bisque is clearly a winner, and easily the best seafood bisque I've ever had. It has the most robust flavours of the ocean, with bits of seafood in it such as crab meat and scallop. I finished every last bit of it.
Notice the little chrysanthemum flower and real crab claw by the side? Whether it's the taste or the presentation, this dish is just perfect. I simply can't find any fault with it. With each slurp, I just want more!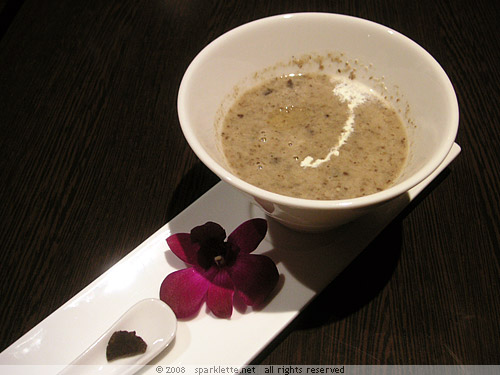 Infusion of Cepes Mushroom and Truffle
Course: Soup
Rating:





While enjoying the wholesome seafood bisque, I felt guilty that my partner had to go for the cepes mushroom cream soup. A little slice of truffle is served on a spoon by the side with a brilliant purple orchid. The layout looked beautiful, but the soup itself was pretty much forgettable.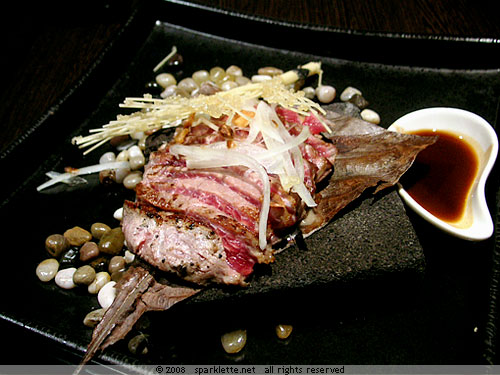 Beef Tenderloin on "Pu Ye" & Granite Hot Stone
Course: Main
Rating:





The restaurant is particularly proud of its beef tenderloin main course. I can see why. It certainly has that wow factor. Slabs of raw beef are served over a sizzling hot granite stone. The idea is that you can decide how well-done you want your meat.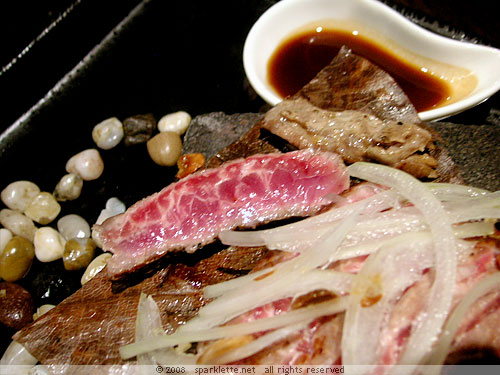 Notice that the meat is laid out on a "pu ye" leaf to prevent overcooking. The aroma of the leaf also seeps into the meat. It comes with a tasty dark sauce dip and pebbles by the side as decor. The whole shebang.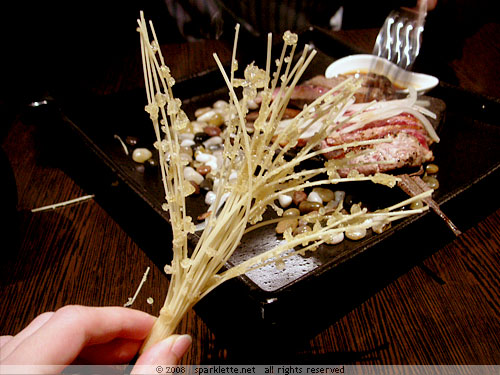 This leaf-shaped thingy in light yellow comes with each main course. I missed out the part where the waiter explained what it was as I was busy digging into my food. Does anyone have an idea?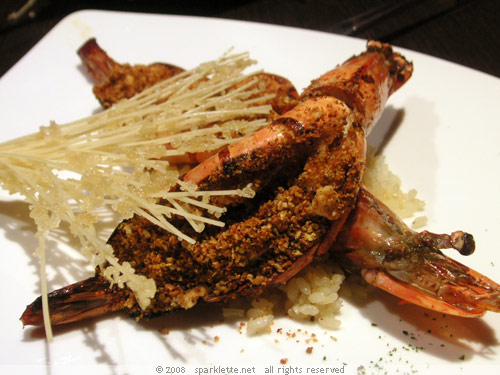 Gratinated King Prawn completed with Risotto
Course: Main
Rating:





Yet another winner is the king prawn with risotto. The prawn is baked in au gratin style with browned breadcrumbs and butter, giving it a nice crunch.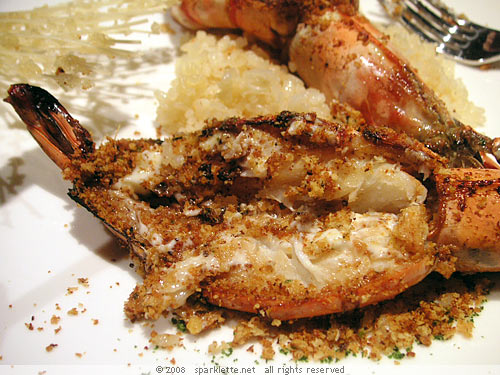 I really loved the fragrant and fresh prawn, with its loads of precious sweet flesh.
Even though the food portions are designed to be small and go easy on the stomach, I was surprised to find that at this point, I was already feeling full. It was just as well anyway; there's only a drink and a dessert to go!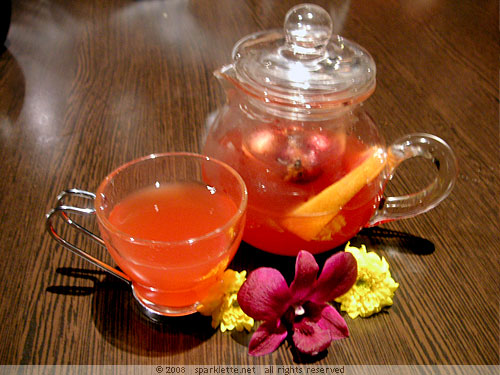 Iced Grapefruit Glory
Course: Drink
Rating:





Iced fruity drinks are served in cute glass teapots and dainty cups. The grapefruit drink is a strong citrus drink that's great for digestion, despite tasting a little weird. Then we looked into the pot and saw these: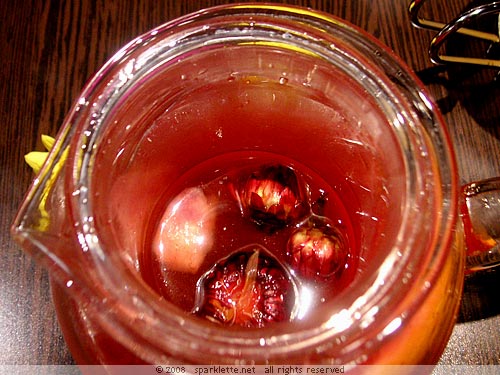 Pretty little flowers! I'm not a tea drinker. Are those tea flowers or something? It was a little unexpected to see them floating around in a fruity drink.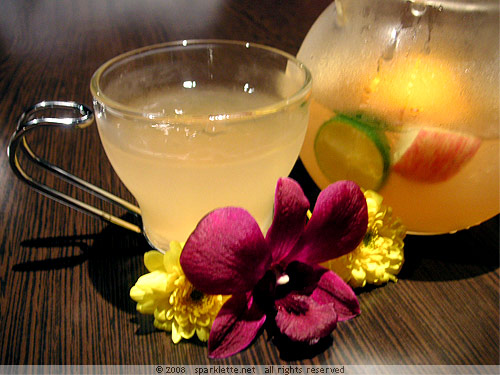 Iced Fruity Refresher
Course: Drink
Rating:





The iced fruity refresher fares much better. It's an assorted blend of honey and various fruits such as lime, peach and apple. In fact, chunks of fruit can still be seen in the drink. It was refreshing all right.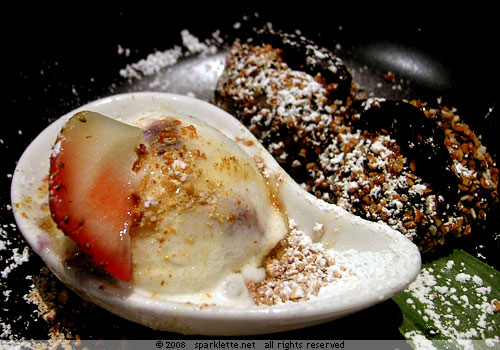 Japanese Mochi Ice Cream with Red Bean
Course: Dessert
Rating:





Desserts are served last. The red bean mochi ice cream is wonderfully arranged and practically art on a plate. It has a wonderful texture and tastes good and delightful with a slice of strawberry on top. Certainly something that girls would enjoy.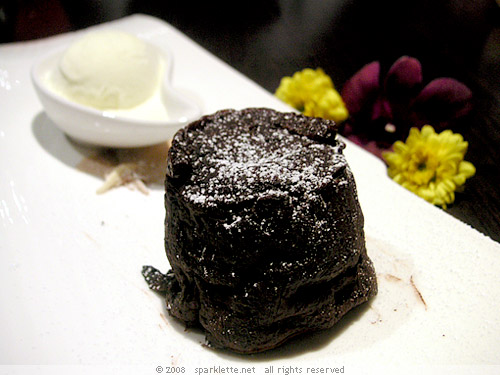 Freshly Baked Warm Chocolate Cake served with Ice Cream
Course: Dessert
Rating:





But my all-time favourite dessert has to be the warm chocolate cake with the gooey molten chocolate centre. It's been god-knows-how-long since I last had this dessert (I've been keeping myself from all the calories). But once it's presented to me on the menu, I just can't resist!
The cake is freshly baked and warm throughout. It warms my heart just to eat it! This particular one even comes with white chocolate melted and hardened onto the plate. So you can scrape it off with a spoon and eat it with the vanilla ice cream and chocolate. Marvelous combo!
Well, I was almost sad to see the meal come to an end. It had been extremely satisfying and I felt as though I had tasted and loved every flavour of the dishes. Plus, the ambience and service were both excellent. If the menu changes frequently enough, I wouldn't rule out returning for another degustation meal!
Dozo
Valley Point Shopping Centre
491 River Valley Road #02-02/03
Singapore 248371
Tel: +65 6838 6966 |
Website
Service:





Bus services: 14, 32, 65, 139, 970
Nearest MRT: Tiong Bahru