Kolo mee is a signature noodle dish in Sarawak, perhaps equivalent to wanton mee, another dry-tossed noodle dish that Singaporeans would be more familiar with. Besides char siew (barbecued pork) and vegetables, kolo mee is also served with minced meat.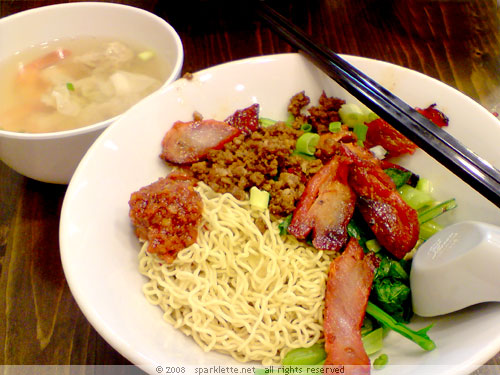 In recent years, someone from Sarawak set up the Jia Xiang Sarawak Kuching Kolo Mee chain of small eateries selling this favourite dish. To make it even more authentic, the noodles and ingredients are air-flown directly from Sarawak daily.
Well, I haven't actually tasted the kolo mee in Sarawak before, so I really have no benchmark to compare this with. But the kolo mee at jia xiang tastes really good, if a little expensive!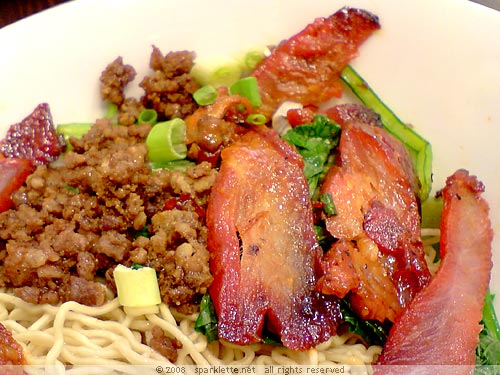 Kolo Mee
S$6
Rating:





Due to the air-flown ingredients, a bowl of noodles is priced at $6, inclusive of a bowl of soup with prawn and wanton. To be perfectly honest, I must say that this is too expensive. But hey, at least the food is good.
Update: Good news. There IS a cheaper version of the noodles at $4 without the prawn and wanton. I say go for that!
The noodles are firm, springy and light, and don't feel oily, which is a plus point. The minced meat is savoury and delicious. But most of all, I love the sweet and tender char siew, which is perfect in taste and texture. It also looks healthier than your regular char siew with the fatty bits and the charred bits, although I know some people would prefer the "unhealthy" version.
In Sarawak, kolo mee is normally served with cut chilli. But at Jia Xiang, a metal container of sambal chilli gravy is offered at every table instead, perhaps to cater to local taste. The sambal chilli is GOOD! I would mix two or three spoonfuls of it into my noodles.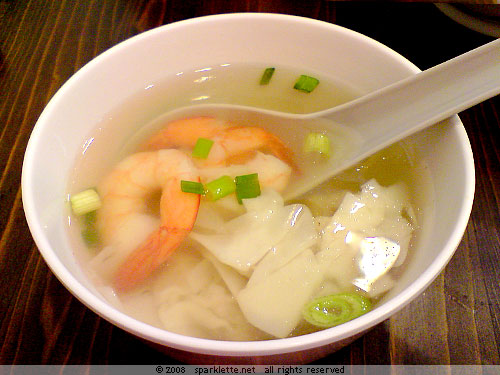 The bowl of soup is a good pairing with the dry noodle dish. In it, you would find a couple of fresh prawns and some wanton. The wanton is rather skimpy with very little meat filling. But for me, the main focus is still the noodle dish itself.
The food is good, and I really like the fact that the whole dish isn't oily like your average dry-tossed noodle dish. Highly recommended with a lot of the sambal chilli!
Jia Xiang Sarawak Kuching Kolo Mee
190 Toa Payoh Lorong 6 #01-530
Singapore 310190
Tel: +65 6295 5024
For now, does anyone have other recommendations for nice Kuching kolo mee in Singapore?
(Note: all photos in this post had been captured using my LG Viewty.)