As someone that really enjoys checking out new restaurants, there still are a number of eating establishments that I remain loyal to. The sambal stingray at Rong Guang, Indonesian grilled chicken, assam prawns at Bakerzin, and red curry at Lerk Thai are some dishes that frequently give me cravings and keep me going back for more. (I know right now you are probably thinking of your own faves!)
More recently, I fell in love with the curry chicken at Xin Wang Hong Kong café. With an extensive menu offering various dishes at affordable prices, Xin Wang is one of the most popular chains of Hong Kong cafés that have sprung up in Singapore in recent years.
For the curry chicken, a crowd favourite, you can choose to have it either with rice, noodle or bread. While initially, I would go for rice, I soon learned that bread is a much better complement. It is the softest bread in the world with a lovely tinge of sweetness!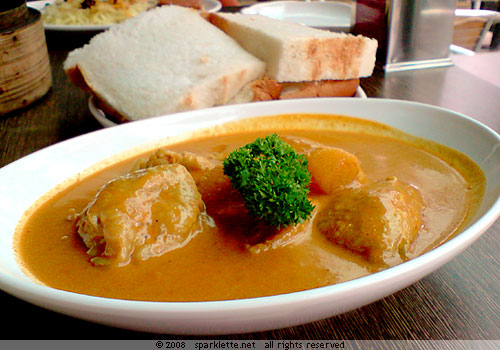 Curry Chicken with Bread
S$6.80/7.90++
Rating:





The curry is extremely rich and wonderfully fragrant, and not too salty at the same time. With a spiciness that is just about right, this dish is comfortable for most people. I find that the curry gravy is also thicker than most home-cooked curry, but doesn't leave you feeling sick even after slurping down a whole bowl of it.
Then, it also comes with generous chunks of chicken with very tender meat that just taste oh-so-good. And let's not forget the soft bread. The sweetness provides a great contrast to the curry.
At a recent visit to white sands pasir ris, I noticed that the outlet here sells the curry chicken two dollars cheaper than other outlets. Of course, the lower price means you get less of the curry goodness. The simmering curry is served in a white oval-shaped bowl here as opposed to a much larger black bowl elsewhere. I myself prefer the smaller portion, which is much more manageable.
You have to try it for yourself! Curry chicken + bread = :)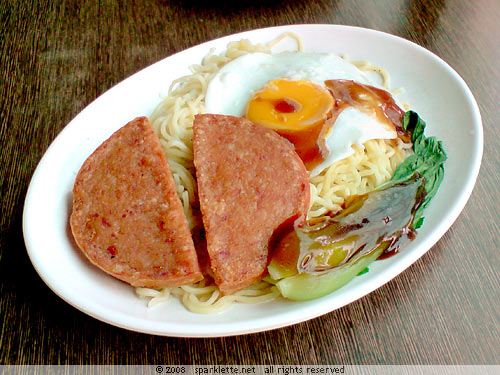 Luncheon Meat & Egg Ramen
S$7.90++
Rating:





In Hong Kong, noodles served with luncheon meat (spam), vegetable and a sunny-side up egg is a popular dish. Personally, this wouldn't appeal to me. Xin wang also offers this, albeit at a rather costly price-tag, considering the simple ingredients used.
Here's something interesting though. The restaurant actually makes its own luncheon meat from scratch after the ban of two major luncheon meat suppliers from China last August. Some customers say that it is almost similar to the original, with a firmer texture and more natural taste.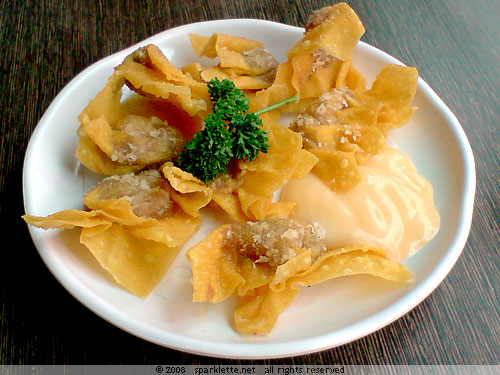 Fried Wanton
Complimentary with 2 main courses
Rating:





With the two main courses ordered above, our waitress sprang a little surprise by serving a complimentary plate of fried wanton with delicious mayonnaise. I think this freebie is available only at the white sands outlet; I haven't encountered it anywhere else.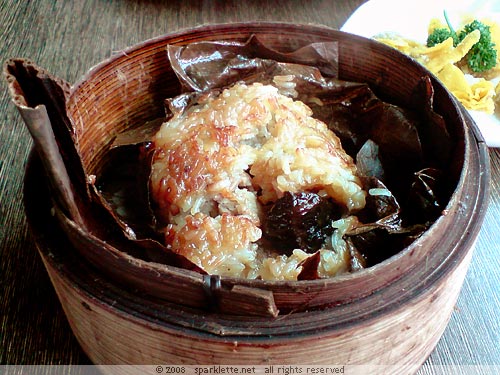 Sticky Rice in Lotus Leaf
S$3.90++
Rating:





As if there aren't enough goodies already, we also ordered some sticky glutinous rice for good measure. It's wrapped in lotus leaf and served in a bamboo steamer. This one would fill you up in no time so I would discourage getting it if you are already having many other dishes.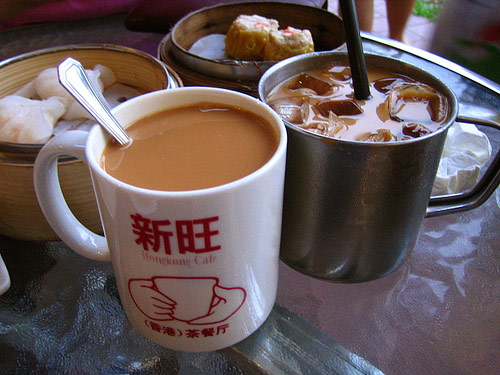 Photo by Food Trails
Yin Yeung
S$2.90++
Rating:





A trip to any Hong Kong café simply wouldn't be complete without a cup of yuan yang or yin yeung (in Cantonese). It's a delightful mixture of tea and coffee, and you can choose to have it served hot or cold. I always prefer it hot.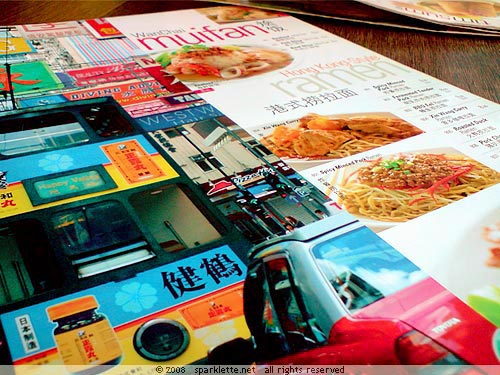 If you have yet to check out Xin Wang, I can assure you you would definitely find something you like. After all, there are more than 200 food items to choose from!
One thing that always impresses me is the huge variety. Besides the conventional toast, noodle and rice dishes, there are also stuff that you wouldn't expect to find in a Hong Kong café. In the mood for pasta? Sure! How about roti prata? No problem! (though I doubt they have Indian cooks to whip that up.)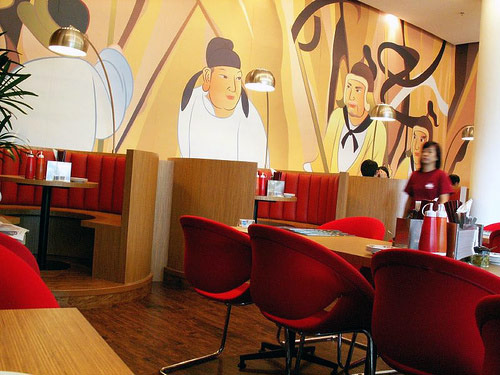 Photo by Beezy
So tell me, do you have a favourite restaurant with a dish that just keeps you going back for more? I wanna hear all about it!
Xin Wang Hong Kong Café
– Anchorpoint #01-13/14
– Cathay Orchard Cineleisure #02-11
– Changi Airport Terminal 3 #04-02
– Coronation Shopping Plaza #01-04
– Heartland Mall
– ION Orchard #B2-16
– Marina Square #01-04
– Northpoint Shopping Centre #01-45/46/47/48
– Plaza Singapura #06-08/09/10
– Springvale @ Siglap #01-03A
– Sun Plaza #01-01
– Tiong Bahru Plaza #01-05/06
– United Square #02-02/05
– West Coast Plaza #B1-04
– White Sands Shopping Mall #01-14
– Yew Tee Point #01-17
Website
(Note: All photos in this post had been captured using my LG Viewty.)