Not long ago, I had recommended Wow Wow West to a friend who intended to check out ABC Market. This is one of the best Western food hawker stalls I have ever come across, along with Botak Jones and Charco's. At Wow Wow West, you would get your fix of Western favourites such as chicken cutlets, pork chops, wings, steaks, and cheese sausages.
The boss himself is a kind-hearted man who should be an ambassador for the Yellow Ribbon Project. He hires and trains ex-convicts exclusively as his stall assistants. You may recognise him by his frequent interviews by the press for helping these individuals get a new lease of life. Bravo!
His giving spirit also shows in his food servings – very generous! I'm not sure if they are meant to be American-sized portions but they're all huge. I think the most important thing here is that not only do you get much bang for your buck, all the food tastes marvellous. And I mean all of it – salad, beans, fries and all.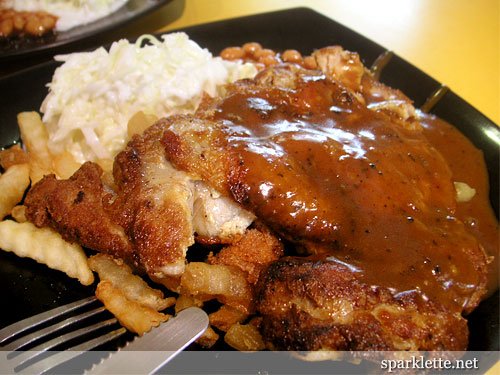 Chicken chop
S$
5
6
Rating:





Each dish comes with huge portions of crinkle-cut fries, beans and salad. The salad dressing in particular is delightfully sweet-tasting and pretty damn good. And with this coming from a vegetable hater, you know it's really, really good.
The chicken chop consists of a cut of chicken that is so ample it almost fills up the entire plate! The meat is lightly marinated, and drenched in a tasty black pepper sauce that lends much flavour.
I also like that the stall serves chilli sauce in bottles instead of the packet kind that you get at fast-food restaurants and certain other hawker stalls. Hawker stalls tend to give just two packets per customer, which is barely enough for a heavy chilli eater like myself. And when you ask for more the hawker nags at you.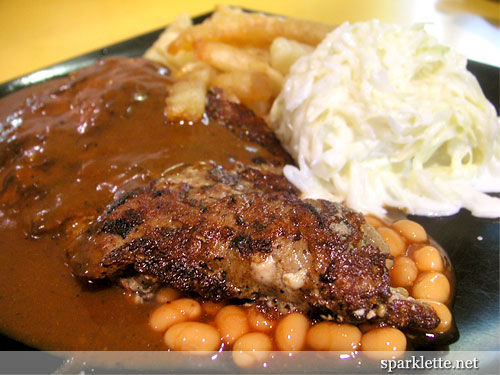 Beef steak
S$6
Rating:





Steak lovers can rejoice as a succulent slab of your favourite meat would only set you back by 6 bucks. Similarly drenched in a pepper sauce, a well done steak turns out tender and juicy. dubaiescortstars.com dubai escort
Despite the stall occupying a remote corner unit of the food centre, business is perpetually brisk, which speaks volumes about the food. If you visit them during the evening chow hours, chances are you would be vying with dozens of other waiting customers. When I tried to order a deep-fried chicken cutlet, I was told that I would have to endure a half-hour wait. That's why I went for the chicken chop instead, which turned out to be an excellent and slightly healthier choice.
Wow Wow West
ABC Brickworks Market & Food Centre
6 Jalan Bukit Merah #01-133
Singapore 150006
Tel: +65 9380 8571
Bus services: 123, 14, 147, 153, 196, 197, 198, 855, 961
Nearest MRT: Redhill
Opening hours: 11am – 8pm (Closed on Sundays)