Hot dudes with boyish good looks, rippling muscles and washboard abs! Watch these boys gyrate their chiseled bodies to the rhythm of the music! Oh, and have I mentioned that they are topless most of the time, too? Guys, you may skip this post. This one is for the ladies!
I spent a very hot night at Gotham Penthouse watching the male exotic dance/stripper group, Odyssey, do their thang! Finally! It had been such a long wait! God knows how many times I had walked past the club in Clarke Quay longing to go right in. But alas, I was always not with the right company to catch the sexy performance.
Now, I only wish I had been there sooner!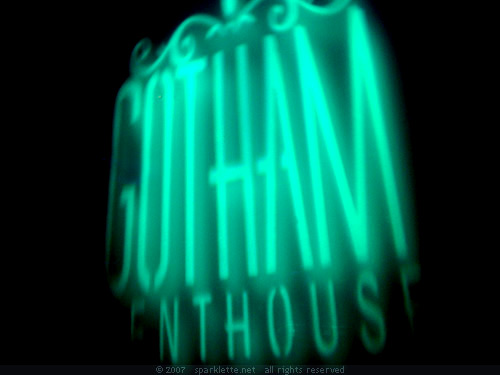 Gotham Penthouse started showcasing the five-man act from Johannesburg early this year. The quintet dress in provocative costumes and dance seductively to a largely female audience. They are: Sidney (24), Richard (24), Riaan (23), Fabio (25) and Devlin (20) – all within my age group!
Apparently, the five penthouse dancers have been specially selected to appeal to local women. Rather than being overly hunky or muscular, they are of medium build. At least two of them are extremely hot!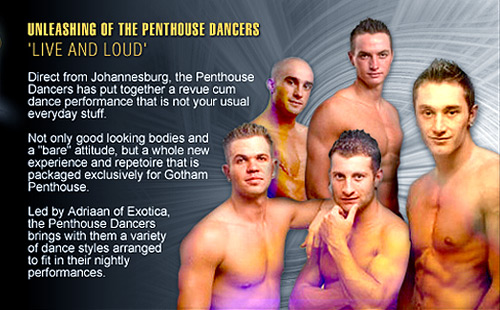 Other than those two – Sidney (far right) and Devlin (center, background) – I didn't really care for the rest. I swear that Devlin was looking at me while he danced! Sidney looked kind of gay though, but still hot nonetheless! Damn, the picture so doesn't do either of them any justice! Gals, you really need to see them for yourselves!
In this half-hour-long performance, parts of it were boyband-like, while the rest were extremely lust-inducing; the guys certainly didn't shy on the pelvic thrusting! Women at the club went nuts over the g-string bits. But between you and me, men in g-strings are simply not my kind of thing! G-strings should strictly be worn by women.
On the whole, I found the performance sizzling hot, and neither sleazy nor tasteless. Some parts were very suggestive, but getting the audience excited is the whole point, isn't it? I was totally engrossed!
Photography and videography weren't allowed, so I did my recording very discreetly or risked getting booted by the burly bouncer. Here are some grainy and shoddily taken videos that I'll be enjoying in my own free time. I should really pay another visit to capture better quality videos! But for now, these would suffice! (hint: the second video is my favourite!)
The guys started the show with a cowboy-themed performance, dancing to the music of – what else – wild wild west. Be sure to watch 'til the end!
The following video is a very sexy performance by my two favourite boys. They have some really slick moves! Each time I watch this it gets me kinda hot!
They closed the show with the following number:
Update: This is an additional video that Riaan, one of the dancers, sent me! It features their overseas performance that is so much hotter and wilder without the Singapore regulations! Check it out!
The guys would be here only for a limited period of time. Catch them while you can!
Gotham Penthouse
Clarke Quay
3A River Valley Road Level 3
Singapore 179020