After closing its two franchise outlets here and being briefly absent from the Singapore restaurant scene, the Swiss chain of Marché restaurants is back! It has returned with a spanking new restaurant at VivoCity and a second outlet at [email protected]. Unlike before when it was run by a local franchisee, the new restaurants directly fall under the Swiss management, ensuring that quality would be kept in check.
Marché has often been compared to The Vila'ge, a local restaurant that pretty much rips off the entire Marché concept. The two share astounding similarities. Although both managements have denied any links, we don't really know for sure.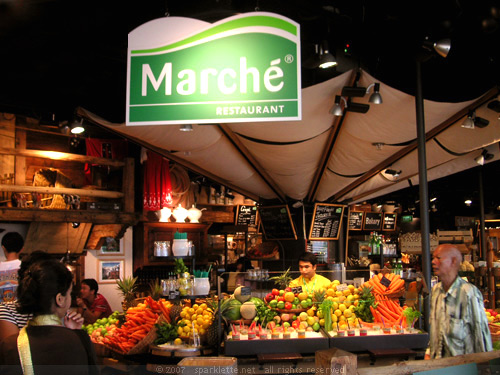 But for now, this post would simply be about Marché. Just for the record, I love the new place! The overall feel is refreshingly different from before. I'm very happy to say that it trumps the Vila'ge in all aspects.
First of all, the restaurant has scored an awesome spot on the rooftop of VivoCity. One side of the restaurant is made almost entirely of glass windows, allowing ample skylight to pour in. It gives the feel of alfresco dining even though you're really dining indoor. Best of both worlds!
Of course, its signature bull (or cow) mascot is back!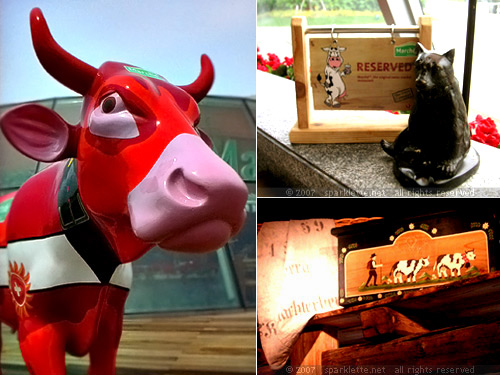 Like its previous flagship restaurant at the Heeren, this one also has segregated eating areas with each area sporting a different look. One area has double-seaters with red and white checkered tablecloth. Another has chairs with fur-printed seats. Then, there's also a room that resembles a cottage.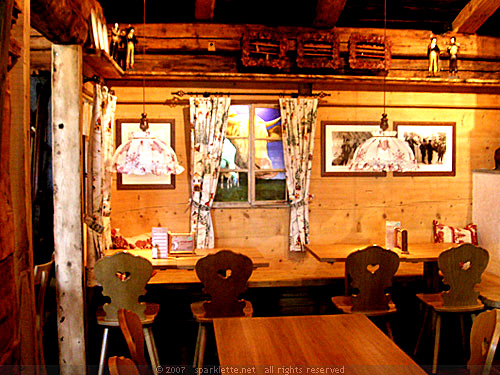 The lines drawn between these separate themed areas are pretty blurry. To the people that don't pay much attention, the place would simply appear as one large eating area. For one, large amounts of 500 year old wood taken from an actual Swiss log cabin is used throughout the entire restaurant. How's that for authenticity?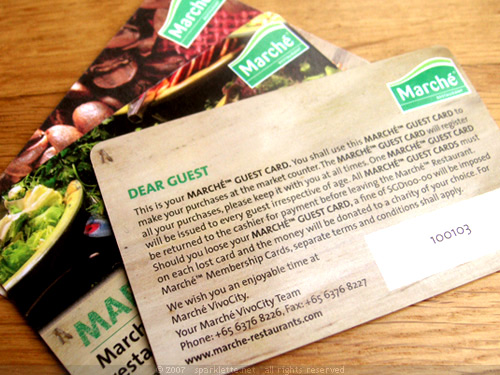 The "cashless" system has also been retained, where every diner is given a card that records the purchase for each item ordered. In the past (as well as at the Vila'ge), a large flimsy card made from paper was used for this purpose. People who lost the card would incur a $100 fine. If I lost this card now, at least I would be paying $100 for a proper card made from plastic rather than a piece of paper.
Okay, let's get on with what really matters – the food! What you will find here is predominantly European. Besides miso soup, I didn't spot anything particularly Asian.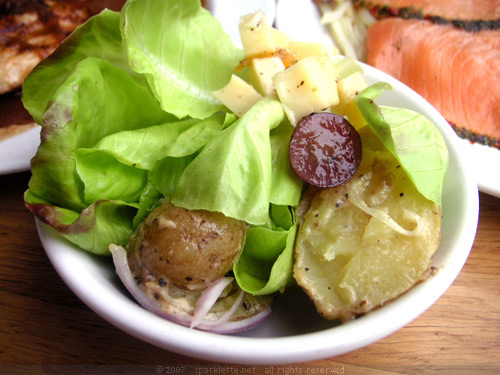 Salad (small)
S$4.80+ and 1% CESS
Rating:





At the salad station, you can select your salad size and choose from various ingredients. We had a small salad with lettuce, baby potato and cheese. Yum!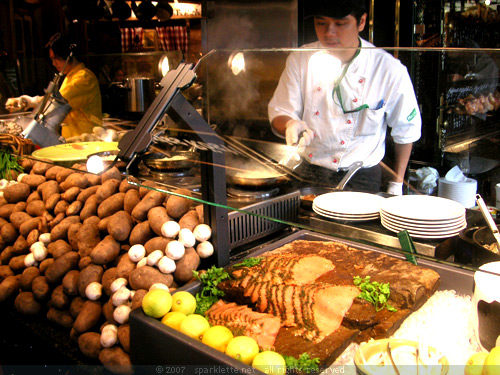 Marché's signature dish is rösti, a food made from potatoes. Don't the potato shreds resemble pasta?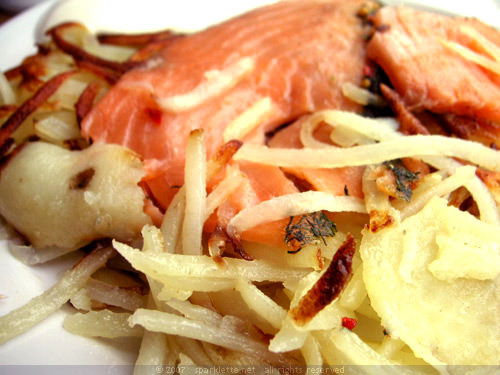 Rösti with Premium Smoked Salmon
S$11.80+ and 1% CESS
Rating:





I have the rösti with smoked salmon. Cooked al dente, it is light and sort of fluffy on the inside. I like it!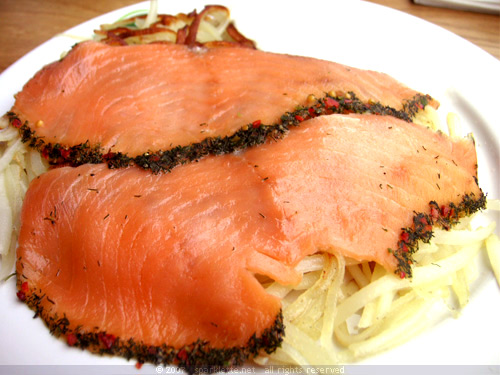 But most of all I love the two large slices of nicely flavoured salmon. Very delicious! This is one dish I would recommend to all Marché visitors.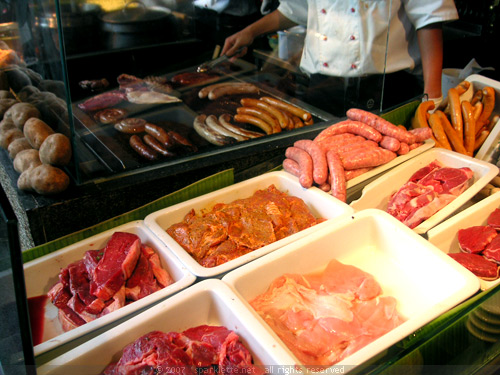 For the meat lovers, you can get your fix at the grill station. The food is barbecued only after an order has been placed.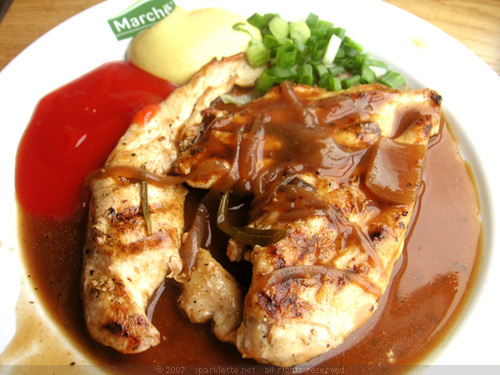 Grilled Chicken Breast
S$6.80+ and 1% CESS
Rating:





I have – what else – grilled chicken breast. It is, rather disappointingly, a tad on the dull side. The sauce has such little flavour, I have to dump a lot of chilli sauce onto the chicken! For a relatively simple dish, they really should have gotten it right.
However, there is an unexpected find at the grill station – the yellow cream sauce. It has the distinct taste of wasabi and adds an interesting dimension to what is otherwise a boring dish.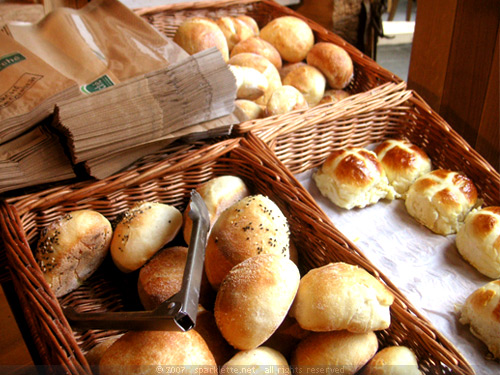 An assorted range of buns and breads is available. These catch my interest…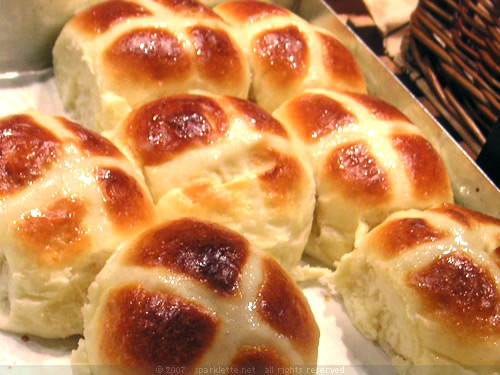 Swiss cross buns! Each one is marked with a cross like the Swiss flag! Cute!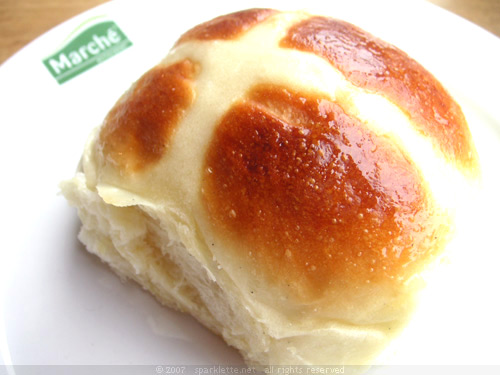 Swiss Cross Bun
S$1+ and 1% CESS
Rating:





Of course I must have one! I am already stuffed, but that cute little bun is irresistible! I love the way the butter glistens under the light! It tastes a little sweet, and goes pretty well with this…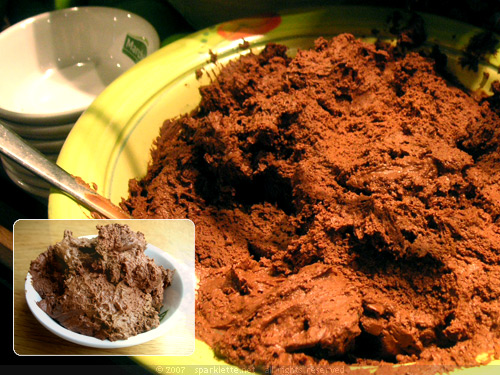 Chocolate Mousse (small)
S$4.50+ and 1% CESS
Rating:





Chocolate mousse! I know it doesn't look great here, but chocolate mousse is one of my favourite desserts! We don't really get it much around here, do we? At Marché, we can simply grab a bowl and scoop as much of it as we want! Smooth, creamy, and sinful. Ooh la la, what a sexy little dessert. It needs not necessarily be eaten from a bowl, if you know what I mean.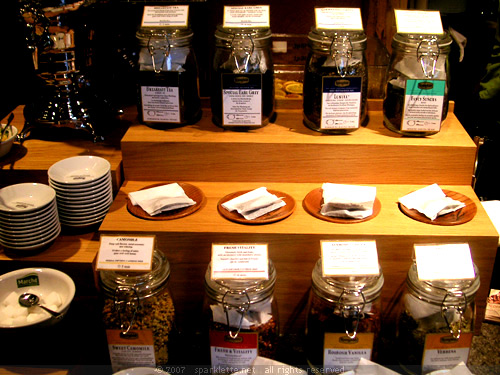 Lastly, the drinks section. There are the usual tea, alcoholic beverages, and soft drinks such as snapple. I neglect to check out the beer. Would someone please let me know what's the main brand of beer sold in Marché? At the Vila'ge it's the German brand, Erdinger.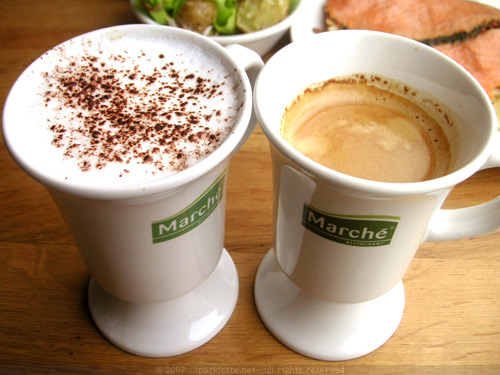 Cappuccino & Mocha
S$3.80 & $4.80+ and 1% CESS
Rating:





And since I am currently in a cappuccino craze, that is what I have. In fact, I must have at least one cuppa joe everyday! Over the past few weeks I have had the ones from Coffee Bean, Starbucks, tcc, McDonald's and now Marché.
While we're still on the subject, what's your favourite place to get cappuccino? I need good recommendations! For now it's tcc. But because there isn't a tcc outlet at my workplace, I tend to buy it at McDonald's. Cheap, cheap cappuccino from McDonald's! Yeah, yeah, shame on me.
So anyway, if you don't find yourself scampering off to Marché yet, this ought to do it: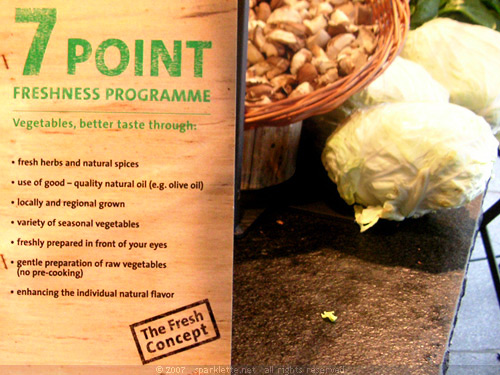 Not only does Marché boast delicious European food that is prepared on the spot, they also guarantee their vegetables to be fresh and healthily cooked! They have even come up with a "7 point freshness program" to show for it.
Speaking of Switzerland, its influence does go far doesn't it? Here there are Swiss army knives, Swiss rolls, Swiss chocolate, and now Marché! What other Swiss products can you think of?
I wasn't actually a fan of Marché before when it had two franchisee outlets in Singapore for years. But after its reentry with this refreshing new restaurant falling directly under its Swiss management, I find it highly promising and definitely much trendier than before.
Yes, I'm a fan now!
VivoCity outlet
VivoCity
1 Harbourfront Walk
#03-14 Singapore 098585
Tel: +65 6376 8226