Following my negative review of Ayam Bakar Ojolali in Lucky Plaza, several readers left comments urging me to visit another Indonesian eatery located within the same building – Ayam Penyet Ria.
Ayam Penyet Ria is an Indonesian restaurant with franchises in Jakarta, Medan, Batam, Surabaya and now, Singapore. Apparently it is so popular, it has opened two outlets in Lucky Plaza alone, and a couple more across the island. Even so, we had to queue for some time before we could be seated. Such is the popularity of this place!
The house specialty was obviously the ayam penyet ("ayam" is "chicken"; "penyet" is "to flatten"). This is an authentic Indonesian dish of chicken that is deliberately smashed with a wooden mallet after deep-frying, apparently to loosen the meat from the bone.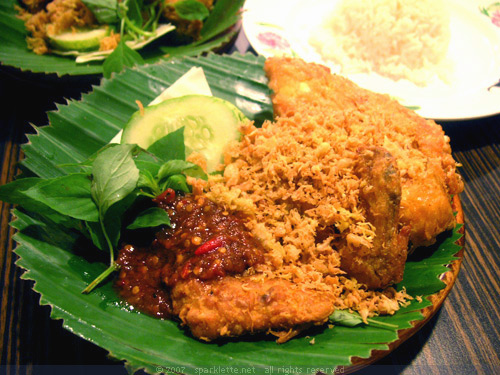 Nasi Ayam Penyet (Smashed Fried Chicken with Rice)
S$5.50
Rating:





The chicken had been deep-fried to a golden yellow and was very crispy on the outside. That's great, except that it was the driest thing ever! To my utmost disappointment, I had trouble eating it because it was so damn dry!
In all fairness, I might have had really high expectations because of all the hype surrounding Ayam Penyet Ria. But I'm a chicken lover, and I know a good chicken dish when I see one. This one did not make the cut.
Additional bits of fried batter had been tossed into the dish for good measure. There were also some greens and a chunk of fried tofu, which were okay.
At the very least I got a real kick out of the chilli sauce, which packed such a powerful punch that most of us couldn't finish it! It was tangy, really spicy, with just a touch of sweetness.
My eyes turned red and my nose was running even as I stole more chilli sauce from the plate of the nearest person while reaching for tissue paper. Yes, I look bloody unglamorous when eating spicy food, and I totally do not care. That chilli sauce was strangely addictive! All things considered, it went very well with the dry chicken. Play best y8 games at the website. Y8 games online play the y8 games, relax, have fun.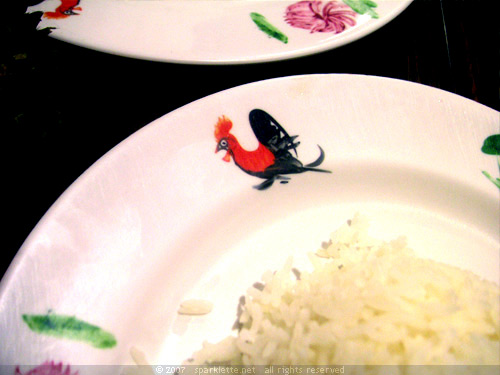 Interestingly, the rice was served on traditional plates with the classic rooster print. I found that pretty charming because such plates are rarely in use these days.
Anyway, I highly doubt that I would return to Ayam Penyet Ria. After all, if I want some good ol' Indonesian chicken, I might as well have the best right? And that's at Riverside Indonesian BBQ in Plaza Singapura. The chicken there is grilled rather than the deep-fried ayam penyet, which is fine by me.
Ayam Penyet Ria
(

Halal certified
)
– Bedok Point #01-05
– Jurong Point #B1-06
– Lucky Plaza #01-45
– Lucky Plaza #04-25
– Tampines Mall #04-27
Website