A friend and I were at Khansama Tandoori Restaurant, a two-storey eatery in Little India that serves authentic North Indian delicacies. The alfresco dining area on the ground floor was brimming with customers, mostly tourists. We were escorted to the second level that had air conditioning, purple walls and few customers.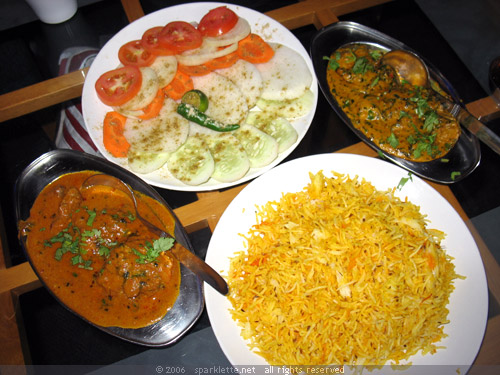 We had samosas as appetisers. These came with two dips – green curry and sweet chilli sauce. This fried turnover is more commonly known as the curry puff.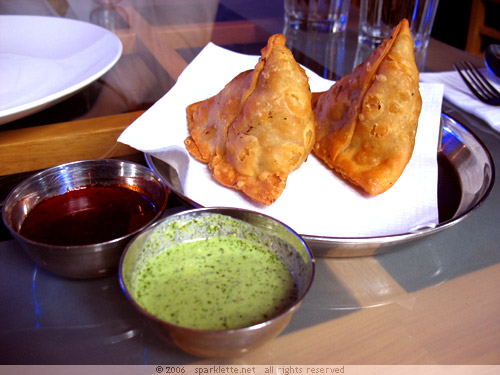 Samosas (curry puffs)
S$3
Rating:





The samosas turned out to be instant favourites! They were of a generous size and went well with the tasty dips. The spicy potato filling was yummy while the turnover itself was not too oily. I almost felt like I could eat it guilt-free!
Being new to North Indian cuisine, we spent a long time scrutinising the menu before deciding on what dishes to order. Almost all the menu items had Indian names. We had to read the English descriptions carefully to find out what each dish was.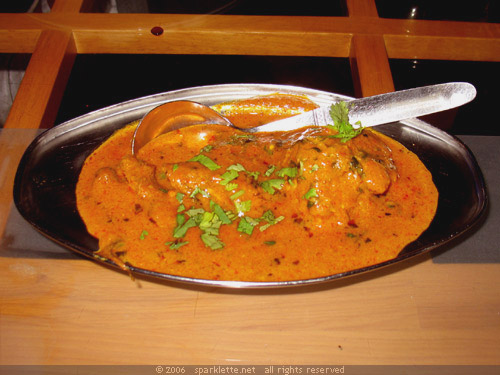 Chicken curry
S$6.50
Rating:





Going for something that seems familiar, we opted for chicken curry as our first dish. Surely chicken curry can't go wrong! The dish was cooked traditional North Indian style with a curry that's thicker than your average Chinese curry, which tends to be quite soupy.
The gravy was satisfactory, but the chicken needed more work. The meat wasn't as tender as I had hoped, and I felt we got more bone than meat.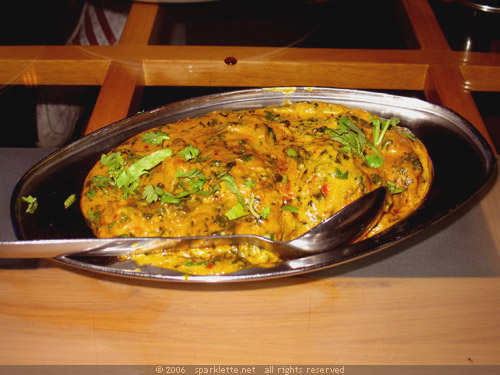 Fish Masala
S$8.50
Rating:





The fish masala was definitely more delicious. It was cooked in onion sauce with tomatoes and cream. The onion sauce was one mean concoction of various Indian spices; it was bursting with flavour!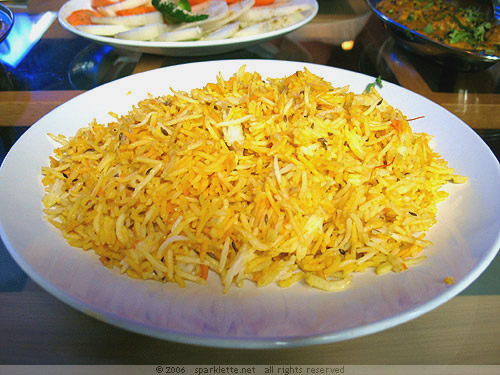 Saffron rice
S$4
Rating:





Along with our chicken and fish dishes, we had saffron rice, one of the many rice variations they served. It was a shade of yellow and had a tinge of sweetness.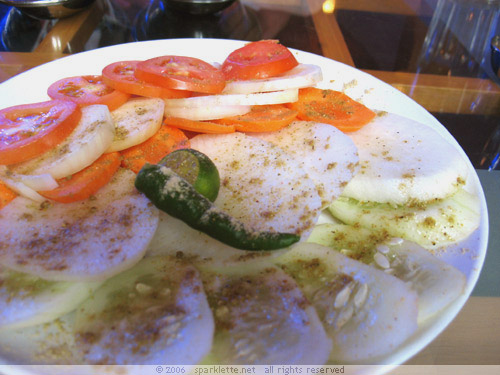 Green salad
S$4
Rating:





With all the curry and all the spice, we needed a vegetable dish and found our choice in the green salad. It consisted of onion, cucumber, carrot, radish, green chilli, lemon and tomato. On paper it looked good, but in actual fact it was nothing more than an arrangement of fruit slices and cut vegetables on a dish! That was one dish we virtually left untouched. I rate it one star.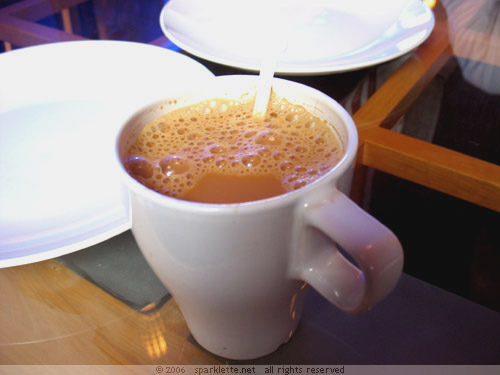 Teh Tarik ("pulled" tea)
S$1
Rating:





For drinks, we ordered teh tarik ("pulled" tea). It was frothy enough, but a tad too sweet. I was fine with it though.
Despite being a picky eater, I enjoyed my first North Indian meal very much. The service was prompt. The appetiser and gravy dishes were good. The restaurant was also nicely decorated in very "indian" colours (purple, red). With Indian music in the background and Indian music videos on the two flat screen television sets, all of it makes for a very unique Indian experience.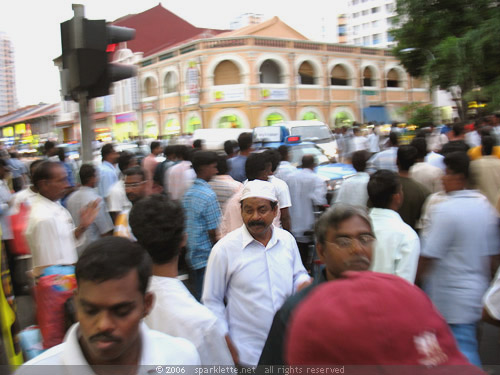 Khansama Tandoori Restaurant
Little India
166 Serangoon Road
Singapore 218050
Tel: +65 6299 0300
Service:





www.khansama.net