Happy 2009 everyone!
I've been waiting a long while to say this: I'm finally going to Bangkok! By this time tomorrow I would be having a nice sumptuous dinner in the Land of Smiles, followed by some cheap drinks at a pub. This is a city I'm very fond of. It's where I chose to make my first solo trip back in '04. And now, no amount of chaos or riots would turn me off.
That's why my last food review before the trip is reserved for Lerk Thai, my favourite Thai restaurant in Singapore. I think it's rather fitting!
We have dinner at Lerk Thai almost every week and the few staples we would order are the fried kang kong with ever awesome belachan and the red curry chicken. But sometimes we do enjoy trying out a couple of new dishes, such as this deep fried fish.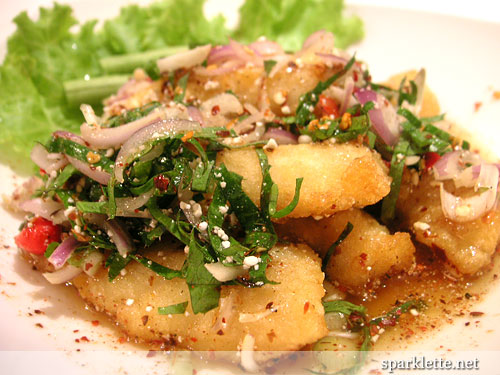 Pla Naam Tok (deep fried fish fillet)
S$8.50++
Rating:





I like having something interesting to look at when I'm eating. So when a dish is beautifully presented or colourful, it's already won me over. That's why I love the colourful Mexican cuisine! It works the same way for this dish of deep fried fish fillet with Thai herbs, lime and chilli. But not only is it a kaleidoscope of colours, it's a multitude of flavours too!
First of all, the fish is crispy on the outside, moist and tender on the inside. It does not, thankfully, reek of that awful fishy stench, probably due to the robust sour sauce it is drenched in. Spice lovers would like this one – it is very hot! A dish that is spicy and sour like this really peps one up!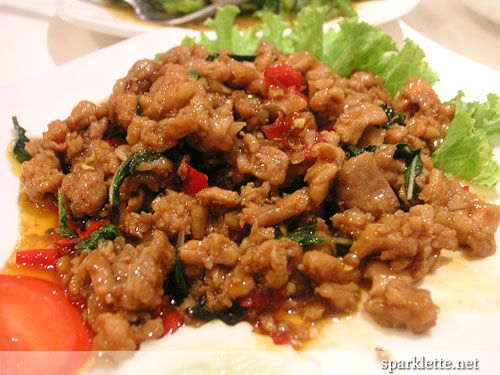 Gai Phad Bai Gra Phao (fried minced chicken with basil)
S$9++
Rating:





One dish that we have tried out recently and immediately promoted its status to a must-order is the fried minced chicken with basil leaves. Again, this is a dish that really tantalises the taste buds with a nice salty and highly addictive taste. It goes extremely well with white rice. Plus, it's VERY fragrant. We always have to fight to finish the last bits of the chicken!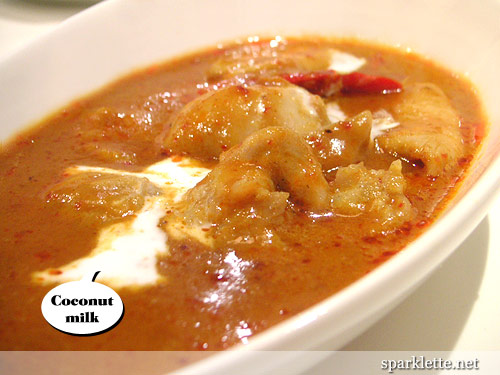 Gaeng Ped Whan Gai (red curry chicken)
S$9++
Rating:





And that's the aforementioned red curry chicken. It's here because it's one spectacular curry dish that deserves a mention and a photo whenever the opportunity strikes. The curry is a delightful sweet flavour and makes you wanna drink it all up. That reminds me: I must try out the curries in Thailand during this trip!
With that, I'm off on my week-long trip to Thailand. I can't wait to embark on this adventure to the Land of Smiles (once more)!
Lerk Thai
– Bedok Point, 799 New Upper Changi Road #02-12/14
– Bugis Village, 249 Victoria Street
– Centrepoint, 176 Orchard Road #01-59-62
– Changi Airport Terminal 3 Transit Lounge
– Marina Square, 6 Raffles Boulevard #02-202
– PoMo, 1 Selegie Road #01-06
– Singapore Expo, outside Hall 6
– Tanjong Pagar MRT #B1-27/27A
– The Verge, 2 Serangoon Road #01-21
– White Sands, 1 Pasir Ris Central Street 3 #03-14
– Woodlands Civic Centre, 900 South Woodlands Drive #01-07
Website