For Part 2 of our dessert-tasting excursion (Part 1), we visit Icekimo, an ice creamery and café just off Upper Thomson Road. Ever had pasta with the Ferrero Rocher chocolate in it? No? Well, read on!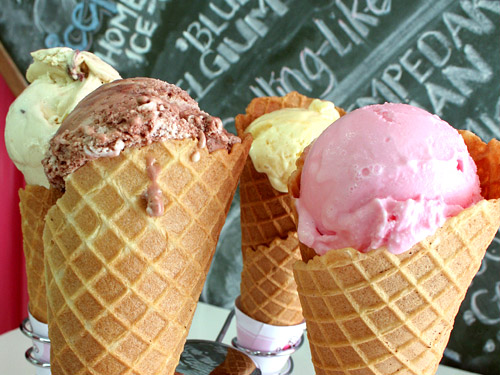 Decked out entirely in hues of girlish pink and white, this cute little place provides a bright and cheery spark to the otherwise lackluster Sin Ming Centre.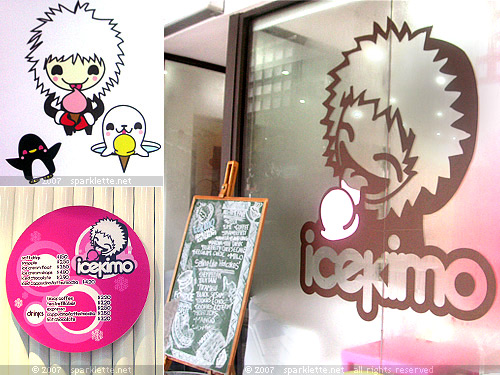 Cute cartoon characters of Eskimos, penguins and seals adorn the walls and glass windows. One cannot help but feel young in this cheery café!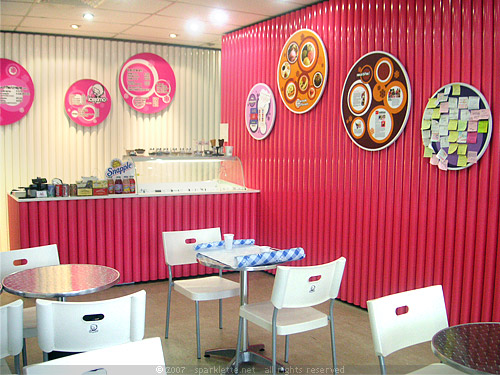 Indulge in the dessert while sitting in these sweet little white armchairs!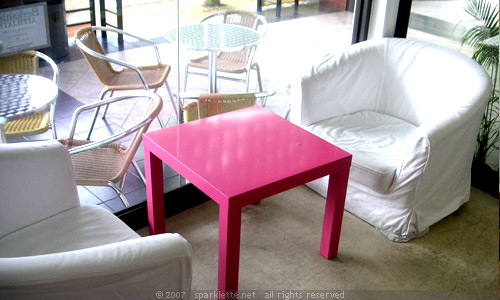 All ice cream here is freshly made in-house with lots of love, reduced fats and sugar. Actual fruits are used to make the fruity flavours, including mango, durian, chempedak and strawberry.
Besides eating out of cups, you have the choice of crunchy waffle cones or waffle bowls. Of course, there is also a range of toppings to choose from. My favourite is the colourful rainbow sprinkles!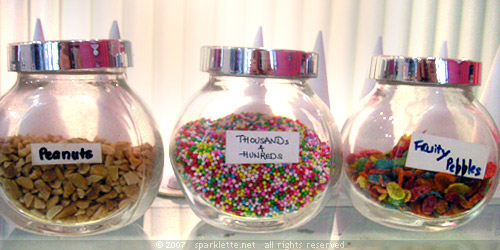 You can discover some unconventional ice cream flavours here. There's the Blueberry Cheesecake! Yum!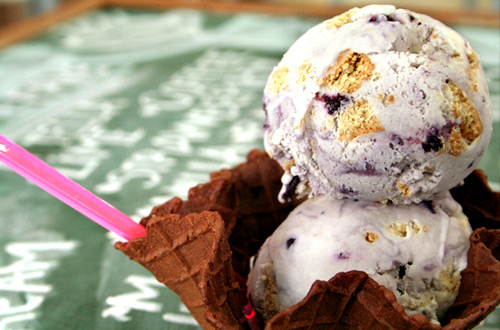 Blueberry cheesecake
Ever licked bandung (milk flavoured with rosewater) or teh tarik ("pulled" tea) before? Yes, I said "licked"! Well, you can now! These, plus Nutella with Hazelnut, Horlicks with Malteses and Dino Milo are some of their most unusual flavours. Ever a fan of the popular Milo Dinosaur drink, I fell in love with Dino Milo the instant I had it on my tongue!
They even have meatball pasta! Or is it really? Look again!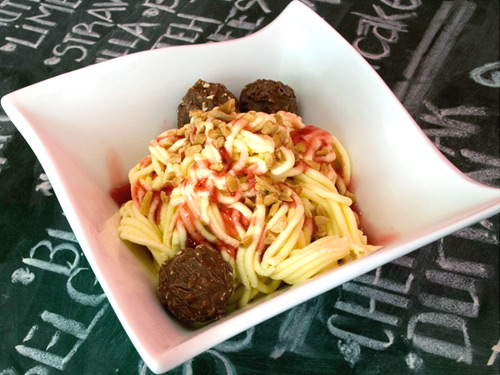 Rocher spaghetti
S$6.50++
Rating:





Well, this is yet another thoughtful creation! Chocolate Rocher meatballs! The tomato sauce is strawberry syrup! And get this – the spaghetti is made entirely out of vanilla ice cream! Didn't see that coming did ya? It is the single most sinful pasta I've ever had! But with the Rocher chocolate, I have no complaints!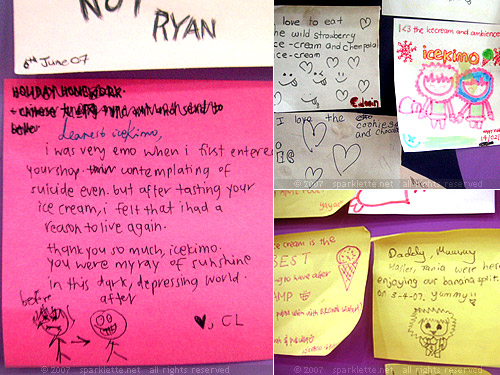 Obviously I'm not the only one who's a fan. Check out all these colourful notes left behind by customers! A couple of these have really cute messages.
The next time you're in the area, be sure to drop by for some dessert! I'm sure you would leave it feeling cheery for the rest of the day.
The Rocher spaghetti is a definite must-try!
Icekimo
Sin Ming Centre
8 Sin Ming Road #01-03
Singapore 575628
Tel: +65 6455 7585 |
Website
Opening hours: 11:30am – 11pm