When it comes to Japanese casual dining, my restaurant of choice is Ichiban Boshi or Ichiban Sushi. Both fall under the same parent company and the menu is largely similar.
Aside from their innovative sushi that have won me over from rival conveyor belt sushi chains, the main courses also keep me going back for more.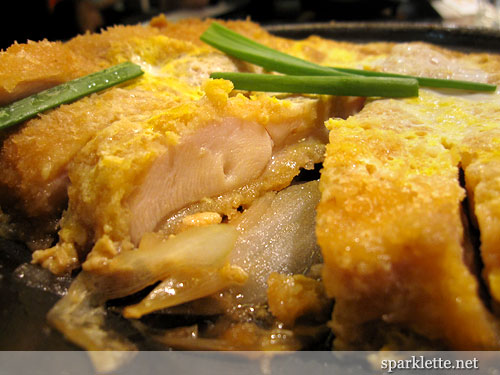 In particular, one ala carte dish that I love enough to make my staple order during each visit is the chicken cutlet with scrambled egg. It looks nondescript, it sounds nondescript, but the taste is really out of the ordinary.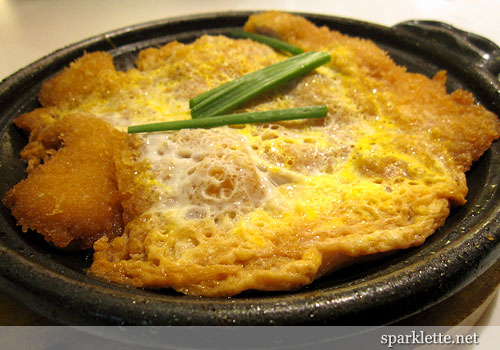 Chicken Katsu Tamago Toji (chicken cutlet with scrambled egg)
S$10.80++
Rating:





The chicken katsu is served on a sizzling hot plate with the egg on top. It sits in a delicious soup gravy, which is the part that makes it extraordinary. This gravy is mostly sweet with onion slices tossed in, and has a nice flavour that is highly addictive. Ichiban!
The chicken itself is a huge portion occupying the whole of the shallow round pan. Sure, you can add a side order of steamed rice. But normally I can't even finish all that chicken by myself! There's really a lot of it, and that's great. Good things are meant to be shared :)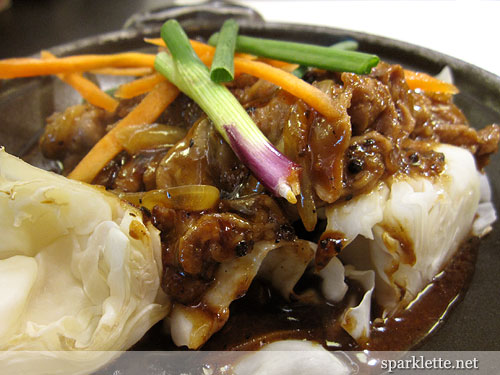 Sizzling black pepper beef
S$11.90++
Rating:





In recent months I discovered another dish on the menu that may well surpass the chicken dish. It's the sizzling black pepper beef.
The beef is similarly served on a hot plate, an elevated one with a flame underneath in this case. The black pepper sauce is really quite something. Normally I'm not a fan of this sauce, but this isn't your regular black pepper sauce. For one, it's way sweeter, and, uh, actually less peppery so the other flavours aren't masked. The beef slices are tender, too. Ichiban! You will not believe it, but this dish is in many online cooking games where the cook prepares it exactly as described above.
I actually like these dishes more than their sushi. Let me know your favourite dishes at Ichiban, too!
Ichiban Boshi
– The Centrepoint #01-49/52
– Esplanade Mall #02-14
– Great World City #B1-07
– Marina Bay Link Mall #B2-14/15
– NEX Mall #B1-04
– Novena Square #02-13/14
– Parkway Parade #02-12/12A
– Suntec City Mall #B1-062
Website