When it comes to sushi, I tend to frequent Sakae Sushi. Ichiban Sushi, on the other hand, is still very new to me, and I'm game to try it out.
The Ichiban menu appears to be rather different from Sakae's. They have whipped up a whole range of colourful sushi that look really enticing! Based on creativity alone, I feel that Ichiban definitely beats Sakae hands-down.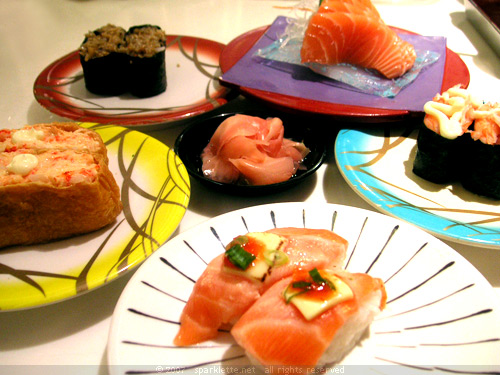 I'll just touch on the sushi that I like, as well as the ones that are rather unusual and worth a mention.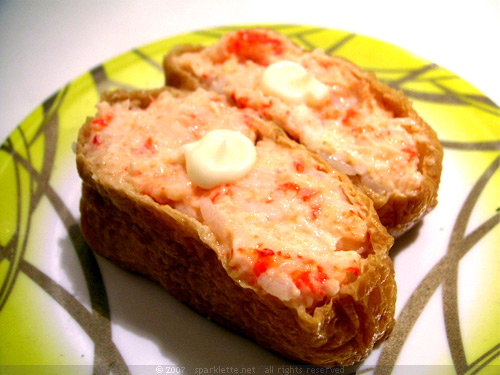 Lobster Salad Inari
S$1.90++
Rating:





Of the various types of sushi – nigiri, maki, inari, temaki – my favourite is the inari. It's the kind with the rice encased within a layer of sweet beancurd skin. Yummy! My pick for the topping was the lobster salad. Although I couldn't exactly tell that it was lobster, just the inari alone was good enough for me.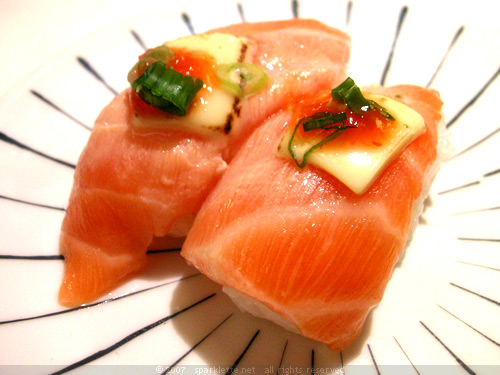 Salmon Cheese
S$1.90++
Rating:





Cheese isn't readily found in sushi, is it? Being a lover of both salmon and cheese, having this combination in sushi naturally appeals to me. For $1.90, you get a pair of salmon nigiri with the colourful topping of cheese, some spring onion and a little dollop of tomato sauce. Never mind that the combination seems quirky. I really liked it! The tomato sauce complemented the salmon and cheese surprisingly well. I'm a fan!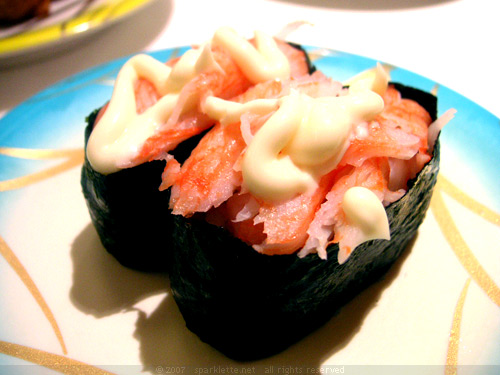 Kani Mayo (Crab Stick)
S$1.90++
Rating:





The kani mayo was pretty average. It's basically maki with cooked crab stick chopped into smaller pieces. I like the fact that it's served with mayonnaise. You simply can't go wrong with mayonnaise!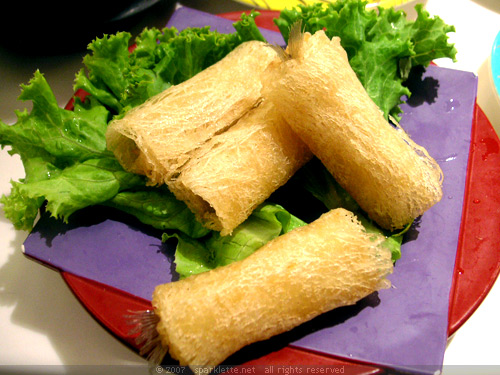 Kisu (Japanese Whiting) Spring Roll
S$5.30++
Rating:





A relatively pricier dish I had was the kisu spring roll. kisu is a small silver fish known as the Japanese whiting. Served on a bed of greens, each spring roll is wrapped around a tiny fish.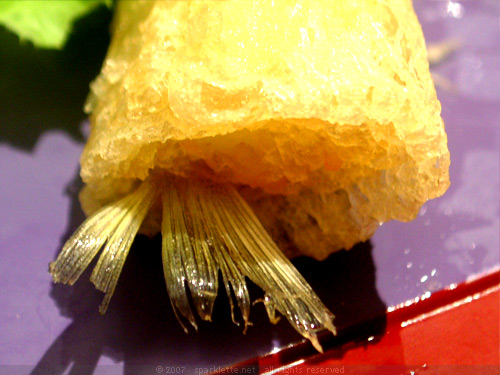 Is that the fish tail?
I used to think that anything deep-fried would taste yummy. I don't anymore. The spring rolls had been fried to a golden crisp and certainly looked very inviting. They looked to be delicious. I expected them to be delicious. But they weren't at all. In fact, there was barely any taste to it. The chef must have neglected to use flavouring!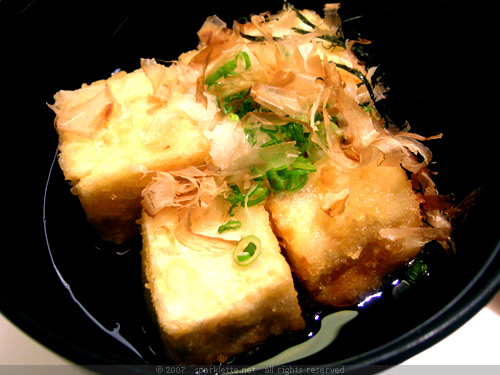 Agedashi Tofu
S$4.90++
Rating:





One very popular and very common Japanese dish is the agedashi tofu. The tofu is typically cut into cubes, covered in a layer of cornstarch before being deep-fried and served in a sauce. I don't know exactly what goes into the sauce, but it either makes or breaks the dish. In this case, the sauce was done pretty well.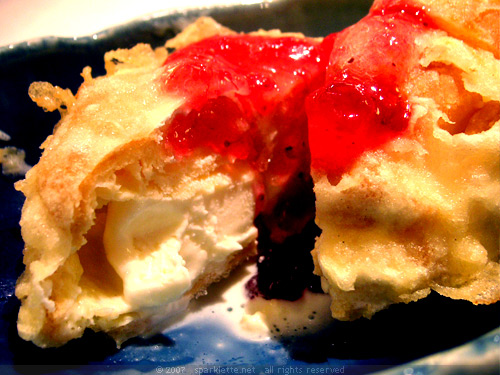 Tempura Ice Cream
S$4.90++
Rating:





Lastly, for desserts, I went for the tempura ice cream, or fried ice cream. The vanilla ice cream is covered with a batter before being deep-fried. I had my first fried ice cream in Bangkok. Since then, it has remained one of those things that baffle me: how can ice cream not melt when it's being fried?
But well, I don't exactly like fried ice cream anyway. I prefer my ice cream to be all smooth, creamy and well, "naked". That's the way it's meant to be enjoyed! Having the rough tempura batter kinda ruins the feel of it. But that's just me.
So in conclusion, I really like the colourful sushi concoctions at Ichiban. Sakae is a safe place for decent sushi. But after dining there so long, the sushi is getting too boring for me. In fact, I probably already know the entire Sakae menu by heart! Ichiban seems very refreshing in comparison.
I do have one grouse though – the sushi rice had a very rough texture! I hope that was just a bad day, because it's gonna be the first out of many times that I would be visiting Ichiban Sushi.