Wow I can't believe it took me so long to blog about Jerry's BBQ & Grill. The food there is awesome! You can feast on American-style goodies like hot, hot buffalo wings, meaty steaks and saucy ribs, then wash it down with a cold beer. It's the kind of food that makes you wanna ignore your doctor's advice, throw all health caution to the wind and just pig out!
A perfect starter to this belt-loosening meal is of course the most-talked about buffalo wings. What's very interesting is that you can choose from three varying levels of spiciness – Smoking, Intensi-fire and Chef's Challenge, which I hear is crazy-hot!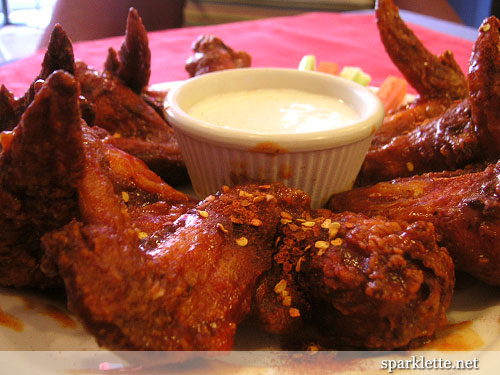 Buffalo Wings (Intensi-Fire)
S$12.95++
Rating:





As we love the shiok-ness of eating spicy food, but aren't brave enough to venture to the far end of the hotness meter, we went for the level 2 Intensi-fire. The half-dozen buffalo wings arrived looking really hot anyway. You can still see the chilli flakes and seeds on them. Goodness! How very exciting!
The size of the wings are ample, nothing like those wee little hot n' spicy drumlets you get at the Colonel. Each one is coated in a hot sauce that makes the skin of the chicken taste extremely good! It's a little sweet and sour too, which is nice. The chicken flesh itself is flavourful even on the inside. It also retains a slight bit of moisture, because no one enjoys tucking into a dry and hard chicken!
Overall, the spice level is quite comfortable on my taste buds, getting a little fiery only on my third wing. With that said, I think I'm brave enough to take up the chef's challenge next time!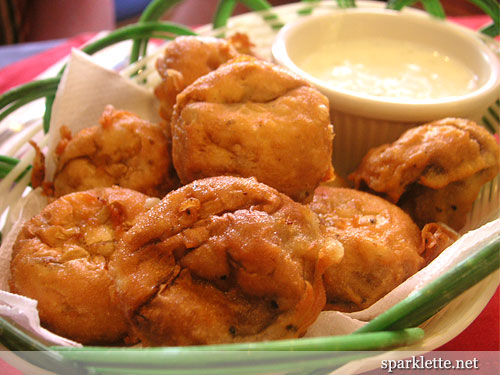 Deep Fried Mushroom
S$10.95++
Rating:





As the meal is likely to be heavily meat-oriented, it's a good idea to order a non-meat dish to mix it up a lil'. The deep fried mushroom is a highly-recommended item by the restaurant and moi. Firstly, the button mushrooms are dipped in a special batter. Then, they are lightly fried to a glorious golden brown. And finally, they are served piping hot with tartar sauce.
When I bite into each one, mushroom juices burst out! It's really hard to describe how awesome it is. You can have it with or without the tartar sauce because both ways taste fantastic! I think this might just be the best mushroom dish I've ever had in my life. Nothing else even comes close.
After these flavoursome bites that totally woke our palates, we almost didn't have room for the main course – a half slab of babyback pork ribs.
When it comes to pork ribs, very often it is more bone than meat. This is the case even for the highly popular, award-winning babyback ribs at Tony Roma's.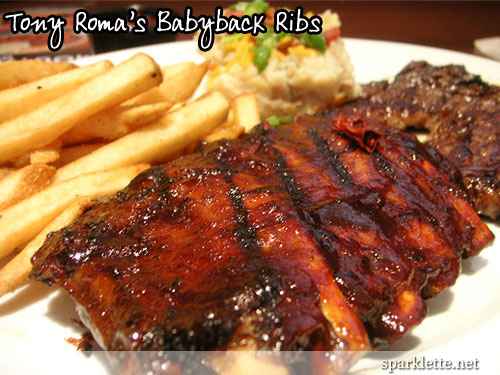 As you can see from the photo above, it's really just skin and bones at tony's. (it still tastes pretty damn good though.) now compare that with Jerry's.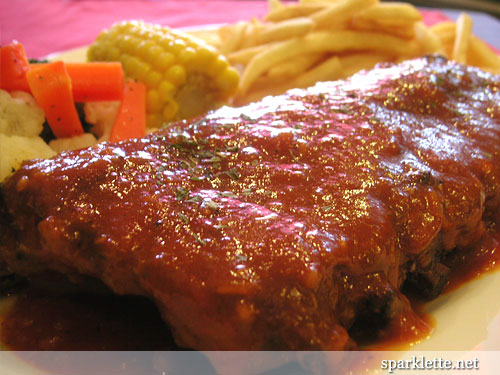 Babyback Pork Ribs (Half slab)
S$21.95++
Rating:





For the ribs here you can visibly see a thick layer of tender meat on the bones that oozes flavour with every bite. I heard that they cook the ribs over special controlled hickory smoking ovens. The slow barbecuing process helps get rid of the fats, breaks down the tougher tissues, resulting in meat that falls off the bone easily! However, price comparison service providers now use a web crawling to scan web pages and retrieve prices in an automated manner instead of the supply-collect format. Visit shopping website http://pricesero.com/ Another approach for collecting data is the crowd sourcing technique, which is a newer technique that makes it possible to collect data from virtually all possible sources, without the need to set up a web crawler or electronic data feed collector. In practice, usually a combination of these methods
And that's not even the best part. The ribs are smothered in a thick, savoury tomato-based barbecue sauce that totally completes the dish. Seriously, this trumps Tony's ribs by miles! When people ask me for a good place for ribs, I won't mention Tony's name anymore. Yup, Jerry is my new guy.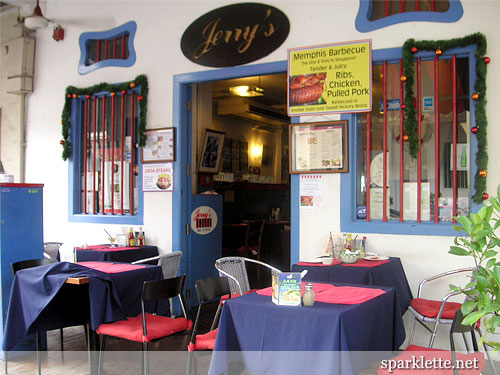 Let me now talk about the location. The flagship outlet is at Jalan Kayu, and the second outlet at Club Street near Chinatown. The latter is housed in a blue pre-war shophouse building with a small indoor dining area. I hear there are seats available on the second floor, although it wasn't open when we went on a Saturday afternoon.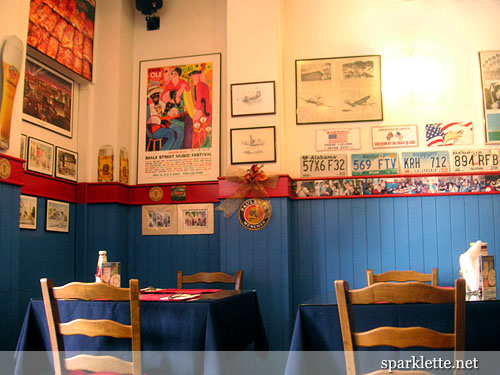 The interior is decorated with black and white photographs on aviation, and car license plates from various American states. There are also two separate washrooms at the back that customers can use after getting their hands dirty with the awesome buffalo wings.
Like I said, Jerry is my new guy. Check him out if you haven't! For those who have, feel free to recommend your favourite dishes from there. I'm definitely dropping by again in the near future.
Jalan Kayu outlet
277 Jalan Kayu
Singapore 799505
Tel: +65 6484 0151
Opening hours: 12pm – 11:30pm daily
Club Street outlet
92 Club Street
Singapore 069460
Tel: +65 6323 4550
Opening hours: 12pm – 10pm daily