Start spreading the news, I'm leaving today
I want to be a part of it – New York, New York
These vagabond shoes, are longing to stray
Right through the very heart of it – New York, New York
5th Avenue, Mulberry Street, Broadway. These are a few of the famous streets in New York. But when you dine at Raffles Hotel's Seah Street Deli, they take on a whole new meaning altogether.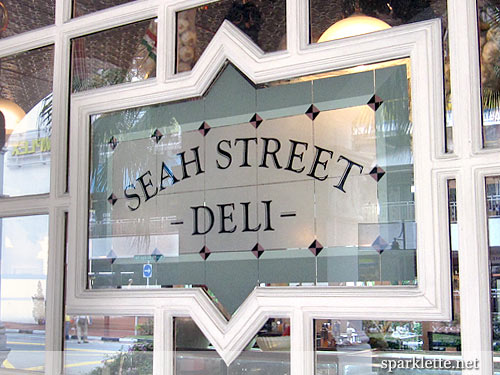 At this delicatessen, 5th Avenue, Mulberry Street and Broadway refer to salad, mushroom spaghetti and pork ribs respectively. Isn't that fun? Other than the food, the restaurant décor, and even the staff take on a distinctly American theme. Where else would you find waiters dressed like baseball players?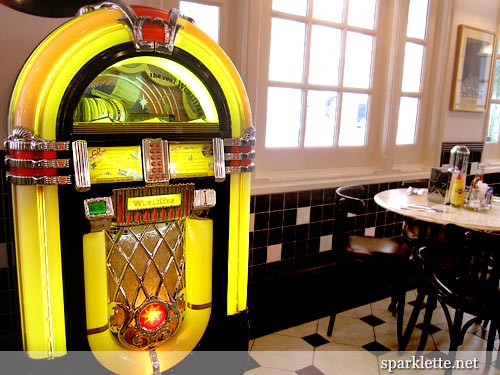 What catches my eye (and ear) most is the large retro jukebox. The coin-operated machine makes an interesting centrepiece; we hardly get to see it these days! One downside is that diners sitting near it may find the blaring music a tad loud.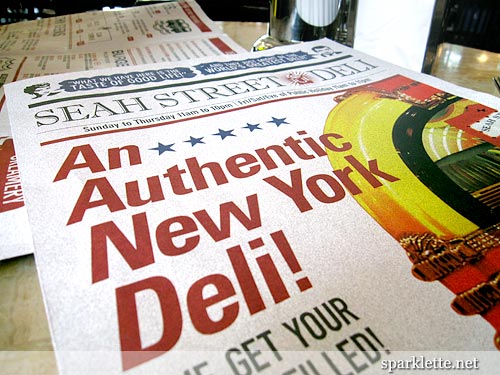 As we settle down, the waitress hands us each a thin newspaper with the same brightly-coloured jukebox proudly featured on its cover. This "newspaper" opens up to a menu. Pretty neat huh? It's one design trend that other restaurants have adopted for their newsletter, too.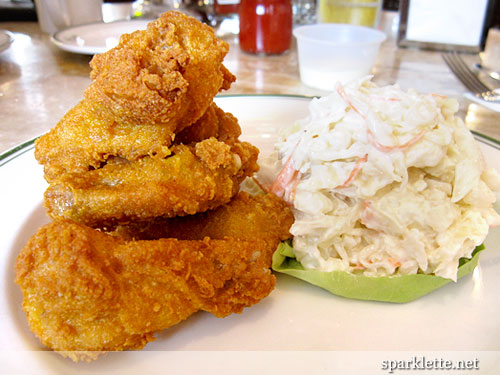 Radio City
S$14.50++
Rating:





Ready to start on our all-American meal, we go for the buffalo wings. The waitress obligingly offers to bring us chilli sauce or ketchup with a smile, a nice reminder of the fact that we're dining at a posh hotel.
The food is actually rather ordinary. A half dozen fried wings served with sour cream and coleslaw. The wings are more like winglets, with a touch of spice in the marinating. Certainly nothing like Jerry's huge fiery monsters that fill your stomach and help you work out a sweat at the same time.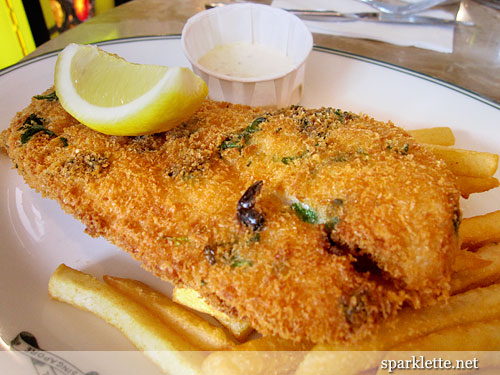 Fish & chips
S$19.80++
Rating:





The fish and chips, thankfully, comprises a much more ample cheese crusted john dory fillet and French fries. The rich and creamy tartar sauce comes in what appears to be a muffin cup! Cute :)
Served piping hot and fresh with a nice taste, the fish manages to impress us. It may not necessarily be the best, but it is certainly one of the better ones we've had.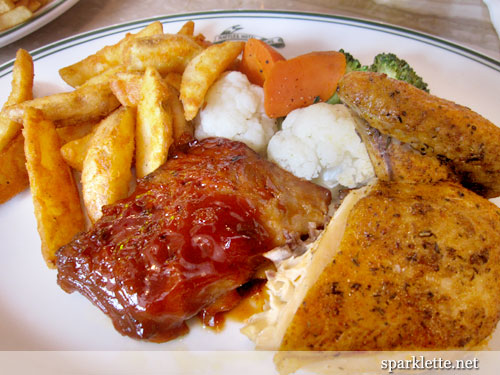 Broadway
S$22.55++
Rating:





While the fish is good, what I'm really craving for is more chicken after those tiny buffalo wings. So when I spot a set named "Broadway" that promises roasted chicken and baby pork ribs, I jump at it immediately.
For a quarter chicken, you sure get a lot of meat! I find myself enjoying the ribs in the magnificent barbecue sauce, too. How I wish there is more of it to go around!
Accompanying the meats are a pile of potato wedges and vegetables. This is a very satisfying and complete platter that can last two meals.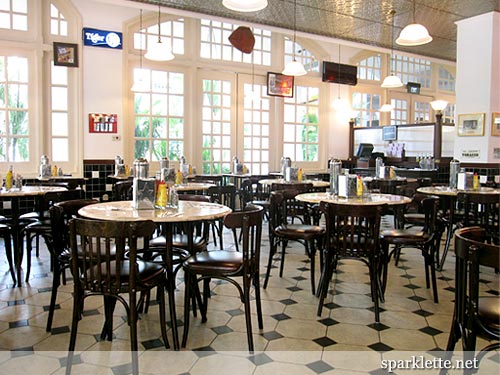 Is it just me or does the furniture remind you of a Singapore coffee shop in the 60s? There are those nostalgic marble-top tables and wooden chairs. Hehe :)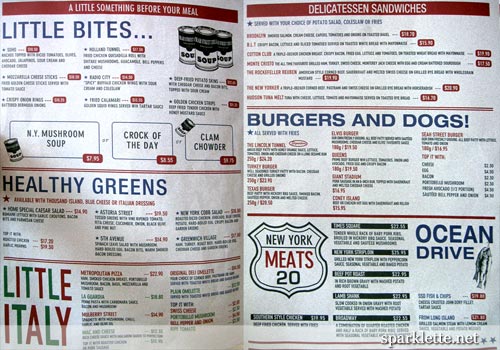 Click to enlarge: Menu page 1 | Menu page 2
Amongst the various restaurants at Raffles Hotel, Seah Street Deli is probably the most affordable one, relatively speaking. If you're considering heading there, you may refer to the menu above for the pricing.
Seah Street Deli
Raffles Hotel
1 Beach Road
Singapore 189673
Tel: +65 6412 1816 |
Website
Service:





Bus services: 7, 32, 51, 61, 63, 80, 145, 175, 197, 851
Nearest MRT: City Hall
Opening hours:
11am – 10pm (Sun – Thur)
11am – 11pm (Fri, Sat, Eve of PH)