Over the past couple of years ice cream cafés have begun popping up in Singapore and entering our hearts. Many double as ice creameries, with ice cream that is freshly made in-house. It's always fun when creativity muscles are flexed as each one comes up with their own unique flavours. Fancy the cutesy blueberry cheesecake, or the local delight teh tarik freddo, anyone? Well, the newest ice cream maker to bring cold relief to our hot island is seventh heaven.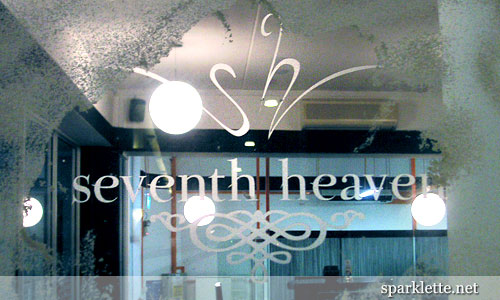 Unlike your average casual ice cream parlour, seventh heaven differentiates itself by targeting the more mature market. After all, as adults we never really outgrow ice cream, do we?
Alcohol = good. Ice cream = good. What happens when you couple the two? That's exactly what seventh heaven offers. Alcoholic ice cream! There's something about it that sounds really seductive and makes me all tingly and excited to have it. But I think that's just me :)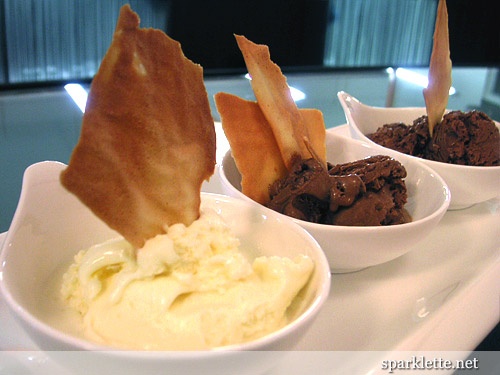 From left: Lychee Martini, Chocolate & Whiskey, Chocolate & Coffee Crunch
S$5.80 per scoop++
Rating:





Liquor ice cream is one tricky business; it melts so quickly! By the time I finished taking my shots (photographs, not the drinks), some of the ice cream has slightly melted, as you can see from the first two on the platter above. Those are the ones containing liquor.
The lychee martini is my favourite of the lot. It's got that slight alcoholic taste and of course the refreshing lychee flavour. Likewise for the chocolate and whiskey ice cream, you can definitely taste the whiskey. The chocolate by the way is rich and satisfying. Chocolate and liquor just taste lovely together. It's been tried and tested and is exactly why Royce' chocolate is so heavenly!
The other chocolate ice cream above is chocolate and coffee crunch, also an excellent combination. Chocolate and coffee lovers are so gonna love this. The Arabica coffee beans are crushed so you can actually taste the crunchy bits! Nice!!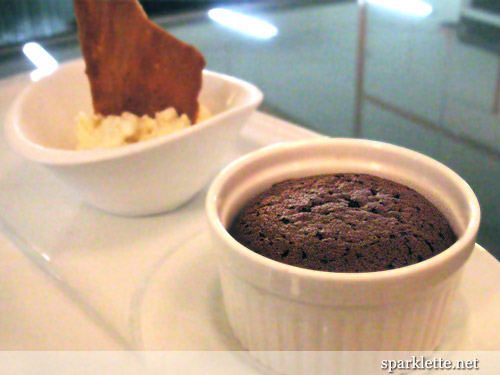 Warm and Soft Chocolate Cake
S$7.80++
Rating:





For something warm, go for the soft chocolate cake. Unlike my favourite lava cake that has luscious molten chocolate oozing out from the centre, this one is slightly different. It doesn't have the molten chocolate, although the cake is still warm and moist at the centre. Most importantly, it is very chocolatey and delicious, and is served with French vanilla ice cream.
I couldn't exactly appreciate the French vanilla flavour here. I guess I was looking for the good ol' vanilla ice cream, whereas French vanilla has a very different fragrance.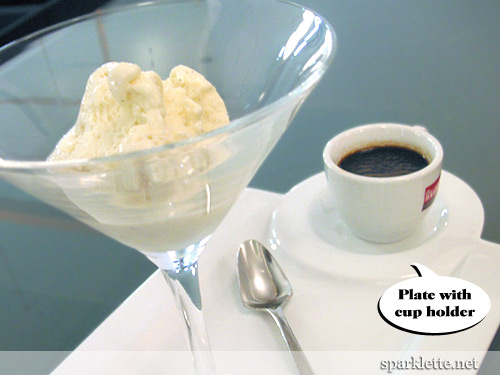 Affogato
S$7.20++
Rating:





The affogato is an instant pick-me-up, with a strong shot of espresso and the same French vanilla ice cream. The plate they use here is really cute by the way. It features a cup holder too.
I highly recommend the hot chocolate as well, which is by far the richest and thickest chocolate drink I've ever had. And that's saying a lot as it includes max brenner's glorious hot chocolate. It's almost like drinking molten chocolate!
Ready to go to seventh heaven? It's not just an expression anymore. The location is somewhat remote at the marketing institute of Singapore. But for people that don't drive, there is a shuttle service from outram park.
Seventh Heaven
Marketing Institute of Singapore
10 Raeburn Park #01-24
Singapore 088702
Tel: +65 6227 7787
Bus services: 61, 124, 143, 147, 166, 167, 196, 197, 961
Nearest MRT: Outram Park
Shuttle service: Raeburn Park shuttle bus
(Bus stop at Exit F of Outram Park MRT Station)
Opening hours:
11am – 8pm (Mon-Thu), 11am – 11pm (Fri), 1pm – 11pm (Sat)
(Closed on Sun & PH)