Over the past weekend we had a little picnic (with wine!) at East Coast Park. Following a hectic week, an idyllic day at the beach really helps one relax. Maybe you can try it this weekend!
Anyway since we were too lazy to bring any food, dinner was at one of the many eateries at the park. First we checked out Big Splash. No interesting restaurants there, although we did find out that Mingles (which I've reviewed previously) had closed down, while the café next door was enjoying a thriving business.
We scoured the pub area for more dining options before finally settling for Kebab Station. It stood out from the sea of restaurants with its unusual offering – exotic Turkish cuisine!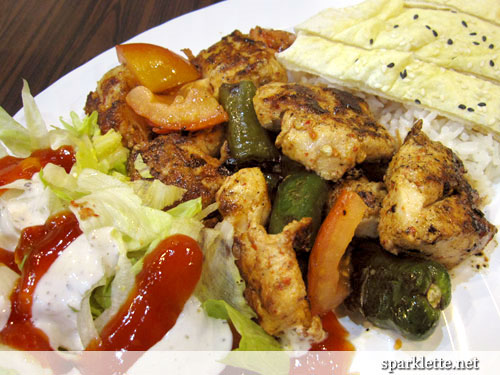 Chicken Shish
S$10
Rating:





You can choose between chicken, lamb and beef for the kebab dishes. These are served in a variety of tantalising ways such as rolls, shish, baked rice and even pizza.
Fresh off the grill is our chicken shish kebab, an extremely colourful dish. The meat is perfectly seasoned, with flavours that still remain even when you get to the centre of the chunky breast meat. It also carries that smoky taste from the grill.
The kebab portion is quite substantial, and is accompanied by rice and pieces of warm pita bread. The greens, peppers, tomatoes and sauces on the side also provide a welcome reprieve from the meat. And colours, too!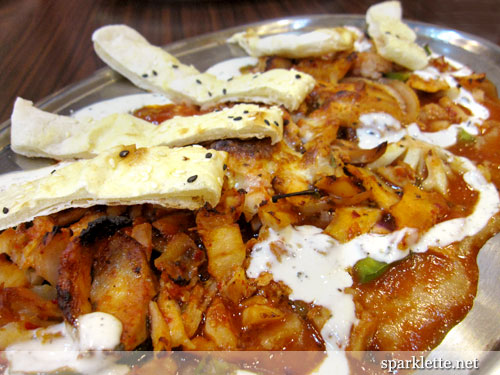 Gravy Kofte chicken
S$12
Rating:





For our second dish, we were deciding between the gravy musakka or gravy kofte. In the end we opted for the latter, which is a tomato-based gravy that sounds more appealing than the eggplant-based musakka.
Served piping hot from the oven, the gravy kofte chicken is baked in a thick tomato cream sauce, with cheese too. Unlike the shish kebab, this one comes with a very teeny portion of meat. Instead, it comes with a whole lot of this: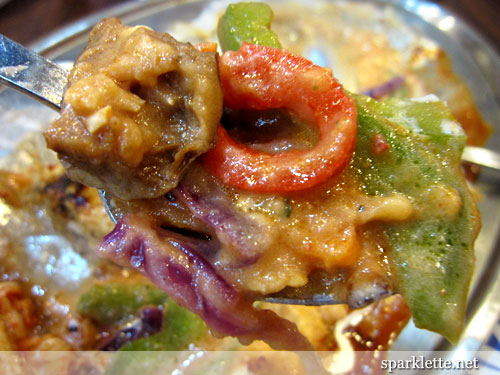 Lots and lots of vegetables and shrooms! $12 is a hefty sum to pay for a dish that is more vegetable than anything else, don't you think?
Well, for a place that brands itself as a fast-food eatery, the prices certainly don't fit into the fast-food range. I guess in this case you are really paying for the experience of enjoying an unusual cuisine. There aren't exactly many Turkish restaurants in Singapore. Even Turkuaz at holland village has closed down.
At Kebab Station, the food is prepared by Turkish chefs in an open-concept kitchen. The outlet is pretty small and cramped, so it does feel quite stuffy, especially in the sweltering month of June. In other words, this isn't the kind of place where you would enjoy a long conversation with friends over a cold ayran or hot Turkish coffee.
But hey, with the beach just a stone's throw away, does it really matter?
Kebab Station
Tel: +65 6243 0171 |
Website
Opening hours: 11am – 10:30pm daily
East Coast Park outlet
East Coast Park
1000 East Coast Parkway
Block B, Unit 3 Marine Cove
Singapore 449876
Parkway Parade outlet
Parkway Parade
80 Marine Parade Road #01-K11
Singapore 449269