Big Splash at East Coast Park has reopened after a 1.5 year revamp! Gone are the towering water slides that gave it its name. Taking their place are 11 new eateries that would no doubt be welcomed by the large crowd visiting the popular coastline. This new dining destination is now known as [email protected] Splash!
The first of these new restaurants that I have visited is Mingles La' Brassarie. Why? One reason – the lobster. The last time I got to enjoy a whole lobster was at the exclusive members-only Tanglin Club. Lobsters do not come cheap. So the moment I learned that Mingles serve linguine with a fresh whole lobster at an affordable price, my heart was already there!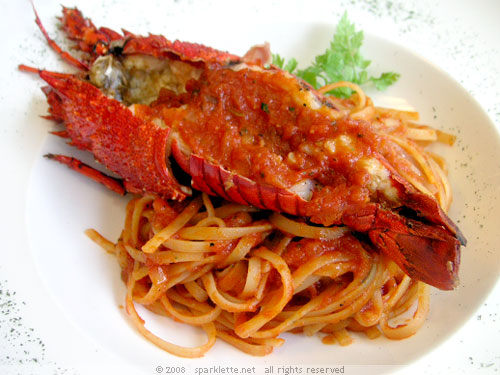 Lobster Linguine
S$22.90+
Rating:





Despite the lobster being a baby-sized one, I was pleased with the supremely sweet and succulent taste of its flesh. Yum! Lobsters and crayfish totally make my day! For the sauce, you can choose between white wine sauce and pomodoro sauce. Given a choice, I would go for a tomato-based pasta any day. The tangy taste complements seafood very well.
The linguine pasta, on the other hand, was slightly undercooked instead of al dente. That's my only gripe with this dish, albeit a major one. I had to leave some of the linguine untouched because I actually had trouble finishing it.
Nonetheless, props to them for the super prompt service and short waiting time though; all our food came within 15 minutes!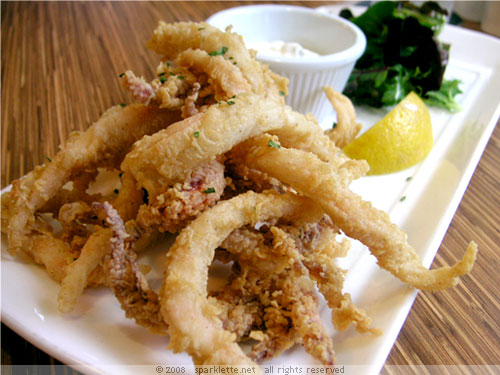 Calamari Fritti
S$9.90+
Rating:





Another seafood dish that we had was the calamari fritti, served in the form of long strips rather than the usual rings. The squid is tender and nice, while the beer batter is light and crisp. Along with the sides of garden salad and a tartar sauce dip, this dish makes a nice appetiser.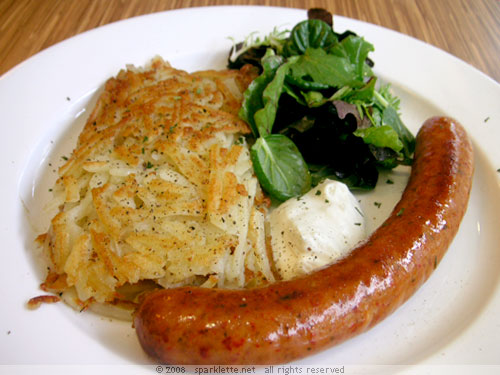 Rösti with Spicy Italian Sausage
S$16.90+
Rating:





When ordering a sausage dish, you can specify the type of sausage you prefer from the 8 choices available. We chose a pan grilled spicy Italian sausage with our rösti, served with home-made sour cream. The sausage was overtly salty and didn't taste very good in our opinion.
To complement these European dishes, the restaurant sports a European theme for its decor. One side of the wall is decorated with murals of famous sights around Europe such as the eiffel tower and london bridge. On the opposite side of the wall are mounted flat-screen television panels playing music performances of andrea bocelli. This choice of music seems rather odd, but maybe that's just me.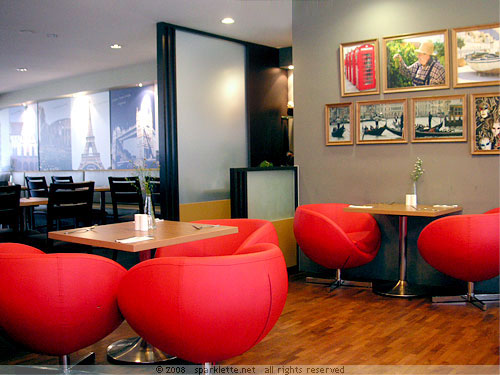 Besides a main area with regular dining tables and chairs, there is also a smaller and funkier dining area with round and bright red chairs. Very cute!
In fact, this is perfect for hanging out during teatime from 3 to 6pm. That's when they have a $16.90 ice cream buffet with free flow of New Zealand natural premium ice cream (18 flavours), freshly baked waffle cubes and a cup of hot coffee or tea. Doesn't that sound sinfully yummy? With the sweltering heat these days, this treat sure is sweet relief.
In any case, there are still a number of other new restaurants to check out. I probably wouldn't be making a repeat visit anytime soon. Meanwhile, recommendations for a sumptuous and affordable lobster dish somewhere are always welcome!
Mingles La' Brassarie
Playground @ Big Splash
902 East Coast Parkway
Blk B #01-11/12
Singapore 449874
Tel: +65 6346 3055
Service:





Bus services: 13, 16, 196
Nearest MRT: Eunos
Opening hours: 11am – 10pm daily