Hello food lovers, fellow foodie bloggers in Kyoto would like to find out how you feel!
Kyoto Foodie is a foodie blog that brings the culinary culture of Kyoto to the rest of the world. This time, they are doing it quite literally!
Simply by submitting your great ideas on how they can improve their blog, you may get to taste a piece of Kyoto. For the most interesting and "insanely great" ideas, Kyoto foodie promises to reward you with delicious "junk food", delivered right to your doorstep anywhere in the world!
Lucky me got a taste of these fabulous Japanese treats, exactly what I'm missing from my Kyoto trip last year.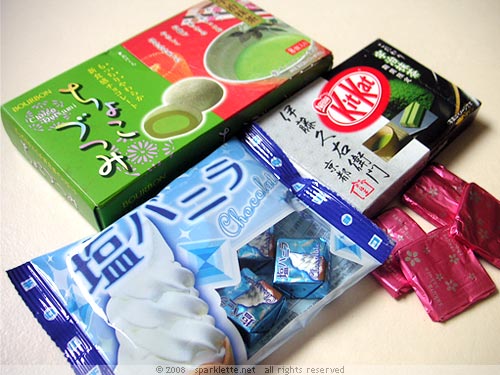 Here's a preview of the yummies you may get!
Have you ever seen kit kat bars that come in green?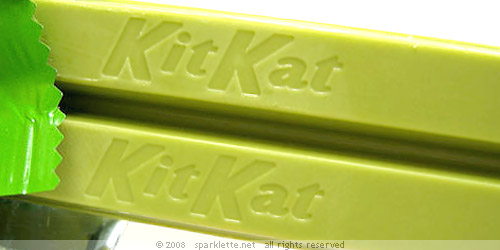 Now and then, different renditions of this favourite chocolate confection are made available in select countries during certain periods of time. This limited seasonal edition of kit kat in matcha (green tea) flavour is only available in Japan. It's a unique shade of green – the colour of green tea!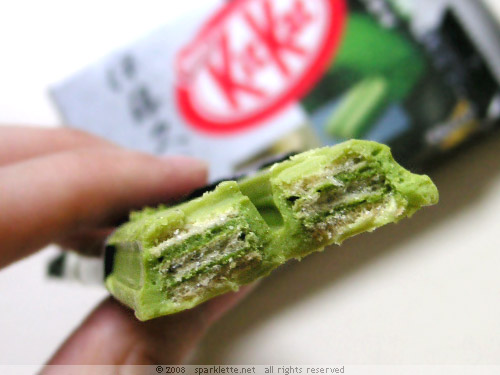 The wafer sticks are made up of white chocolate and green tea. As you bite into these, not only can you detect the faint aroma, you can really taste the distinct flavour of green tea too!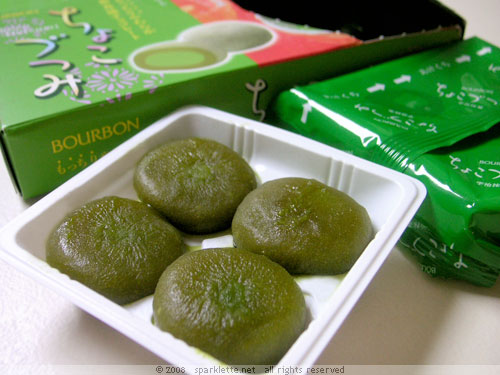 Another matcha delight comes in the form of this 8-piece box of Choco Dutsumi Chocolate in matcha mochi. Mochi is a Japanese sticky rice ball shaped from cooked glutinous rice that's been pounded into paste. After enduring the sweltering heat (wave) here in Singapore, the light dusting of powder on the mochi covering is gone. Nonetheless, this treat still remains yummy with its creme interior.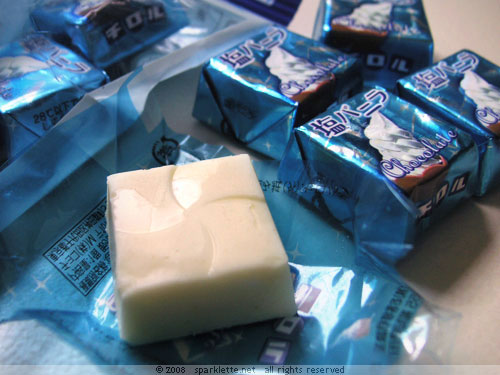 These pieces of creamy white chocolate candy taste of whipped vanilla cream. There's even a surprise find when you get to the centre of the candy – a piece of salted marshmallow! For someone that is used to candy being sweet, salted candy is a first for me!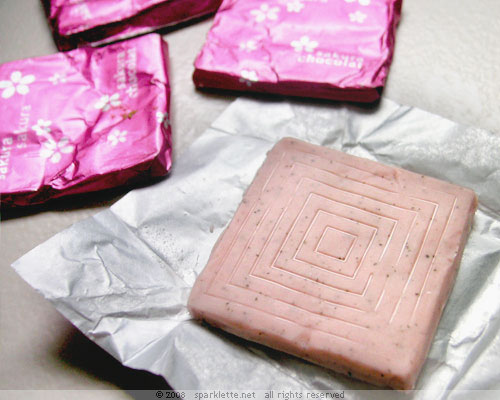 Chocolate flavoured with ground up sakura! This sure sounds like a delicacy to those of us from the rest of the world. I love the lovely shade of baby pink, dusted with tiny specks of chocolate all over. You can't get candy that's any prettier than this, can you?
Well, if you are curious about these Japanese candy and would like to win some for yourself, pop over to Kyoto Foodie and suggest ways that they can improve.
Their survey ends May 16, 2011 (2359 hours). So hurry!