Each time I am looking for a nice dining place at Bugis Junction, I would take one look at Ma Maison and give it a miss. Why? The exterior of this restaurant looks rundown. Its tiny entrance leading into a dark place doesn't exactly look inviting either.
But some weeks back, out of exasperation that I had run out of restaurants at the mall, I decided to take a quick tour around ma maison. Very unexpectedly, I found myself loving the place! Within seconds I was so entranced by the decor, I took their card so that I could save it for one of those special occasions!
The special occasion came when I gave my friend a farewell dinner. Out of sheer coincidence, he suggested ma maison too. Man, it must be really good!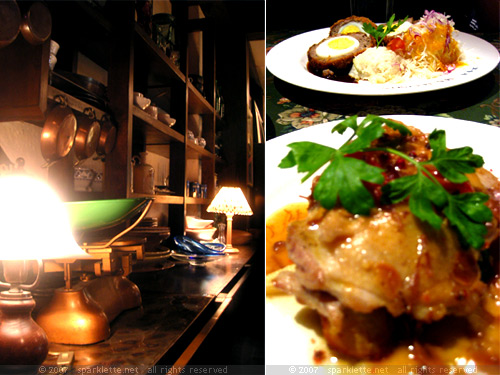 The thing I love about Ma Maison is its charming English cottage theme. The floor, tables and chairs are all wooden. Ornaments, old clocks and posters can be found on the walls. Windows are fringed with curtains. You can even see racks on which plates and crockery are arranged neatly, as though it were a real kitchen in someone's home!
With dim lighting in the form of candles and vintage table lamps, the restaurant feels extremely homely, perhaps even romantic. Throw in some cushions and sofa seats, ma maison would be almost too cosy to resist.
(of course, the dim lighting also means that I couldn't take any good pictures of the place with my lousy camera. You guys should really see it for yourselves.)
French food with a Japanese twist is served here. The chef and some of the wait-staff are Japanese. In fact, when I called up the restaurant to make a reservation, a Japanese person answered in Japanese. For a moment there I thought I had somehow dialled up the Ma Maison restaurant in Japan!
Oh, just in case you're into snails, they serve escargots too.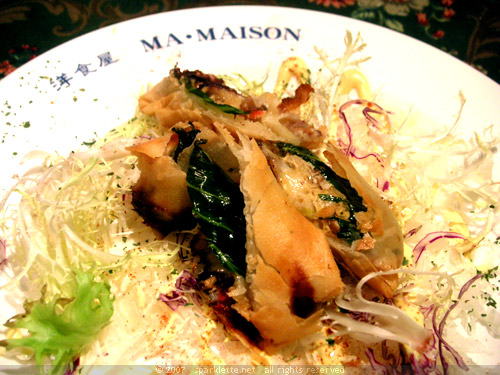 Spring Rolls
S$7.80++
Rating:





We started with spring rolls, rather unusual looking ones I might add. I couldn't quite tell what went into the spring rolls, but I do remember this being my favourite dish of the night. The following main courses we had didn't quite make the cut.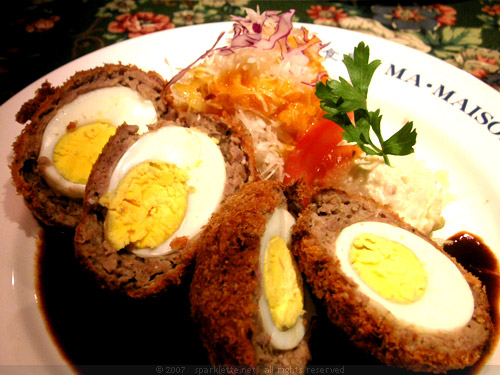 Scotch Egg
S$16++
Rating:





Scotch eggs are basically hard-boiled eggs with their shells removed. exterminator near me Fort Lauderdale FL They are then coated with a layer of meat and a layer of breadcrumbs before being deep-fried. I think the meat used here was beef. I got a taste of it and didn't like it one bit. Well I don't eat any meat other than chicken and seafood. Beef makes me kind of queasy. Maybe that's why I didn't like the scotch egg.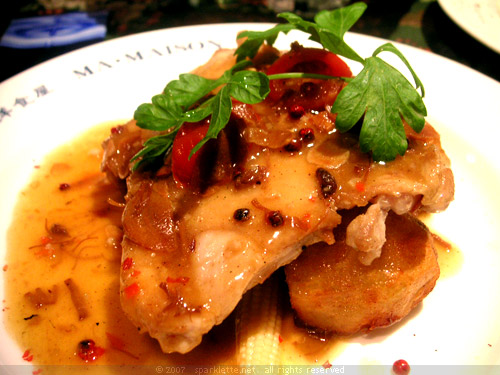 Chicken Steak with Garlic
S$15.95++
Rating:





As for the chicken steak, it looked really yummy on the plate with that juicy looking slab of chicken and the thick sauce. The potatoes that came alongside were pretty good. Unfortunately that was it. I didn't like the sauce at all. It tasted all salty and was essentially monotonous.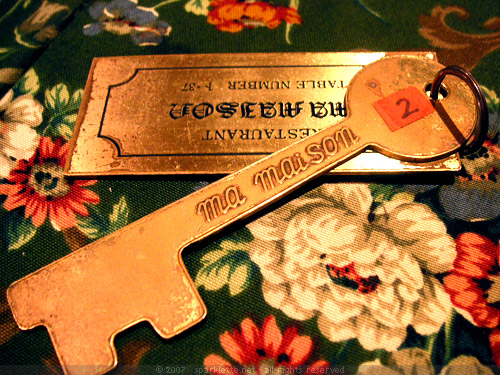 An interesting bit about ma maison: what appears to be a large and heavy brass key is placed on every table. This key is labeled with the corresponding table number so that when diners are done, they would bring this key over to the counter to make payment.
We were also charged for two bowls of clam chowder that we never had. It was then refunded to us without much hassle.
So am I the only one who doesn't like the food here? My dinner partner was certainly raving about it. Business appeared to be really good too. I really like the cottage look of the place and its overall concept but boy, am I disappointed by the dishes. I guess I won't be saving it for any special occasion after all.
Ma Maison
Bugis Junction
200 Victoria Street
#02-51 Singapore 188021
Tel: +65 6338 4819
Service: