When I went on my solo trip to Hong Kong last year, the perpetually rainy weather was a real downer. But there are a few things I would still miss about Hong Kong such as its wide plethora of snacks and desserts, many of which employ a large use of bread or mango.
I haven't been to far East plaza for a long time. All along I felt that it's a place for kids and teenagers. And well, I'm no longer a teen. But anyhoo we just happened to be there over the weekend and found this little place on level one that sells Hong Kong delicacies, called "man jia le".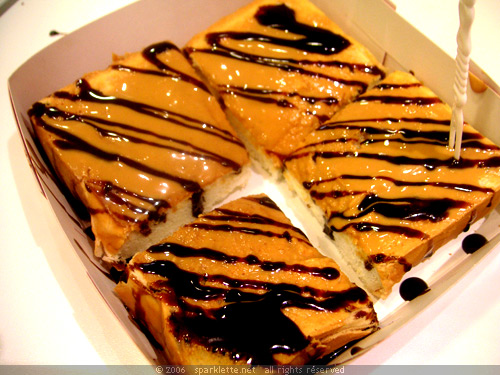 French Toast with Chocolate Syrup & Peanut Butter
S$2
Rating:





The cheery look and seemingly happy atmosphere of the place felt very welcoming and enticed us to sit down for a snack or two. Its menu, printed on the brightly lit signboard, consisted largely of bread items. I've always loved toast, French toast in particular. So French toast it was, and I had it with chocolate syrup and peanut butter.
This was a very heaty combo but I liked it very much. Chocolate syrup and peanut butter – what a yummy treat! How I wish they had spread on more creamy peanut butter and drizzled more of the chocolate syrup. Oh yeah, tearing the bread apart with the little picks was pretty fun in itself too.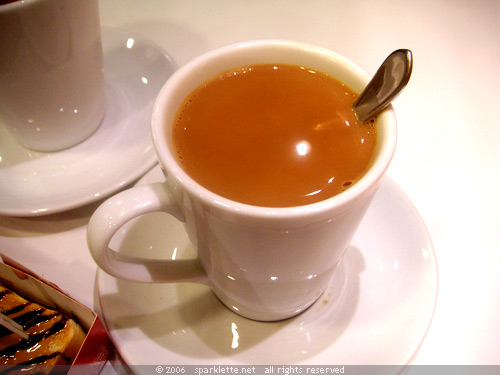 Yuan Yang (Mixture of Milk Tea and Coffee) (鴛鴦)
S$1.50
Rating:





yuan yang (mixture of milk tea and coffee) is a popular beverage in Hong Kong. But everytime I have this drink, it tastes only of milk tea. Where did the coffee go? How baffling.
Anyway the café looked bright and deceptively clean. But we spotted a small cockroach scampering across the floor a couple of times. Yucks! Hygiene freaks may want to give this place a miss.
Man Jia Le
Far East Plaza
14 Scotts Road #01-16A/B
Singapore 228213