A bakery by the name of Metrocakes has just opened on our sunny shores. The shop is located at the quaint district of Kampong Glam, specialising in mini cakes, cupcakes and whole cakes that include gorgeous couture cakes!
If you are a mouse potato who loves the convenience of online shopping, you can also take full advantage of Metrocakes' online shop. With a few clicks, you can browse the cake menu, place your order and have the delicious treats delivered right to your doorstep as quickly as within the same day!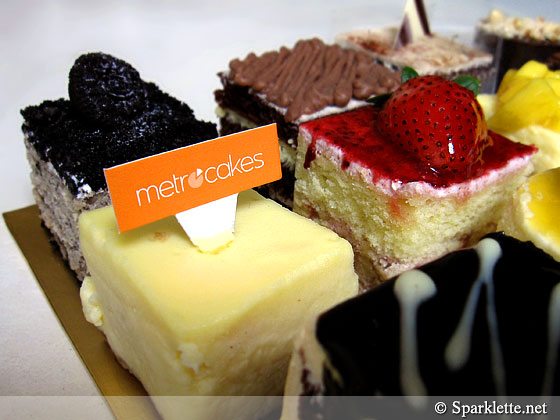 For review, I have received a box of their mini cakes.
Unboxing the cakes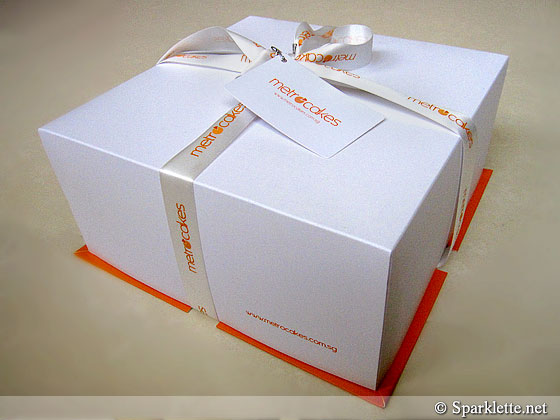 The cakes are packaged in a white box with an orange base.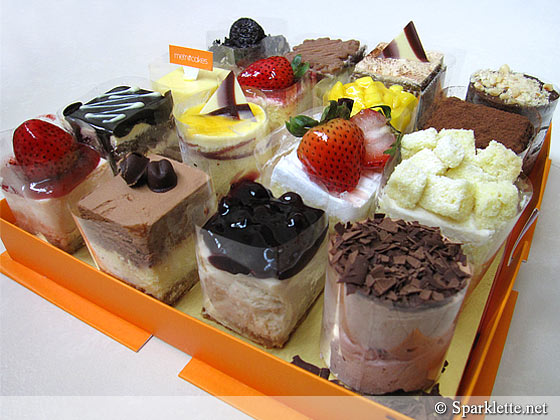 The beautiful miniature cakes are carefully wrapped in clear plastic, remaining in great condition even after delivery.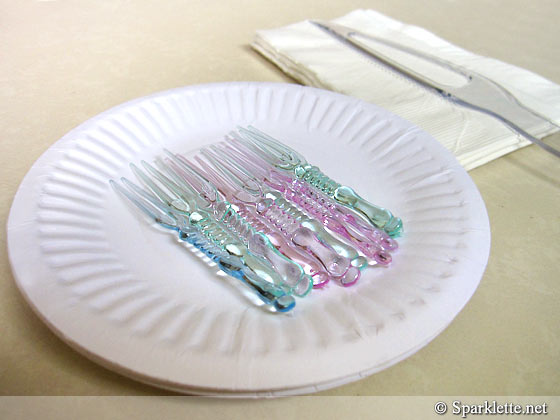 A separate compartment at the base of the box is where you would find disposable cutlery such as a plastic knife, paper plates, colourful picks and candles (if it's a birthday cake).
Mini cakes in 16 flavours
The mini cakes can be purchased individually, in sampler sets or in bulk. What we have here is the Signatures Style sampler with 16 cakes in the 16 signature flavours (S$67.00).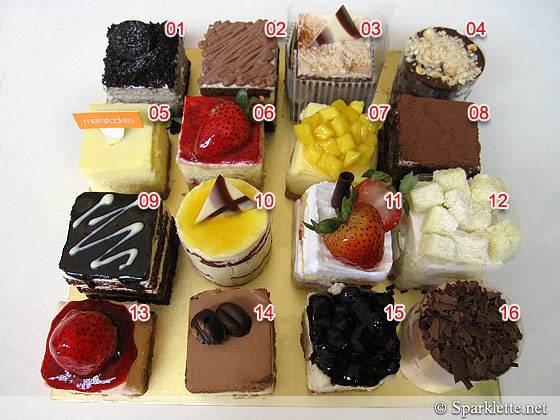 1. Ebony and Ivory – The crowd-favorite Oreo cheesecake is sprinkled with mashed Oreos and topped with a mini Oreo cookie. The base layer is made of crushed Oreos, too. The cheese has a light touch of lemony zest. Personally, this is amongst my favourites of the miniatures.






(S$5.40)
2. Mount Chester – The bulk of it is chocolate sponge cake, topped with a layer of chestnut cream.




(S$5.20)
3. The Duke of Earl – Tea lovers would totally dig this one. The Earl Grey tea aroma in the top layer of light cream is very apparent. I'm not so sure about the slices of chocolate on the sides as the sweetness does overpower the tea flavour.






(S$4.80)
4. Dark Knight – The most chocolaty creation here, the chocolate sponge cake is covered in a thick layer of dark chocolate fudge and topped with chopped hazelnut.





(S$5.20)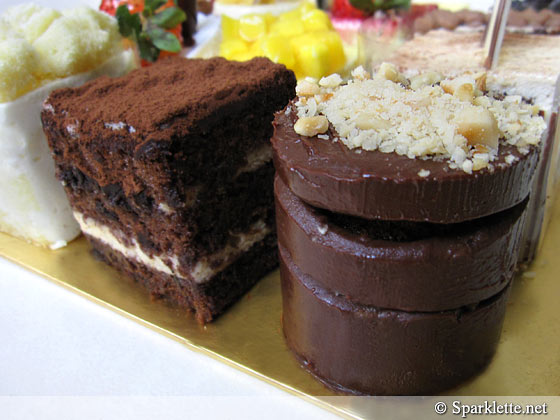 5. The New Yorker – The classic cheesecake is moist, rich, with a dash of lemon zest. Every bite is irresistible, and I wish silently that my evening run would undo the calorific damage.






(S$5.40)
6. Lady in Red – A light and creamy strawberry cheesecake, lavished with strawberry puree.




(S$5.40)
7. Two to Tango – The mango cheesecake is a fruity delight, with actual fresh mango chunks and cream cheese infused with mango flavour.





(S$5.40)
8. Madame Tiramisu – The layered dessert is dusted in bitter-sweet cocoa powder, which by itself tastes like dark chocolate. I can't really taste the coffee though.




(S$5.20)
9. OJ Rhapsody – This comprises layers of orange mousse, chocolate mousse and chocolate sponge.





(S$4.50)
10. Tropic Party – The mango sponge cake has a layer of whipped cream over vanilla sponge, flavoured with mango.




(S$4.50)
11. Strawberry Sweetheart – A strawberry shortcake that has freshly whipped cream, light and airy sponge and chunks of strawberry.




(S$4.80)
12. The Kingpin – With vanilla sponge squares nestled on top, the durian mousse cake boasts fresh durian puree, although weaker in taste when compared with bigger players like Goodwood Park Hotel.




(S$4.50)
13. Pink Panther – The strawberry yogurt cake is a concoction of strawberry puree, yogurt cream and vanilla sponge.





(S$4.80)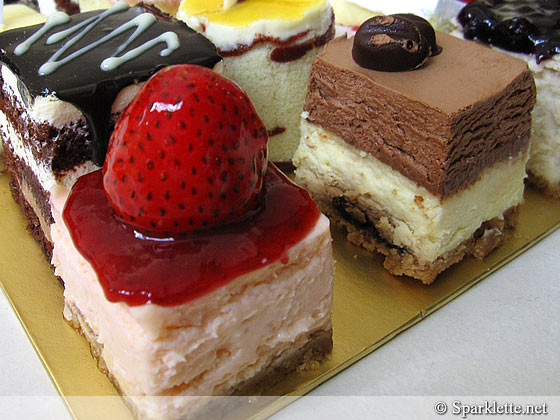 14. Mocha Mode – The only coffee-themed cake in the miniature series is this mocha cheesecake. Unlike the Earl Grey cake, the mocha flavour is quite faint.




(S$5.40)
15. Bluebells – The blueberry cheesecake comes with a thick topcoat of blueberry puree. Yum!





(S$5.40)
16. Triple Thrill – None other than the blackforest cake, this round cake consists of two layers of rich chocolate mousse and a crown of chocolate shavings.





(S$4.80)
Couture cakes
Remember the excitement you felt as a child when your birthday cake was carried into the room? Birthdays would surely be even more memorable when the cakes look as amazing as these couture creations! Check out some of these 3D cakes by Metrocakes: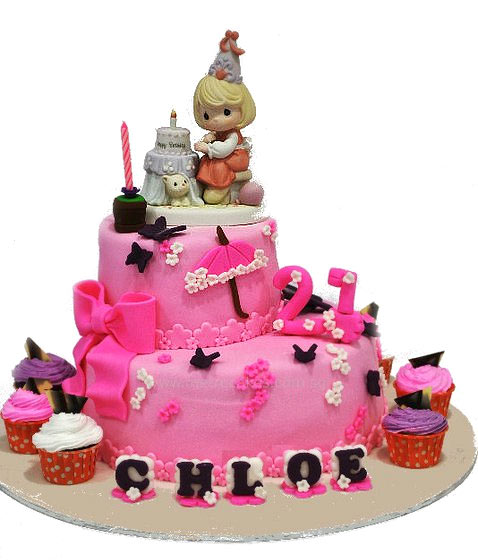 This Precious Moments cake has an actual figurine provided by the customer, and cupcakes amidst the cake!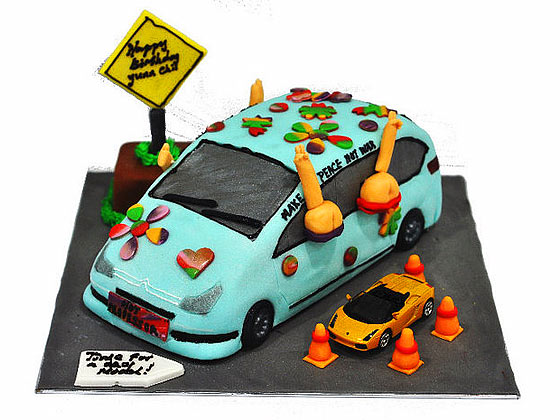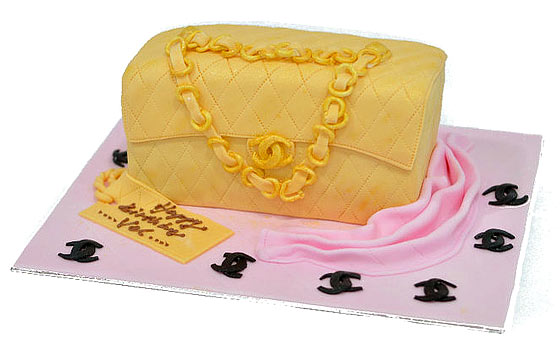 Chanel handbag, anyone?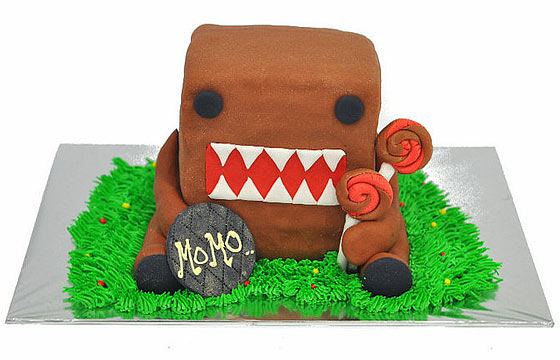 That's Domo-kun.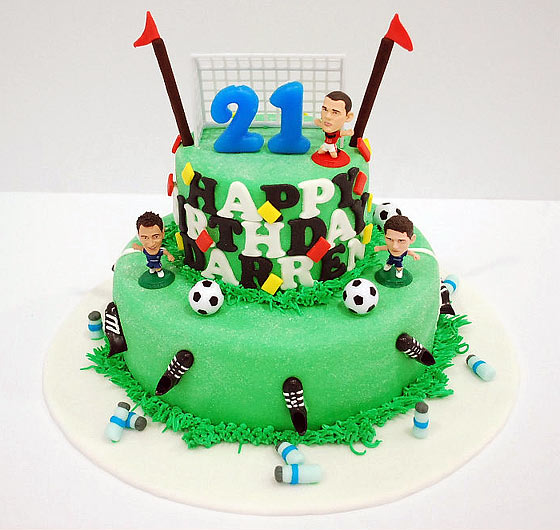 A football-themed cake featuring figurines of famous English footballers. Rooney, Lampard and Terry, I think?
Have Your Say!
What are your thoughts on ordering cakes online? Have you seen any other amazing couture cakes? Share with us in the comments!
Metrocakes
774 North Bridge Road
Singapore 198742
Tel: +65 6294 9929 |
Website
Opening hours:
Mon – Fri: 10:30am – 7pm
Sat: 10:30am – 3pm
Closed on Sundays & Public Holidays