Every year, fruit pastry fans look forward to two things at Goodwood Park Hotel. One is the Durian Fiesta where pastries and cakes made with D24 durians fly off the shelves.
The other would be the fruity snowskin mooncakes during Mid-Autumn Festival.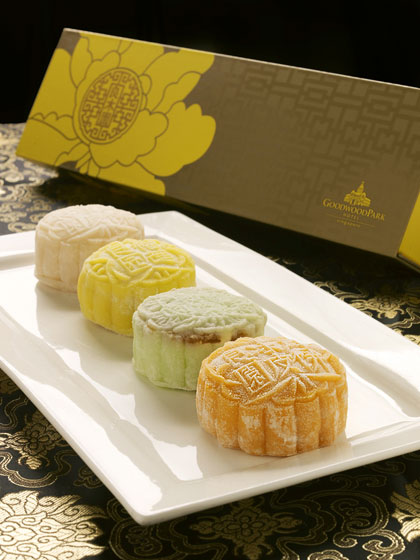 Fruity snowskin mooncakes
S$46 for a box of 4 assorted flavours
Rating:





Apart from the ample amounts of delectable fruit paste, I also like the firm layer of snowskin. These fruit-themed mooncakes are available in four flavours (starting from front):
– Cempedak
– Apple caramel (new in 2010)
– D24 durian
– Mango with pomelo
The mainstays durian and Cempedak mooncakes need no introduction. Both contain the thick creamy pulp from the fruits. In a way, it's better than eating the actual fruits because you get all the good stuff, minus the unwelcome smell!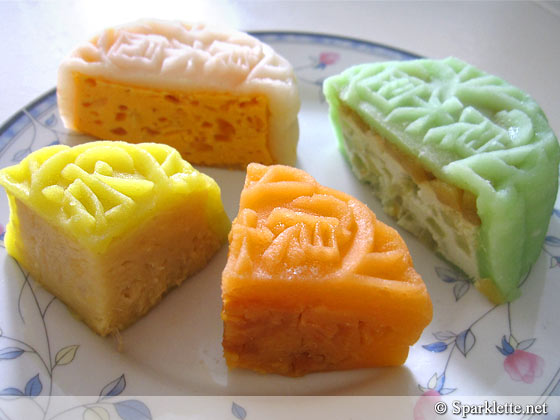 Also making a return this year is the mango with pomelo flavour. If you have ever had the mango with pomelo and sago dessert at Min Jiang, you would find this familiar as it draws inspiration from the popular dessert. The light-coloured snowskin holds a filling of mango puree with mango cubes. The translucent bits are my favourite part – plump and juicy pomelo sac!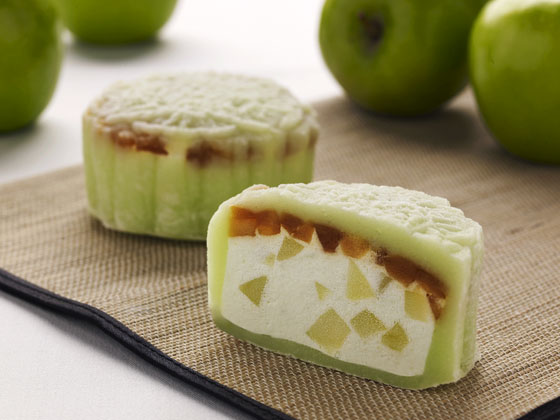 In place of the soursop flavour from last year is the sweet-tasting apple caramel containing green apple puree along with cubes of crunchy apple. While the taste of caramel isn't very evident, I do like the refreshing tropical taste of this newcomer.
The apple caramel and mango with pomelo cost $24 for two pieces and $42 for four pieces. The durian and cempedak cost $28 for two pieces and $50 for four pieces. An assorted box of all four flavours is yours at $46.
Giant Snowskin Mooncake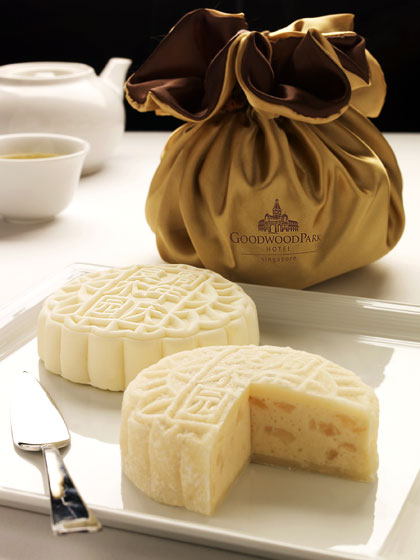 Almond beancurd with longan giant snowskin mooncake
S$11
Rating:





This is the biggest snowskin mooncake I have ever seen!
Like the almond jelly with longans dessert? You would like this, too. The new almond beancurd with longan snowskin mooncake commemorates the hotel's 110th anniversary, and is packaged in a beautiful gold satin drawstring pouch. (That said, the flimsy plastic container holding the mooncake on the inside doesn't exactly match the luxurious packaging.)
The almond beancurd jelly is intermixed with bits of longan. It tastes just like the dessert itself. Measuring 12 centimetres across, this giant mooncake is the biggest snowskin mooncake I have ever seen!
(Note: This mooncake is not meant to be stored for long, and should be eaten soon after purchase.)
Have Your Say!

Loading ...
Apart from Goodwood Park, what other fruity mooncake concoctions would you recommend? Share with us in the comments!
Goodwood Park Hotel
22 Scotts Road
Singapore 228221
Tel: +65 6730 1867 / +65 6730 1868 |
Website
Operating hours: 9am – 8pm (Mon ? Fri), 9am – 5pm (Sat, Sun & Public holidays)
Last order date is September 17, 2010, 12 noon.