If you aren't vegetarian, you may balk at the idea of visiting a vegetarian restaurant. Why have mock meat when you can have the real thing, right? And that's exactly what a group of us did – all ten of us non-vegetarians – after hearing rave reviews about the great-tasting food at Miao Yi Vegetarian Restaurant.
Tucked in the quiet Coronation Plaza along Bukit Timah Road, Miao Yi is one hidden gem. For those in the know, this restaurant has been around for more than two decades.
I gotta admit. If it wasn't for those word-of-mouth recommendations, I would not be caught dead walking into a vegetarian eatery. Like most people, I need some meat in my diet. But by the end of the meal, I was so thoroughly impressed that I would never look at vegetarian cuisine the same way again!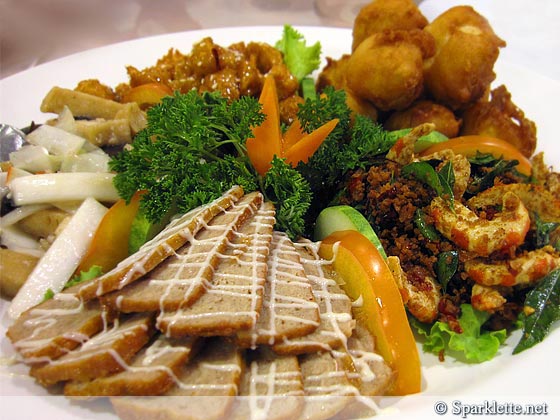 Fanciful Hors d' Oeuvre
S$30 / 45





We start with the Fanciful Hors d' Oeuvre, an assortment of goodies comprising (clockwise from top right) deep fried prawn balls, minced meat, prawns, duck, tofu sticks with white cabbage, and sweet and sour diced chicken. These delicious items would easily put other restaurants serving real meats and prawns to shame. My favourite is the prawn balls, which amazingly have bits of red "prawn" on the inside.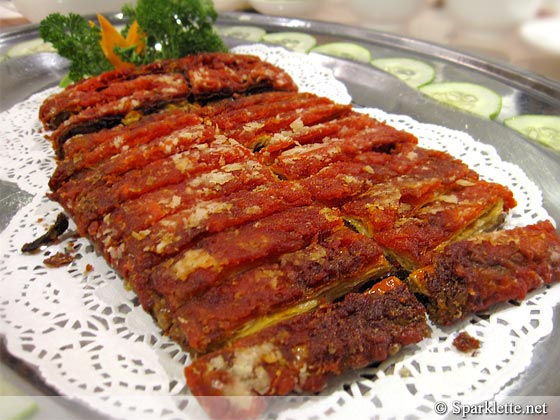 Double flavour broiled mock pig
S$35 / 50





The broiled mock pig is a must try. It comes with sticks of cucumber, lettuce and a sweet bean sauce. If you have ever tried Peking duck, this is eaten the same way.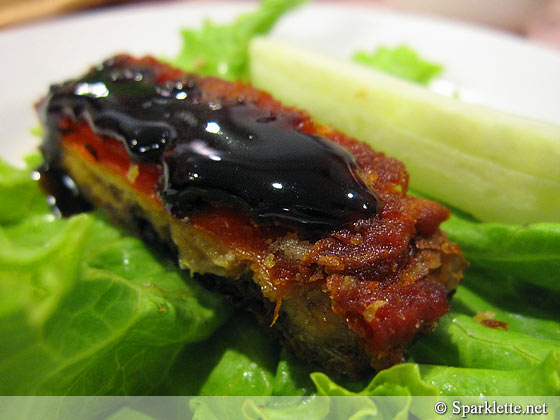 Not only does this taste great, it is fun to eat, too! You would wrap each piece of meat in the lettuce, along with the cucumber and dipped in sauce if you prefer. The mock meat is a tad oily, but the thin, crispy skin is such a joy to savour!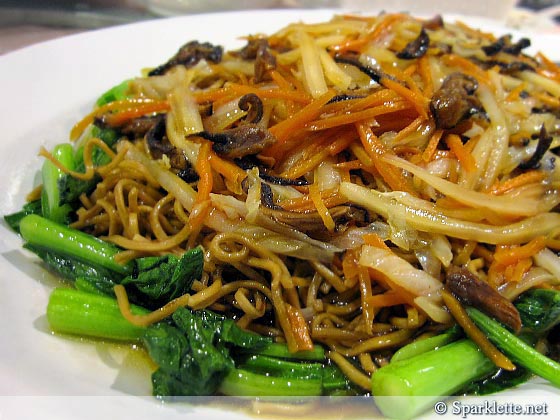 Assorted E noodles
S$5 / 9 / 12





For something a little more filling, we go for the E noodles. This tastes pretty ordinary, and on hindsight isn't really necessary given the many dishes we have ordered!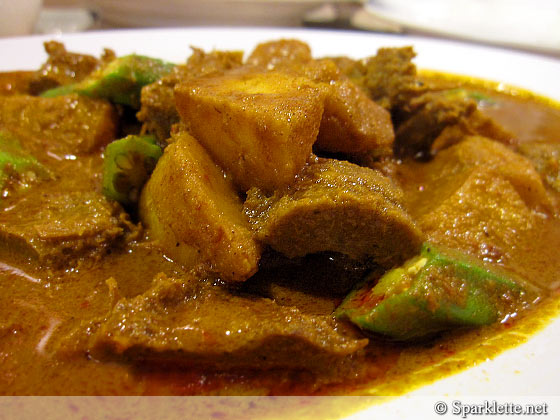 Mock curry mutton
S$10 / 15 / 20





The mock curry mutton deserves applause for its flavoursome gravy. Every spoonful is a burst of flavour, with just enough spice to give it a little kick without bringing tears to one's eyes.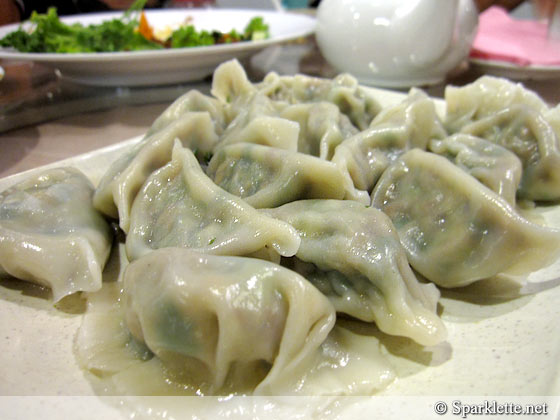 Boiled dumplings





The boiled dumplings, too, make the grade, with the thin translucent skin encasing a well-seasoned filling.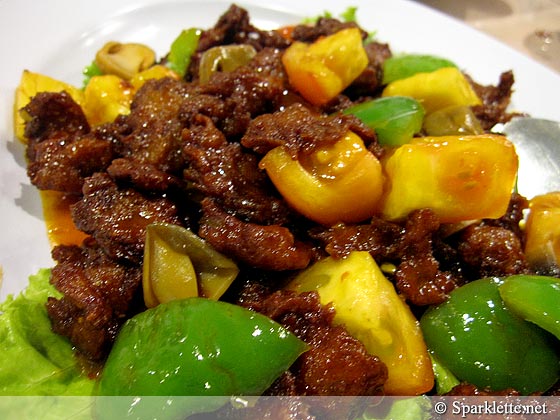 Mock meat





Is it a bird? An animal? No, it's mock meat! The name of this dish escapes me, but it is sweet and sour.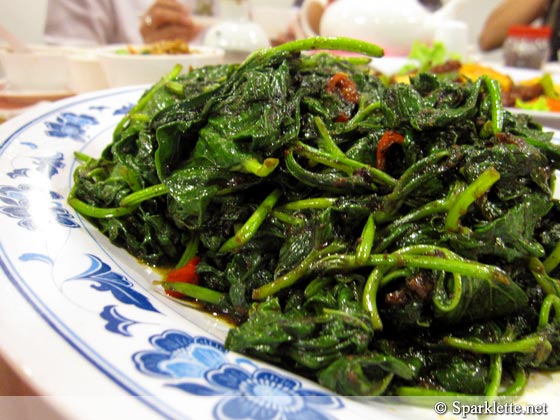 Sambal sweet potato leaves
S$9 / 13 / 17





After a succession of wonderful dishes, the stir-fried sweet potato leaves is a letdown. Even with the sambal, the dish is a little lackluster. Give me Kang Kong Belachan over this any day!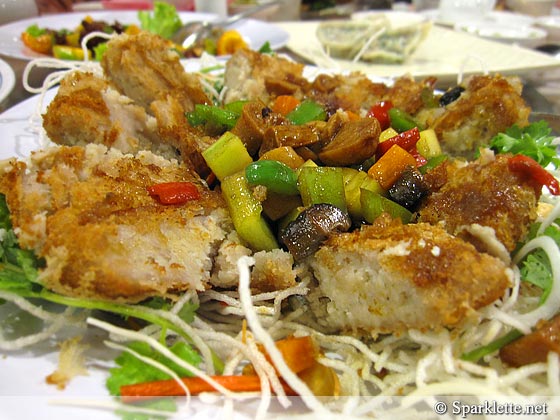 Yam ring





The ever-popular yam ring has a crispy skin and a powdery centre, enveloping a stir fried concoction of mushrooms and assorted vegetables.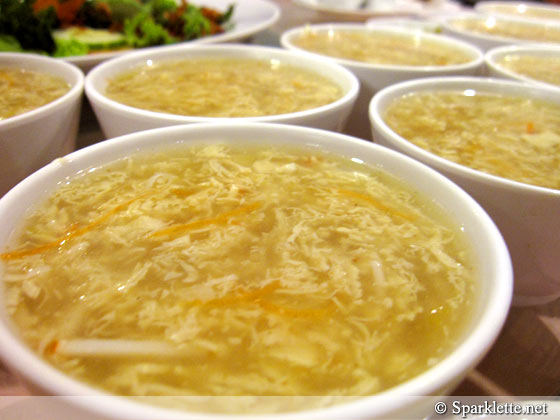 Shark's fin soup
S$12 / 18 / 24





There is even a shark's fin soup on the menu! Made using shredded bean curd skin, this shark-friendly rendition would do PETA members proud. The texture and flavour is just like the real thing!
Now, whoever said vegetarian cuisine is bland and boring!
Have Your Say!
Non-vegetarians: Would you eat at a vegetarian restaurant? Vegetarians: What other restaurants would you recommend? Share with us in the comments!
Miao Yi Vegetarian Restaurant
Coronation Shopping Plaza
587 Bukit Timah Road #03-01/02
Singapore 269707
Tel: +65 6467 1331
Service:





Bus services: 66, 67, 74, 151, 154, 156, 157, 170, 171, 174, 852, 961, 961C
Opening hours: 11am – 3pm, 6pm – 10pm daily