Ever had a bowl of noodles and told yourself you're gonna have another bowl right after? That's exactly how I felt after slurping down a bowl of the Min Nan Pork Ribs Prawn Noodle.
If the name rings a bell, you may have known this hawker stall from the Channel 8 show, Buzzing Cashier (抢摊大行动). It is one of the ailing businesses that the show has revived.
Following its TV fame, long queues routinely form in front of this humble stall at Tiong Bahru Market. My initial thought was nah, it's just media hype. Nonetheless, it got my family curious enough to check out if the food was really that good. Well, I was hooked from my first mouthful. The noodles are nothing short of spectacular!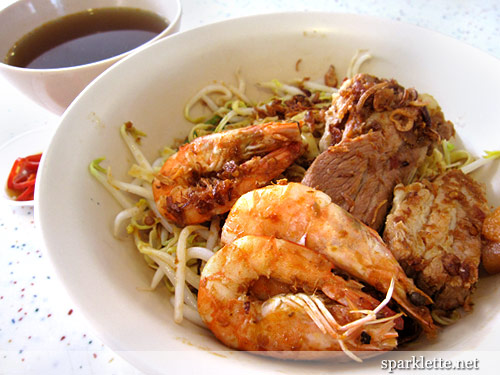 Pork ribs prawn noodle
S$4
Rating:





First of all, the stall offers really good value for money. Priced at just $4, each bowl is chock-full of ingredients, with three large prawns and three chunky pieces of ribs.
The prawns are fresh and juicy, and the ribs tender and meaty. The thing that adds the icing on the cake is the awesome soup, which is extremely sweet and delicate. Simply delightful!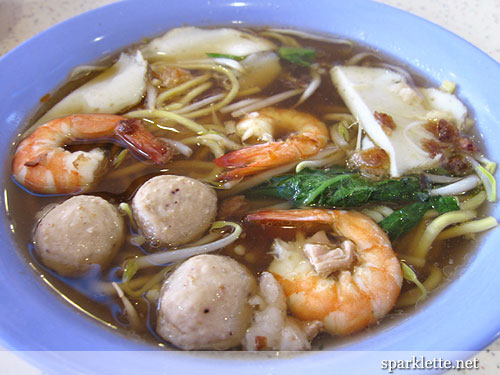 Prawn noodles
S$3
Rating:





If you aren't too fond of ribs, go for the prawn noodles instead. You still get the same delicious broth, plus three savoury meatballs that boast a springy texture.
Other than the usual thick yellow noodles, you have the options of mee pok (flat noodles), rice vermicelli or thin yellow noodles. Also, you can choose to have the noodles served either dry (with the soup on the side) or soupy.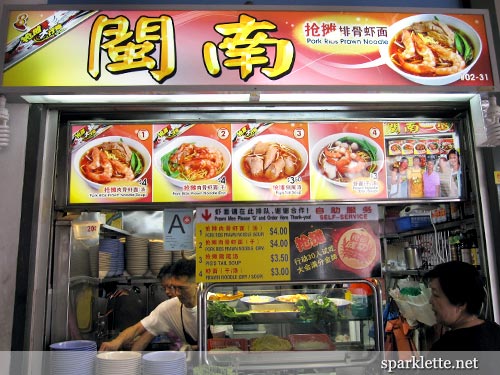 Ahh… The noodles are very good. But besides the excellent food, there's one more thing that min nan deserves to be commended for. The man (pictured in photo above) running the stall is extremely polite towards his customers. He greets everyone with a smile, and even accepts payment with a slight bow!
Hawkers in general have the reputation of being rude and impatient. So to come across one who is so courteous and thankful towards his customers is indeed a breath of fresh air!
Update on August 22, 2009: I paid a visit to this stall again. To my surprise, there's a laminated copy of this review pasted at the stall! This time round, I had a chat with the courteous stall owner and learned that his name is Ah Leng.
Min Nan Pork Ribs Prawn Noodle
Tiong Bahru Market & Food Centre
30 Seng Poh Road #02-31
Singapore 168898
Bus services: 5, 16, 33, 63, 123, 195, 851
Nearest MRT: Tiong Bahru
Opening hours: 10am – 3pm, 5pm – 9:30pm (Closed on Thursdays)